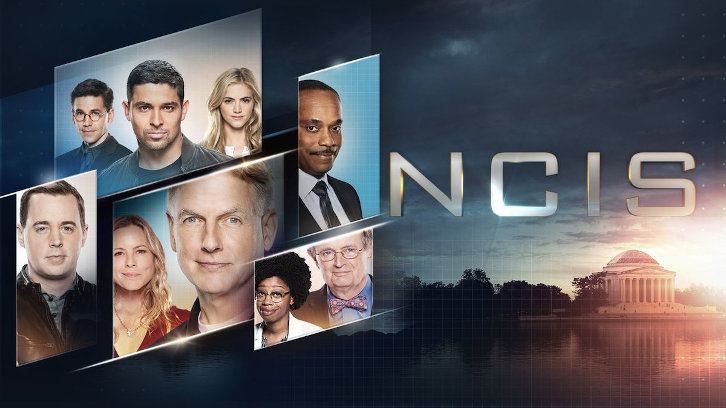 17.19 - "Blarney"
Written by Scott Williams
Directed by Rocky Carroll
Reviewed by KathM

I wanted to call this review "The Condom Commitment", but the word "commitment" was used so much in this episode that I didn't think I could stand to read it again. Although I just typed it.
I had high hopes for this episode which were not met, and I know that isn't the popular opinion. I'd been looking forward to a Kasie/Jimmy episode and expected something either funny or dark, and the writers couldn't seem to decide which one to go with so they tried to work in both. Sorry guys, I just wasn't feeling it. Jimmy and Kasie were great, but the story around them was ridiculous. This may have been because it ran after St. Patrick's Day, or the fact that we didn't have St. Patrick's Day this year, but the whole thing felt contrived and off.
The initial scene with Max and his four (soon to be three) accomplices showed us a guy who was kind of crazy and liked to shoot people more than was necessary. When he finds out that Danny, one of his fellow criminals, told the whole story about how their heist would work to his wife, Max kills him. What I'm thinking when I see this is Crazy Criminal Man, kind of a sociopath who runs his crew with an iron hand. But that isn't what happens.
The next scene, where the body of Danny is found in a bin near a Navy Recruiting office, is insane because as soon as NICS shows up the police officers turn the case over to them because they want to go be in the St. Paddy's Parade. They can't get away from the crime scene fast enough, and when Torres discovers that Danny's body is missing, the officers tell NICS that their coroner must have picked it up, but they'll have it dropped off in the Navy Yard in maybe a few hours. Can you feel their dedication? Anyway, while Gibbs' gang head back to the Navy Yard, Jimmy realizes that he has time to change into civvies and grab a late breakfast.
At The Diner he encounters Kasie, who was grabbing a to-go order, and they decide to have pancakes together.
if you are staking something out you should not draw attention to yourselves.
As Jimmy and Kasie are eating their pancakes they and the other diners are treated to a shoot-out between the Apple Dumpling Gang and the Security Guards who are making what I imagine is a daily, if not weekly, trip to the store to do security-related things with the owner. So, what have we learned? If you have been casing a place for a few weeks (while drawing attention to yourselves), you should have known approximately when the security guards would arrive because someone should be taking notes. Also, should you really be robbing a place in the light of day during the breakfast rush at the diner, when there will be loads of potential witnesses only feet away?
Because Max killed Danny, who was their driver, Lenny drove the car instead. Right into a fire hydrant, where it becomes stuck. Lenny is shot in the arm during a shootout with the non-parade-going security guards, so Max directs his crew back to the diner where they can hide out. Unfortunately, Jimmy, Kasie, Elaine, Shayne the cook, and an unnamed pregnant woman are still there, so now Max has hostages I'm not entirely sure he wants. Jimmy recommends that Max and the guys sneak out the back, but they have decided to stay instead with Jimmy and the other diners. I have no idea why.
This is where the story veers between stupid and annoying, jokes that fall flat, and there are missed opportunities for good drama. First of all, Danny's wife is picked up by NCIS and flat out tells Gibbs the story Danny told her about the gang's plans, which made any kind of detective work unnecessary except for trying to look up some of the gang's names (she already gave them Max's). I would also like to say that I have no idea how the Bullpen Gang realized that Kasie and Jimmy were in the diner in the first place. Either Gibbs was concerned about the diner in general, or I forgot entirely how they knew about Jimmy and Kasie.
We are then subjected to the Three Stooges trying to figure out what to do while an oddly reticent Gibbs wants to negotiate (most likely because some of his people were involved).
I wanted an angry Max, a ruthless Max, one who killed Shayne and shot Bobby when Jimmy and Kasie couldn't save him so Bobby could go peacefully. One who was smarter and meaner, who slapped Jimmy when he talked back to him, who threatened Kasie with a gun to her head when she couldn't set Lenny's arm properly, who shoots very close to Jimmy to see whether he'll stick with the "diamonds and glass in the condom" story, which Max doesn't quite buy.
I feel like the story needed smart, scary villains because that's what Kasie and Jimmy deserve. Jimmy was great at trying to save Bobby's life and showing Kasie a bit of a freak out because the whole live body thing was not in his wheelhouse. His diamond and glass story was brilliant and possibly true. Who knows what the Stooges swallowed when they broke the glass cases?
I'm not sure whether this episode wanted to be more light-hearted or darker, but it couldn't make up its mind. I got tired of, "Now, that's a commitment," by the third time someone said it. Okay yes, they robbed a jewelry store and stole an obscene amount of diamonds, which they then put into condoms and swallowed. And that does show commitment. But I don't know why everyone needs to say it. Let Leon say it, then let Kasie say it when she's chilling in Leon's office with Leon, Jimmy, and Gibbs. The more people said it, the more irked I became.
In the end, Kasie and Jimmy end up safe and secure, sharing a drink with Leon and Gibbs in Leon's office. Both of them seem to be okay emotionally, but visits with Sloane and/or Dr. Grace is offered and encouraged. I think Jimmy will have some PTSD at least, and it would be nice to see him and Kasie talk about it at some point, just checking in with each other as the show continues.
Jimmy and Kasie make a great team. They read each other well and both think fast on their feet. It was great that they got an episode that focused on their strengths, but they deserved a better story than this one.

PS - A "federal-agent-slash-envelope-pushing-silver-fox-renegade." Yup, that about sums it up.

PPS - There is an extradition treaty between the US and Argentina.