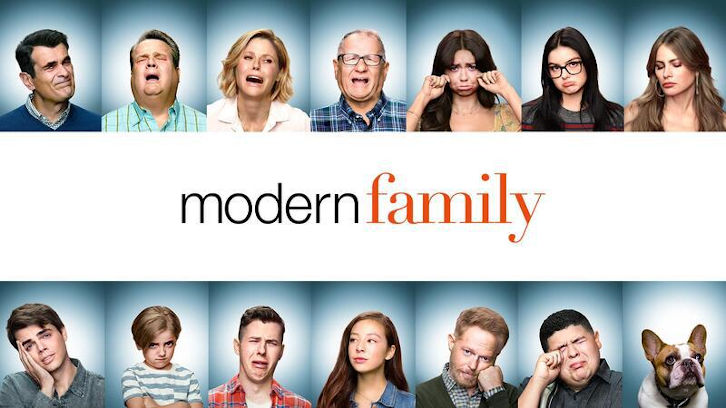 After 11 seasons, today we bid farewell to this outstanding sitcom created by Christopher Lloyd and Steven Levitan. Here at SpoilerTV we wanted to mark this bittersweet occasion by looking back on some of our favorite moments in the series, so myself (AJ), Jamie Coudeville (JC), Folie-lex (FL) and KathM (KM) got together to do a roundtable to say goodbye to the show!

This show ran for 11 seasons and was critically acclaimed, winning the Emmy Award for Outstanding Comedy Series for its first five seasons, and a Golden Globe Award for Best Television Series (Musical or Comedy) in 2011. In your opinion, what did you think made the show gain this level of achievement?


Alejandra:
I think it has to do with the cast, because each character has its own iconic personality that I can't imagine any other actors playing these characters. The writers also played a part in which the jokes and the humorous portrayal of the different types of a contemporary family resonated with audiences so I feel that combined with the cast made the show achieve the level of success it has right now.
Jamie:
I think it had a lot to do with the cast. I only started watching by the time they were on season 8 or 9 but even before that I noticed how popular the cast was. I think that the chemistry between the cast and their comedic timing was a large factor. But also how relatable the characters were. And of course it helped that the show was funny.
Folie-lex:
I think it definitely remained true to its essence and indeed presented all versions of the modern family of its/our time. People identified with the show on so many levels and I think that's one of the show's greatest achievements. The incredible and incredibly talented cast embracing these characters and making them real even through some of the more cartoony moments was a huge added perk.
KathM:
The writers and the actors. The show could have been about the Dunphy family and their one-dimensional family members, but instead the writers worked hard to make each character fully-realized, with stories of their own and feeling of their own and storylines of their own. Like a family each character had a different relationship with one another, Which is how every family works. The actors also worked very hard to inhabit the characters, to make it seem like a real "Modern Family".
Over time their performances seemed effortless and believable to the audience, and they kept up that believability up to the end.
For a show this long, there were a lot of storylines and funny moments. What were some of your favorites?
Alejandra:
It was always fun to see Phil's magician storyline, I enjoyed those episodes a lot. I liked for the most part how Haley evolved during seasons 1 through 7, the growth she had and how she handled situations was always fun to watch as well.
Jamie:
I binged the first 8 seasons so it all starts to blend together a bit but I do remember one moment that really left an impact. Gloria said something along the lines of "Do you even know how smart I am in Spanish?". Everyone loves to laugh at Gloria's mispronunciations but it's often forgotten how difficult English is for non-native speakers.
Folie-lex:
Seeing the Jay/Manny relationship evolve over the years has been a true highlight for me. Those storylines and episode plots always entertained me or struck all the appropriate emotional notes.
KathM:
I loved the Cam/Mitchell wedding. Even though it was at its face just one of those, "let's have a wedding there everything goes wrong" episodes, the way the family and friends of the couple pull together is touching and shows how much the characters care for one another.
The episode where controlling Claire tries to Keep on top of family wants and needs while Claire is stuck at O'Hare was classic Claire and "The Prescott", an episode from this season which has Alex staying at a swank hotel and everyone keeps sneaking in to use its amazing amenities despite the hotel's strict rules and against Alex's warnings. A great ensemble piece.
If you had to pick a favorite season, which one would you pick and why?
Alejandra:
I would pick seasons 5 and 6, because I felt the show peaked during those seasons. The storylines, the jokes, those two seasons will always be memorable to me.
Jamie:
I think I might actually go with the final season (either that or the first) because everyone's lives seem so together. They're all getting their happy ending which is so great to see. And I have high hopes for the finale.
Folie-lex:
I think S2. It's when the show really started finding its footing.
KathM:
None of them stand out for me. Maybe the first season, where the characters and writers were finding their footing.
This show had many notable guest stars such as Stephanie Beatriz as Gloria's sister Sonia, Adam Devine as Andy Bailey, Nathan Lane as Pepper Saltzman, and many others. Which was your favorite recurring character and why?

Alejandra:
I loved Adam Devine as Andy, I felt that he was a great addition to the show as well as meaning. He does great comedy, and I loved his storylines with Haley and Phil.
Jamie:
There's a lot of guest-stars that I'm probably forgetting but I think my favorite is Adam Devine as Andy Bailey. I was so sad when his arc ended.
Folie-lex:
Pepper, because he's a hoot and Nathan can do no wrong.
KathM:
Pepper, because Nathan Lane is everything. Also mom DeDe Pritchett because it was interesting to see how she interacted with the characters and how they interacted with her, particularly Jay, Mitchell, Claire and Gloria.
Given that Haley had many love interests during the show, which one was your favorite?
Alejandra:
Once again I think Andy was Haley's best match. He always brought the best in her, believed in her, and saw her for who she truly was, and I believe during the time Andy was on the show was when Haley had the most growth as a character as well. It was so sad when it ended.
Jamie:
I was team Andy for a while. I never thought that I'd like Haley with Dylan but since his return he's really grown up a lot. So I definitely enjoy seeing them together now.
Folie-lex:
I think Andy was maybe objectively her best match. However I have an incredibly soft spot for Dylan and I'm very satisfied with him as her endgame.
The show also had many wholesome family moments frequently. Which one was your favorite?
Jamie:
I can't remember any specific moments but anytime Jay turns into a big softie is great. Also those times when their family moments went to hell. And everyone is just running around trying to fix something without having other people find out.
Folie-lex:
One that has stayed with me, is Phil finding out Haley is no longer a virgin. Especially the ending where he thinks he's fumbled up how he let her know he trusts and is proud of her, to juxtaposition it with Haley feeling like he nailed it, always gets me.
Elsewhere, in a more generic take: when Mitch and Cam (and Lily) have a big family moment odds are I'll find myself in a puddle...
At last, any last thoughts on the show overall.
Alejandra:
Thank you for the laughs throughout the years, and for the lovely characters we will always remember even after today's farewell.
Jamie:
This has been a really fun show to watch. I'm glad I gave this show a second chance. I'll miss seeing it.
Folie-lex:
It's been a great ride, and while I am ready for the show to bow out I'd be lying if I said I won't miss it.
KathM:
I'll miss you and am glad you chose to go out on top.
And that's it for us! What were some of your favorite moments in the show? We'd like to hear from you! Make sure to leave a comment below with your opinions and thoughts on the show!