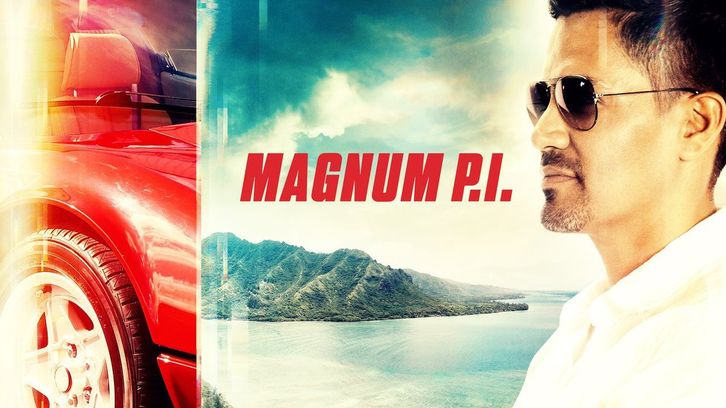 This first episode after a long break was focused on Kumu, which I really liked, since we have rarely had the opportunity to know her, and this time we learned a little more about her history, through the relationship she established with the man who kidnapped her.

But first things first. I should explained that at the beginning of the hour, while Kumu was visiting the place where her late husband took her on their first date, and where he later proposed, she met a man who, apparently, had just suffered an accident. Always willing to help, Kumu took him to Robin's Nest to cure him and from there call the police, but just then the stranger revealed his true intentions by taking her at gunpoint in one of Robin's cars.

Soon Magnum and Higgins discovered what had happened to her, and at the same time Katsumoto arrived at the property looking for a fugitive named Milo Rivers, and they immediately tied up the ends and discovered that it was he who had taken Kumu. A search was then launched to find them, in which Rick and TC also participated from his helicopter. Meanwhile, on the ground, Kumu, threatened by Milo, kept driving with the aim of taking him to the docks so he could escape in a friend's boat. At this point, I was a bit puzzled by the fact that the car they fled in had no GPS and they couldn't track it that way, but I guess that would've been to easy, and it wasn't that important since later they changed cars and from here the story began to take a turn.
I must say that if everything had been reduced to the Kumu's abduction by a wounded and increasingly weak man, the case would have been solved in 10 minutes and the episode would not have made sense, but they were able to move the story very well to the point where she began to connect with Milo's story when she discovered that what he was seeking was justice for the murder of his wife, for which he had been wrongly accused.
Thanks to that connection, we could learn more about Kumu, discovering that her husband, who died five years ago, had cheated on her and even had a daughter with another woman. Despite the fact that it was a very awful situation and that she still refused to meet the girl, she forgave him because she was convinced that everyone deserves a second chance, and that's why she trusted Milo's story and decided to help him. So, she passed this on to Thomas and Juliet, as she needed their help to solve the case.
As I mentioned in a previous review, this season has been focused on developing relationships between characters, which was exemplified once again with this episode. Unlike what normally happens, Higgins automatically believed Kumu and was willing to help, but Magnum had his reservations even though he ended up accepting it. The same thing happened with Katsumoto, who was very upset with Magnum for not telling him that they were teaming up with Kumu to help Milo, although Higgins made it clear that it had been her decision not to tell him even though Magnum had wanted to do so. Rick and TC also had to trust their friends and step aside in the chase.
Finally, the detective duo, that on this occasion played a more secondary role in the development of the story, managed to solve the case just in time for Milo to be cleared of all charges and specially dying in peace knowing why and who had killed his wife. This ending felt rather bittersweet, but the bright side was that Kumu and Milo managed to help each other and she ended up agreeing to give herself a "second chance" to get closer to her husband's daughter.
It definitely was a great episode, that felt different from others, with the usual action, but specially very emotional.
Did you like it? Leave your comments below.