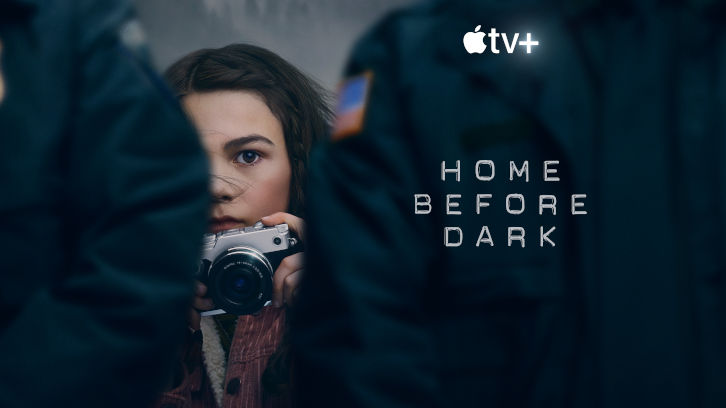 Home Before Dark is the latest drama from Apple TV+. It is inspired by the life of Hilde Lysiak who began her career in journalism at the age of nine. The drama's Hilde (Brooklynn Prince) is an elementary school student and self-appointed investigative journalist struggling to make friends and fix her family when a suspicious death in her small neighborhood unearths the secrets and lies of a 31-year-old crime. A crime that haunts her father, Matt (Jim Sturgess). For Hilde, the only thing that matters more than the truth is her family—both need saving.

Home Before Dark, created by Dana Fox and Dara Resnik, like Stranger Things before it is awash in the atmospheric writing of Stephen King, and the film adaptations that followed. And where a debt is owed to King, a debt is owed to Spielberg. Hilde is tenacious and spends time with her squad biking around town questioning adults who are at times willing to bend to the will of a nine-year-old and other times find themselves gawking at Hilde's audacity. She is without a doubt a force.
Over the course of 10 episodes, there are absolutely moments when Hilde's actions seem like those of a much older child, but for every one of those moments there is a heartbreaking scene, and you remember, she's only nine. Given Hilde's age it would be easy to expect the episodes to have the feel of a light family drama that occasionally tackles difficult subject matter in 'very special episodes,' but this show goes dark. It is filled with a vibrating tension even when the mystery starts to feel as though it's pedaling in place. Violence, racism, bullying, corruption, and subtle references to the atrocities of prison life let the viewer know that Home Before Dark will not be candy coated.
The entire cast is effortlessly watchable, but Prince is the real standout. She makes you believe her every word and every choice. Her conviction becomes your conviction. Michael Weston, as a morally compromised friend of Matt, delivers an incredible performance that will elicit animosity and compassion. Along with compelling performances, the music that punctuates various scenes is a perfect match. Reworked versions of familiar songs are at times haunting and other times surprising, but it always works.
Home Before Dark is the Nancy Drew we all wanted and a worthy successor to Veronica Mars. Luckily, the drama picked up an early season two renewal. This is good television, and one season was never going to be enough.
What did you think of Season 1? Which performances and moments really stood out for you? Leave your thoughts in the comments.