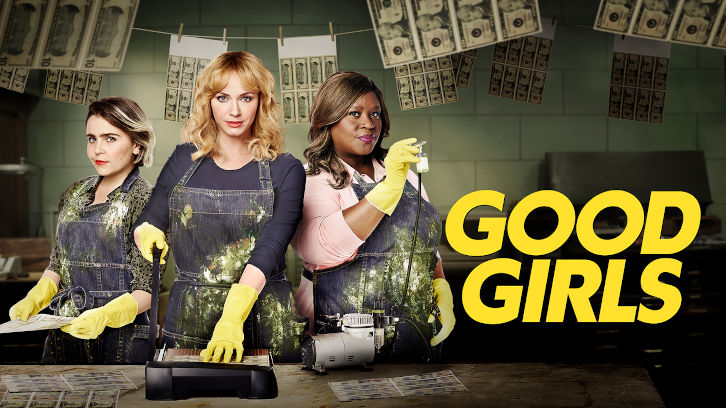 Ever since I watched this episode, I've been thinking of that meme where it's like "therapist: x can't hurt you they're not real" because seeing Boomer covered in face tattoos really threw me for a loop and I was temporarily scared of him. Then he started talking and I was like oh, right, it's Boomer. So now Boomer is back. Ugh. Let's dive in!

Annie is still flirting with her therapist. It breaks my heart to see her get her heart broken over and over. She consistently goes after men she can't have, and while it is partially on her, he was definitely flirting back at one point. This isn't cool in the first place, but then we get to the end of the episode when we find out that he apparently has a girlfriend? Yikes.
I'm just saying, give Annie a girlfriend in season four. I'm personally sick of seeing them place her with men who will inevitably hurt her, and I'm sure she's sick of it herself. Yes, she's a fictional character. Yes, I still think about her emotions.
I am seriously so scared for Ruby and Stan. Like, tearing up at the end of this episode scared. I love them so much, but Ruby is right, one of them has to be good. When Stan was talking about how all he's ever done is be good and it's gotten him nowhere, it made me so sad.
I know logistically it wouldn't work for the show, but between this conversation with Stan, and Ruby getting shot herself, I wouldn't be surprised if she started trying to ease herself out of the group. The scene where they're singing Push It was absolutely wonderful, and reminded even me that Ruby probably needs Stan more than anything else. I hope they can figure this out before one or both of them get arrested.
Y'allllll. That scene in the bar with Rio and Beth. Wow. Za. I swear, their chemistry is absolutely unmatched, and it drives me insane because Rio isn't Beth's husband. (Unfortunately.) I know that's the whole point, but man, what I wouldn't give to see them together again.
Let's talk about Beth. She was a little… out of character in this episode. At first, when she even allows Boomer an hour to go see his Nana, as they're supposed to be getting him out of the country because he's an escaped prisoner, she made me go huh? But I figured it was a one-off, it's fine, she's fine.
Then, though, she dangles the ashes of a woman over a dumpster to make Boomer listen to her, and even after that, defends Boomer. I can excuse the whole ashes thing, it was her life or his, so that's an obvious choice, but trying to spare him? Uh, what? He raped your little sister, Beth. Why on Earth would you try to convince Rio to spare him? I guess maybe she didn't want any more blood on her hands, but goodness, girl, what a hill to die on.
Towards the end of the episode, talking to Dean and laughing with the girls, she seemed a little more in character, so I'm hoping that was just a strange writing decision, but with how this season is going, I wouldn't be surprised if she went fully off the rails as we move on.
I know that Annie has a big heart, and I love that about her, but I guess I really don't because I think I felt bad for Boomer once in this episode. Yeah, it's tragic that his Nana died and he didn't get to say goodbye, but he's also, as Annie pointed out at the beginning of the episode (!), he's a serial rapist. I'm honestly hoping we don't have to see him again, but knowing Good Girls, and the way they love to toy with my emotions, he'll be back. Probably more than once.
When I was watching this episode, I went through the cast list and I was like "Oh! Lauren Lapkus! Where was she?! Did I miss her?!" Nope. I didn't. She was just in the very last scene, playing… ah, yes, yet another agent looking into the mysterious fake bills the girls have been making. Great. Just what we need!
My favorite scene in this episode was when Beth was telling Ruby and Annie about her plan to get Rio back in their good graces and Ruby was riding around on her electric scooter through Beth's house because it's completely empty and she was getting used to the scooter. Absolutely delightful. And then when she slowly backs up and it's beeping and she's making a judgmental face?! Ugh. 10/10.
My favorite quote was hard to choose, because man, this episode was packed with good quotes, but my favorite was definitely when Ruby and Stan were imagining their perfect anniversary and Ruby said "you can't afford any of that," and then Stan says, "but we deserve it." I know I usually go for a funny quote, but this one just punched me right in the gut, because he's right. They really do deserve it, and it makes me so sad that they're not getting it.
A bonus funny quote because that one
was
a bit somber:
Rio: I got something for you.
Beth: My ottoman?
Get it? Because Rio stole every single item in her house after she went behind his back and lied to him? A classic.
What did you think of the episode? How worried are you that another agent is catching onto the girls? Will Josh cheat on his girlfriend with Annie and make Annie the bad guy? Will Beth and Rio ever not make me go insane? Let me know what you think in the comments!