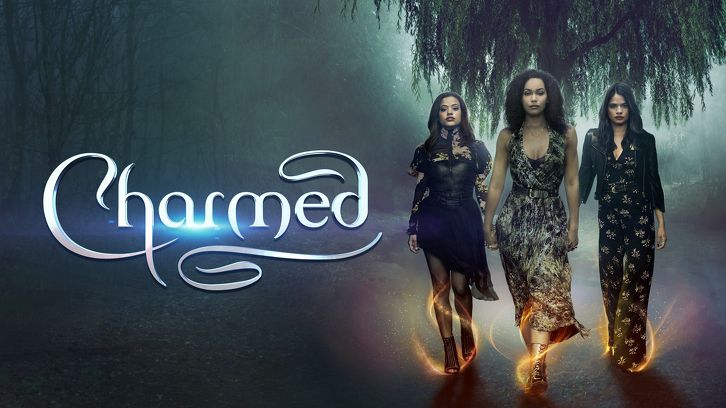 After last week`s slightly messy episode (imo), Charmed returned this week with a powerful outing. Action-packed, funny and fast-paced writing brought the best out of cast and crew as Harry`s life was on the line. Episode 17 of season 2 was directed by current showrunner Craig Shapiro and written by Aziza Aba Butain and Nicki Renna
After Jordan shared what happened during the Chasewood mission with Mel and Maggie, the story progressed quite fast. A fast forced vision from Maggie put the girls on the track for the Harry rescue mission. My favorite part was Jordan`s inclusion in all the steps. Jordan Donica just fits perfectly and shares good on-screen chemistry with each sister. The scene with Mel, in particular, showed how well he fits the world. I hope he sticks around.
The Gala was a spectacular event. Maggie and Macy looked spectacular and Jordan cleaned up pretty well. Abigael`s purse transporter was just a great innovation. Kudos to the writers for coming up with it. I was truly in love with all the potions the writers came up to use and kudos to our phenomenal Witchpedia Mel for knowing all most all of them by heart, but later on that. The mimicking poison brought out a couple of laughs. I found it hilarious when Macy and Jordan used Julian`s and Viv`s voice respectively. Also, Jordan's reaction to potentially kissing Viv made me LOL. After quite a bit of turmoil, our team finally reached Harry but made quite a bit of a mess in the process. They activated the factions magic transport device and it seemingly took Harry`s powers. But who will acquire them? Julian? Viv? A random demon? I`m intrigued to find out.
While Maggie, Macy, and Julian fought on the forefront, Mel with Abbigael`s help was the backup team. The interaction between these powerhouses is just entertaining and serves for good television. Mel being all up Abby`s behind for her demonic ways came to a fiery conclusion. Abby talked about this way back in episode 3, her introduction episode. She wasn`t accepted by either side of the witch world and it shaped her into the hybrid she is today. The scoop that it was her mother that was the one who didn`t accept her gave a lot of sense to Abby as a character but it happened a bit too late in my opinion. This revelation could`ve given a lot of background to Abby`s action but this sort of redeeming arc they`ve just started feels out of place. The construction of her character development feels just forced at the moment. Maybe Abby really just needed someone more open to her and her "flaws" like The Charmed ones and not the judgy Witch community. Unsure where the writers think of going with her story but I`d rather see a big Witchoff between Abby and the sisters than a redemption arc, just my 5 cents on it.
The episode provided some much-needed conclusion to the Julia-Macy-Harry "triangle" and revealed some big information about The Faction and Julian. During a fake Cluster Headache episode, Macy finally got further under Julian`s skin. So much that he shared what really happened during the night of his parents` accident. Julian saw a Whitelighter heal and take the victims out of the other car but leave his sister, Rosemary to die. Or did she? Is Nadia Rosemary? Julian seems unaware of Viv`s shady business but does know stuff is going on. Wonder how this will unfold further down the line. I hope Eric will be available to shoot the remaining episodes of the season.
Macy finally came clear with her emotions. She knew Julian wasn`t doing IT for her and tried to break it off, but the revelation that the Shea Group took Harry put a stop to her break up mission. Madeleine worked through so many emotions this episode. She always does so much work with her face and body language. But Madeleine really peaked during the tense rescue scene and face to face with Harry. The bundle of closeted emotions she released was just gripping and made my heart pound faster and faster.
Macy: Growing up. as you know, I was alone a lot. So I had to learn to take care of myself, protect myself. So I pulled up walls, I am talking triple-layered solid granite barriers. To any kind of feeling whatsoever. I guess I thought it would make me feel safe. But now I realize I was just lonely. . . So then you came along. With your tea and cardigans and your relentless loyalty. And that little wrinkle in your forehead when you`re thinking really hard. I`ve tried, I`ve really tried to ignore how you make me feel. The way I feel every time I look at you- But I can`t ignore it anymore, because the truth is you just didn`t break through those walls, you`ve melted them. And I am almost finished I promise. What I am trying to say, I`ve got so good at not needing anyone, I forgot what it was like to want someone. But I do, I want you, Harry Greenwood.
Followed by a couple of That´s it, Macy was shocked by what came next. Harry couldn`t recognize her. He didn`t know who was this beautiful girl standing in front of him pouring out her heart to him. In a very soapy twist, the writers put another iceberg in front of the Hacy ship. I gasped so loud guys. I won`t gasp that hard when I take my last breath. Madeleine delivered a beautifully layered performance going way back to Macy and her beginnings. How long will this memory loss stick? I hope not too long, but it looks like it will be the major plot point for next week`s outing, where we flashback to a younger Macy in an all-new episode directed by Charmed`s own Rupert Evans.
Other Tidbits:
- I loved the sisterly moment at the beginning of the episode. Mel and Maggie helping Macy practice the break up with Julian was sweet.
- The show was apparently allowed to dip a bit deeper into CW`s wallet cause the Shea Group building and costumes looked stunning.
- It seems like Julian didn`t share the prophecy with the Sisters, which bugs me but should set up further storylines. I hope.
- I cackled a bit when Julian said: Macy Flores. It is funny she still uses that name.
- Maggie longing for a normal life where she can study and be something more than a witch was quite a sweet moment. I hope we eventually get back to that and let her relive her college experience.
An eventful episode ended with an emotional breakdown and an unexpected twist. With only two episodes left this season, the writers promised some conclusion to the arc, but we`ll definitely have to wait till next season for the conclusion of the Faction arc and maybe even for Harry to regain his memories. In the meantime share your thoughts and theories in the comment section below. Till next week. . .