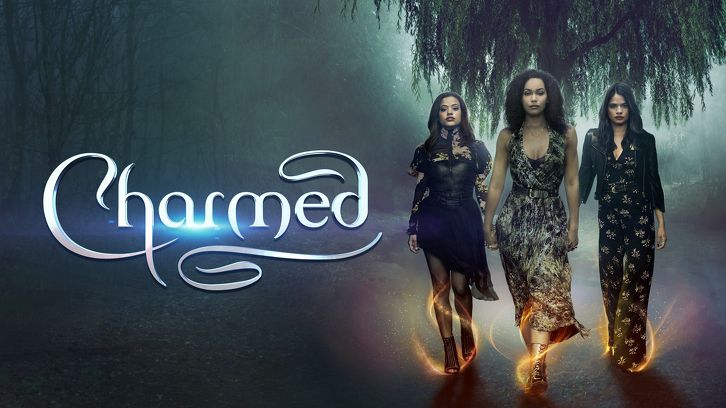 So I`ve had issues, quite a bit of issues, with this episode. Contrived plotlines, odd pacing and too convenient plotlines. Episode 17 of season 2 was directed by Felix Alcala and written by Bianca Sams.
I`ll start with the best and most intriguing part of this episode. The prophecy the Curse Witch told Jordan.
Many were lost. Few can be found.
And those who remain can(`t) be unbound.
For where sisters lurk, danger resounds.
The trio of dark and light shall be found.
Warn The Charmed ones!
First and foremost it was a beautifully shot scene. Just marvelous. The vibe they`ve created from this sort of Limbo was simply captivating. And the message they sent through it dangerous and ominous. While it could refer to Witches in general my suspicion is that is directly related to the Charmed Ones. Giving The Power of Three to sisters of great promise must certainly come with a price and that might be a demonic version of them. While this is highly speculative at this point, seeing this prophecy should be quite interesting. Probably intended to set up a season 3 storyline imo.
But how did Jordan find himself in this interesting situation? He can give a big thanks to the last Whitelighter standing. In a mission to find out more about their great Enemy, Harry recruited Jordan`s tall body. But Harry wasn`t ready for what he found in the Faction`s latest facility. The Faction continued to experiment with dead humans and Harry found their HQ but also the latest flame of his counterpartner Jimmy. Apparently, Jimmy and Nadia (guest star Peyton List), had some sort of thing going on between them. Nadia doesn`t seem that stupid to be fooled by Harry`s Jimmy act, so it should be interesting to see how their trip to the Compound resolves. But the true highlight of this B Plot is certainly the interaction between Harry and Jordan, or Chasewood how the online fandom dubbed them. Chasewood scenes were a good change of pace and seeing them sort of clash and sort of working together delivered for some good laughs and tense moments. Jordan`s reaction to orbing was hilarious. Jordan`s face, when Jimmy told him it might come out of the other end, was just hilarious. Also, the two men bonding over not being sure where they stand with their respective Loveinterests was a sweet bonding moment. For the sake of us fans and the Chasewood following, I hope the writers continue to write more scenes between them.
Going back to the main plot of the episode, Godric`s rebellion against Abigael`s failing leadership. Abby sat on two stools for way too long and it finally came to get her, I just hoped she would go the other way. The death of the Carnals new leader, through a mighty Power of Three performance (Screaming gif), put the Demon World on loop. Abigael`s attempt to fix it while recruiting the mighty Lee (guest star Alexis Louder) blew into her face when Godric and Parker ruined the meeting. At this point, I have to state, I fell hard for Lee, from her style to her attitude. Alexis Louder was a real demon and wasn`t there to be played. She brought her A-game and hopefully we`ll see more of her in future outings.
And here it is very the episode went "bad" in my opinion. All further developments felt pushy and fillery. Even Macy getting her new power. Stuff just happened and the way it unfolded didn`t make much sense. Abby getting her and Mel out, Abby losing her crown and the face-off with the Demons felt majorly forced. Not to mention the Abby-Parker truce. The writers seem adamant to keep Abby around like a silly plot toy instead of letting her get her full evil on. And while I get where they are trying to go with her story and how they are trying to deepen her character and make her a sort of ally who is the way she is because of backstory it doesn`t transfer like that through the screen. Yes, Abigael was damaged by the witch community and her father and she doesn`t feel like she belongs on either side the writing through the season just cemented her as wishy-washy and not fierce or determined. You couldn`t really feel her struggle as the Overlord, the writers just assumed giving her backstory was enough but it definitely isn`t. And while the story unfolded in an unsatisfying way imo, Demons will now finally be Demons again and I hope the sisters start taking names.
This episode delivered also some relationship "drama". Parker stripped his powers for Maggie in an attempt to reconcile. I am a major fan of the "Parkerita" chemistry and their scenes mostly work really well, but Maggie is definitely over it. Like nothing gonna happen Parker, sorry dude, please leave now. It did show a lot of growth on Maggie`s side and reflected the path she went this season. She knows she deserves better, less complicated. On the other side, Macy was trying to figure out where she stands in her relationship with Julian. And the only thing that this episode revealed is that Macy would drop Julian to the bottom of a Vulcano if Harry would just give her a glimpse of hope. I´ve said, what I`ve said. And while I really hope this ain`t the start of relationship drama, the writers put a lot of hard banter between Abigael and Mel. Their final scene in Safe Space, seemed way to flirty and it has to stop. The only way they could go there if Abigael gets reborn or with a complete mindwipe, cause as Macy said last week: No matter in which reality they are, Abigael is still the devil. End of discussion.
Other Tidbits:
- Macy and Harry doing research together was a sweet moment. I dig when the show gives the developments a bit of background.
- Mel and Maggie's training session was sweet. These type of sisterly scenes is what we need more of.
- The height difference between Jordan and Harry made me crack up. It even seemed like the director tried to push for it and show Jordan`s moral high ground.
- Where can I score an invitation to one of Lee`s parties? DM me, please.
- Macy`s new power seems interesting. It is a good expansion of her telekinetic power as now she is able to stop things from moving. Just the delivery and moment of getting that power felt uneventful. Yes it did save the day but we didn`t have that moment to really process it and see the impact of it.
- A major positive of this episode was that the sisters spend most of it together, still, I hope they will put on more focus on the bonding, like during that porch scene.
While this was a deeply unsatisfying episode for me, especially after last week`s outstanding outing, I am intrigued to hear your thoughts. Share your thoughts on the developments of this week in the comments section. Next week seems like a glamorous Harry rescue mission and hopefully the sisters will go head to head with Aunt Viv, the leader of The faction. Till next week. . .