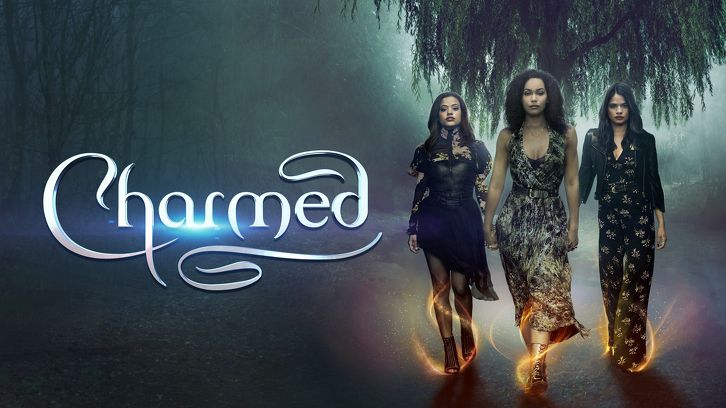 Charmed was hitting for the heartstrings this week. The emotionally heavy and revealing hour featured the return of the Charmed Parents and opened the door to a sweet sweet reunion. The episode was directed by series co-star Ruper Evans and written by Joey Falco and Zoe Marshall.
The episode picked up with the sisters interrogating a mind-wiped Harry who only remembers his past life and thinks he is James Westwell. From here the story goes two different ways with "The Veras" going after a clue Harry gave him, while Macy tried to break Harry`s memory block ending up revealing a major secret from her past. The Faction is one hell of an organization and their knowledge of magic is more dangerous than any of us could`ve imagined. That magic blocker was a great idea from the writer's side and a great way of using Jordan this episode. One thing that was a bit wonky though is how fast Jordan got there and if Macy wasn`t really breathing all that time she would`ve died. But one minor misstep in a great outing can be overlooked. Otherwise, Jordan is an excellent addition to the show. I really hope the writers decide to bring him back next season, cause he definitely earned his stripes.
After seeing how similar Ray and Mel were back in episode 10, seeing them being this close was a really great touch. Of course, Mel hasn`t forgiven all of Ray`s past deeds but they were working through it and it is healthy for them both. I mean she still calls him Ray. The reconnecting between Mel and Ray triggered something into Maggie`s mind that started a whole other story.
The shows touch on mental health issues was beautifully executed. Sarah Jeffery`s performance was executed perfectly and the choice of shots and way of interpreting how it feels to have a panic attack translated marvelously on screen. Sarah is very open about her OCD online and it was obvious how deep she felt those issues. It was also a good point where those issues started. Harry a brother-father figure forgot about her and she was about to face Ray the first time since she found out he knew about her real father. Maggie disregarding it as magical is just so often is the first response of people who suffer panic attacks, I don`t mean the magical part but it being an outside factor and not them. Maggie eventually couldn`t handle the stress anymore and exploded upon Ray and Mel. In one of Sarah`s best performances on the show, we see all of Maggie`s uncertainties explode. Maggie was angry, she bottled up so many emotions so she wouldn`t seem childish or immature but she had to do it. It was the root of her panic and it expressed itself in new power. Via Emotional Inception, according to writer Joey Falco, Maggie was able to transfer her emotions to the Guards at Fort Easton. Ray promised Maggie answers after they finished this mission. And that was one impressive heart to heart.
The episode, in general, was quite eventful and bit slower paced so all these events could take place. These choices gave the episode the time to handle all the emotional moments. Ray certainly isn`t the best father, but he loves his daughter despite all his flaws. And we need as much Felix Solis as the budget and his time allow us. Cause that speech and emotional support he provided at that moment for Maggie was bringing me to tears. As back in this midseason premiere Maggie stated that she only needed her father and Ray provided that for her in this scene. He made it clear that biology isn`t a factor in their relationship and that it never was for Ray and that it all Maggie needed.
And while Maggie finally got some emotional output, Macy found liberation in her memories. The Memory gibberish spell backfired cause of The Faction (thank you for that though, the memories were *Chef`s Kiss). It sent us approx 10 years into the past with a free-spirited Macy singing karaoke and living her best slightly directionless best life. Her rendition of Forget You was just fun and sexy, Madeleine has a great voice. After she`s been assaulted by a frat boy Macy expresses her pyrokinesis and takes her to a bad place. Dexter, now played by Leonard Roberts, calls upon Marisol for help.
Macy meeting Marisol was so emotional and heart-gripping. Her anger and pain were so beautifully expressed by Madeleine. Valerie Cruz and Madeleine had from the get-go this closeness and intimacy that made their scene carry so much more weight. It was heartbreaking seeing Marisol and Macy only being able to share a grip of a hand and not embrace each other as they wanted. But after their talk, it is where it gets a bit fuzzy. Devilishly handsome pre Charmed ones Harry appears and apparently erases and alters Macy`s memories, as a favor to Marisol. I say fuzzy cause later on Macy shares with her sisters that Marisol and Dexter somehow added some restraint and focus at that moment so she wouldn`t lash out. In the general grand picture, it does make sense but how it actually happened is a bit foggy to say at least. Still, we`ve got our first Marisol-Macy scene and it was so much more than I could`ve ever expected. But ultimately the best part of the episode was the sisters sharing that moment in the attic and supporting each other.
Last but not least, a now emotionally liberated Macy went and got herself her man. And damn was it sexy. Madeleine is such a sensual but strong actress and the emotional confession she made to Harry and herself last week put her just in the right place. She asked her man to dance with her and gosh Harry`s reaction. Dum dum dum. My heart started pounding as his face went from friendly to scared to googly eyes. She was loving him despite being "half a man" and he was ready to take and give her the love they share. Their sensual dance to Arlissa`s Every Time I Breath ended with a beautiful kiss and a little twirl at the end. I am sure this isn`t the last hurdle the two of them will face and their relationship won`t go smoothly for sure but they share the love and it was precious.
Other Tidbits:
- I love it when the sisters are quick on their feet. The sealing spell was tied to their lips. Them just thinking of it without saying was another great touch.
- I will start an online petition for the writers to introduce Coochie. I need to meet her/him asap. Also, can they auction out Ray`s Faction Map?
- Harry screaming at the phone was simply hilarious. Rupert pulled it off with a great amount of believability. I`ve cackled.
- The Handsome billionaire is always the Villain. So Maggie finally joined the #JulianIsEvilParty.
- Back at Fort Easton, we witnessed a bunch of magical Hybrids in pods. Will those be the sisters season 3 enemies? The power of three is great but it can`t wack them all away in one move.
- One very obscure thought, why wouldn`t Marisol just blind herself and keep Macy around. Cause if they could touch and be in the same room, I am sure Marisol would`ve blinded herself if not seeing Macy was the only issue. Cause Nancy`s prophecy said: If you ever lay eyes on her she will die. But I guess for story purposes they went a different direction.
Another strong episode in the second half of the season and Charmed is slowly digging itself out of their hard-hitting sophomore slump. With only 1 episode many episodes will be left unanswered. But the next episode features the return of two potent characters, Celeste and Jimmy. And while I am going to hyperventilate the next days, thinking of what will go down in the finale, you leave your thoughts about this week`s episode in the comment section below.