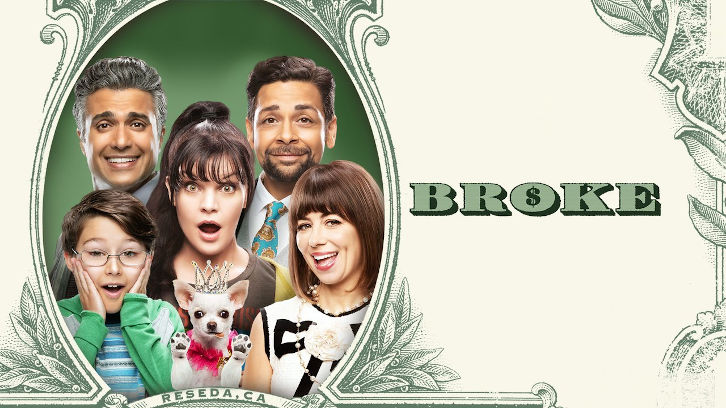 Broke
is the creation of Alex Herschlag who also wrote for
Ellen
,
Will & Grace
,
Modern Family
and
Hot in Cleveland
. Jennie Snyder Urman is also an Executive Producer, and I loved what she did with
Jane the Virgin
. Herschlag and Urman wrote this week's "Pilot" episode which was directed by Victor Gonzalez, whose other credits include
Mike & Molly
(which Herschlag also wrote for),
Last Man Standing
, and
The Neighborhood
. The show stars Pauley Perrette (best known for her role on
NCIS
) as single mom Jackie, Natasha Leggero as Jackie's polar opposite sister Elizabeth, Jaime Camil (lately from
Jane the Virgin
) as Elizabeth's formerly-rich husband Javier, Izzy Diaz as Luis – Javier's assistant and Antonio Raul Corbo as Jackie's son Sammy.
It's definitely going to take me more than one episode to decide if this show is a keeper or not. It has a strike against it for having a laugh-track. I found Perrette's performance wooden and stilted and Leggero's greater comfort with stand up may have been behind a somewhat too over-the-top performance at times. I want to see how their comfort level develops as they settle into the parts. Camil was delightful as the somewhat clueless but harmless poor-little-rich boy whose rich father has cut off his trust fund – forcing Javier and Elizabeth to show up on the doorstep of her struggling sister.
I suspect that as with all "supporting" characters, Diaz as Luis will quickly become a fan favorite. His performance in this episode is quite delightful. The part itself is also a bit over the top, but he pops in at vital moments to perform his duty and manages to make it amusing rather than hit you in the face with a hammer. The scene between Luis and Jackie over "tea" is a good one as he reveals both that he is gay and that her sister's husband is a good guy – even if he does go around buying pyramids.
Also putting in a solid performance is Corbo, who manages to be both vulnerable and wise beyond his years. He already has great chemistry with Camil – but then, really, who doesn't? This first episode wraps up with Javier getting a text from his father telling him that he isn't giving him any more money, but he'll revisit the issue in a year! I suspect that this first season – and perhaps a second season if the show is renewed – will use Elizabeth and Javier moving in with Jackie as the premise, but the year timeframe also gives them room in which to grow the series past this initial premise.
This first episode also focused – as Pilots do – on introducing us to the main characters. I'll be interested to see how this little universe expands. I also really liked Sammy's film making genius – I'm hoping that this will become a feature of the series in the same way that Jane the Virgin always managed to spice things up with magical realism. His film at the end about family certainly underscored that this is what the show is about – and does anyone doubt that we'll be seeing rocker-Dad at some point? What did you think of the show if you watched? Will you keep watching? Let me know your thoughts in the comments below!