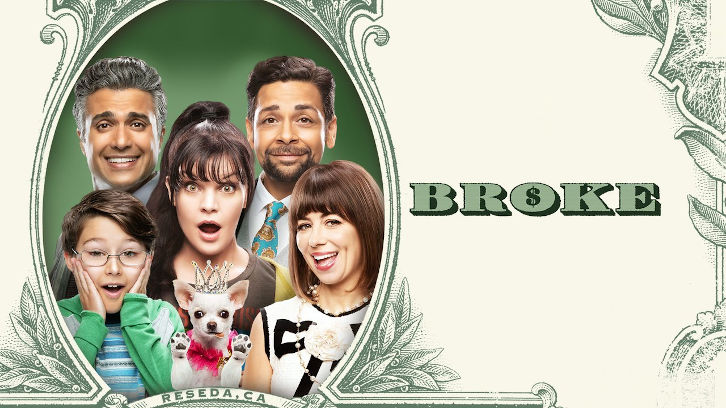 Broke
"Jobs" was written by the team of Alex Hershlag and Jennie Snyder Urman and was directed by Victor Gonzalez. The laugh track is still annoying, but I felt like Pauley Perrette (Jackie) and Natasha Leggero (Elizabeth) settled a bit more into their roles. I still don't see the two as sisters – and yes, I realize that they are estranged, but there's no physical resemblance either! There were a few more laughs in this episode.
As the title suggests, this episode is about Elizabeth and Javier (Jaime Camil) having to find jobs to contribute to the household. I have to say, I really didn't find Javier eating Sammy's (Antonio Raul Corbo) breakfast, leaving none for the Sammy particularly funny – or consistent with Javier clearly caring about the boy.
Elizabeth gets a job as a personal shopper – which is perfect for her as long as she doesn't run into anyone she knows! Javier becomes an uber driver – with Luis (Izzy Diaz) doing all the driving – and this did come with a few laughs.
The episode introduces two new characters at the bar. Derek (Al Madrigal) is the manager and Jackie's boss – because his mother owns the bar. It's clear that he's not very bright and shouldn't be Jackie's boss. We also meet Keith (Fred Stoller) a regular. I can't say that I found either of them added much to the show as I found their delivery flat – but to be honest, they didn't have a lot to work with.
The heart of this episode is that Elizabeth and Javier are clearly biding their time until Javier can get his money back and they can go back to "real" life. Jackie is hurt because she thinks (probably correctly) that Elizabeth is ashamed of her and is planning on dumping her the minute they get the money back. She is also worried that Sammy will be hurt again when Javier dumps him. One of the best scenes in the episode, however, is a nice parallel to the heart to heart the sisters had in the bathroom last week – when Javier show up in the tub – surprising Jackie! He tells her that he's committed to Sammy – and gives her good advice about not getting Sammy's hopes up about his dad. He tells her not to tell Sammy when his dad is coming. That way, if he does show up it's a great surprise and if he doesn't it isn't a horrible disappointment.
While familial friction generally makes good comedy, I'm actually looking more forward to this little group working together to combat outside influences on their little group. I think that will allow the stronger cast members – Camil and Diaz – to help support the others. I have to say that I was a bit disappointed not to get anymore Sammy movies this week! What did you think of the second episode? Let me know your thoughts in the comments below!