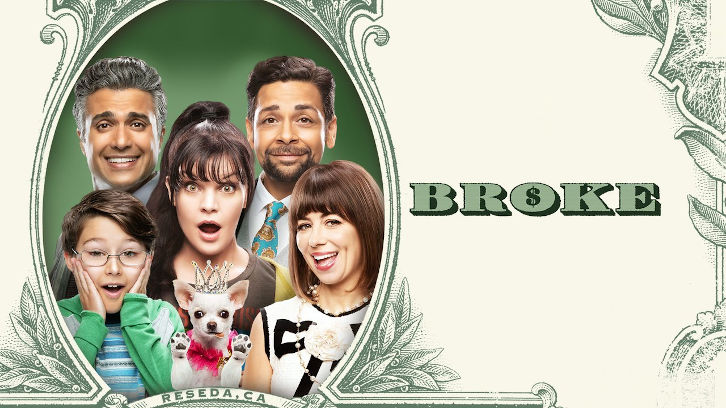 Broke
"The Dance" was written by the team of Craig Gerard and Matthew Zinman and was directed by Victor Gonzalez, who is apparently directing all of the episodes (or at least the first 6!). Gerard and Zinman have also written for
How I Met Your Mother
,
Telenovela
, and
Trial & Error
. Pauley Perrette (Jackie) and Natasha Leggero (Elizabeth) continue to settle into their roles, but Jaime Camil (Javier) continues to be the real reason to watch this show.
This episode focuses on two parallel stories with the same moral. Owning who you are. It's hot and the air conditioning, like everything else in Jackie's (pretty large) house is broken. Jackie doesn't want to ask for a raise – which she deserves – because she's afraid of being fired. Meanwhile, a couple that Javier and Elizabeth lent a lot of money to is in town. They don't want to ask for the money back because they don't want anyone to know they are broke. And this leads to the technique of dancing around what you want rather than asking for it. And naturally, this doesn't work for either of them.
Javier and Elizabeth "run into" Amir (Pej Vahdat) and Sandra (Mouzam Makkar) who are insufferable. It's hard to believe anyone could ever have enjoyed their pretentious, mean-spirited company. Are we to believe that these are the kinds of people that Javier and Elizabeth actually called "friends?" The final straw is Sandra's completely unrestrained contempt for Elizabeth – and the both of them actually asking for the money back when the dance doesn't work. Really, the best scene in the entire episode is Camil's tirade at them.
At the bar, Jackie tries the dance with Derek (Al Madrigal), and when that doesn't work, Luis (Izzy Diaz) convinces her to try the direct approach. When she threatens to quit, Derek lets her. All is well, of course, when Mitzi (Livia Treviño), Derek's mother, shows up at the house with Derek in tow. She forces to hire Jackie back with a raise – of course. Diaz also continues to be a highlight of the show.
I'd still like to see more of Sammy (Antonio Raul Corbo) with Javier. I liked that they brought Sammy's mad digital skills back in as he was faking Javier and Elizabeth's Instagram to make their friends think they were travelling around the world. I'm still finding that the laughs are a bit few and far between as the show seems to tread well-worn paths. What did you think of the episode? Is this a new favorite? Are you watching for a particular actor – and what are your thoughts? Let me know in the comments below!