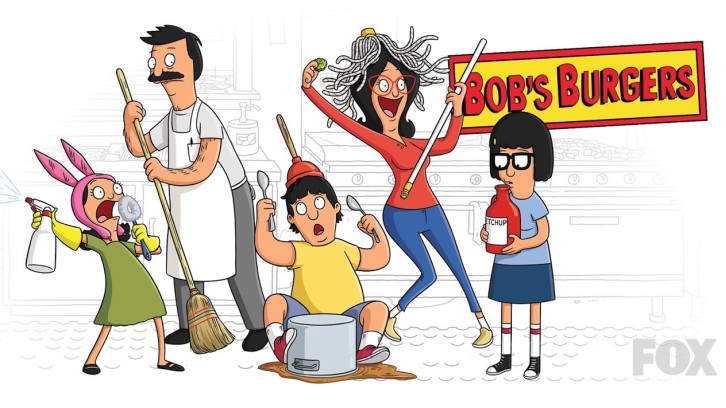 This latest episode of Bob's Burgers came at just the right time. After too much of HBO's Succession I needed to spend a little time with a functioning family unit not made up of jerks and holes. Enter the Belchers.

There are two main plots for this week, one focused on Tina and the other set at the restaurant with the rest of the family. The episode opens with Tina in a conundrum: Josh has invited her to his tap dance recital and she's stressing - she's not interested in him as more than a friend since she and Jimmy Jr. touched souls in the school hallway recently and she doesn't want to break his heart. Because why else would he invite her if not to proclaim his undying love?

Josh gives an answer to that question when Tina arrives at the rehearsal to the recital: he wants her honest opinion of his dancing since she's always watched his moves closely. Maybe a little too closely. And with labored breathing. Tina thinks it's a cover for his feelings and is still stressing when she sits in the audience, where she sees Douglas. He's there against his will: he thinks tap sounds like pennies thrown at a trash can, but he's there to support his friend Josh. Tina and Douglas watch Josh's routine, very much unimpressed.

The voice work of Ben Schwartz as Josh during this scene was spot on. The little "nu-uh" stairs fake out was great.
Suddenly, tragedy! Josh goes down with a knee injury when the stairs, appropriately named Fred A. Stairs, move during his routine, throwing him off. Tina senses foul play and thinks that if she can find the person who sabotaged Josh then he'll take the news of her not being interested in him better. It's convoluted reasoning but since the story hinges on it we're pretty much forced to roll with it. We watch as Tina, acting like a hard boiled detective who uses foul language, accuses everyone of purposefully injuring Josh. She finds out that Douglas auditioned for Josh's role, but only because his father made him - he still hates tap. She scared multiple Sawyers with her tough questioning, including making Sawyer D. climb over a fence when they became locked in a courtyard. She did provide him with this great piece of advice: "Pretend you're in a play called Sawyer climbs a fence." And it works since Josh and friends go to a performing arts school.
After terrorizing all the kids, and even a teacher, Tina cracks the case. It turns out that when Josh locked the stairs before the rehearsal the tap sound of his shoes mimicked the sound of the stairs locking. No sabotage and Tina learned a lesson about not assuming things, I think? Or telling the truth? Tina's motivations were paper thin but the delight of watching Tina bully people into submission during her investigation was worth it. I wouldn't mind seeing her "take the third degree up a notch to the fourth degree" again sometime soon.
In the B plot we have Gene and Louise compete to see who can make the best burger, with the winner's going on the daily special's board. Bob is very excited that his kids are getting into cooking, even though they think his cauliflower burger is a big thumbs down.
The artists at work with - diced olives. Yikes.
Bob and Linda have a side bet, with Bob thinking Gene will win while Linda goes all in on Louise. When the finished burgers are presented, with ingredients such as gum and licorice, Bob and Linda realize their mistake with their first bites. They lie to the kids, declaring the contest a tie since both burgers were so good, and when Teddy walks in the kids enlist him as the tiebreaker. Teddy gags on the burgers but quickly backtracks when he realizes they were made by the kids. His reward: both burgers! Poor Teddy.
Odds and ends:
Favorite quote #1: "Attention everyone, the show must not go on. We have to tap out for now."
Favorite quote #2: "Lost was really popular when we were born." Said by one of six Sawyers at the school.
Favorite blink and you'll miss it moment: Bob daydreams about the kids taking over the restaurant, renaming it Bob's Kid's Burgers.
Not her best work: When Tina gets out of working at the restaurant to go to Josh's recital, Louise says she has to leave to go to Rudy's ballet fight. I expect more from that twisted mind of hers.
My girlfriend suggested a Bob's Burgers binge for these dark times - anyone else thinks Bob's is the perfect quarantine show?