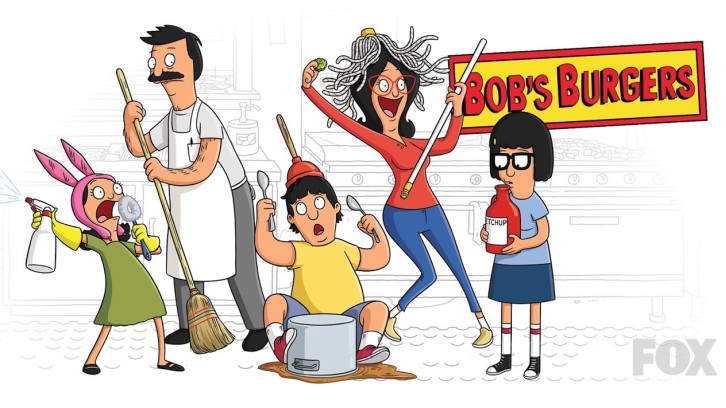 If you don't like Bob's episodes where the kids take turns spinning a story, usually very on point with their personalities, then this latest episode probably isn't for you. The premise is simple: Teddy has a crisis of confidence in his handyman skills when a gazebo he built burns down to the ground. When a bulb in the restaurant's walk in freezer goes on the fritz Bob needs some electric work done but Teddy declines, scared of another disaster. Bob then has to use the money he and Linda had earmarked for a trampoline park day for the kids (and Linda) to hire an actual electrician who won't take partial payment in burgers. To get Teddy back in his groove so they can go to the trampoline park the kids try to pump up his ego with stories of how only he can get them out of fantastical situations with this handyman skills.

First up is Louise, with a tale heavily influenced by Waterworld with a splash (ha!) of Mad Max: Fury Road thrown in:

In this scenario a 100 year storm flooded the Earth, but luckily Teddy was able to convert the restaurant into a barge.
It's a standard issue parody with Rudy being the key to the location of Candy Island and only Teddy's skills can thwart the evil Puberty Pirates and get them to the promised land. It was all a bit too on the nose and almost lazy. Plus Bob's is fifteen years too late to the Waterworld parody party.
When Teddy is still down after Louise's story Tina tries next to cheer him up. In her story the boy band Boyz 4 Now are trapped on Mt. Everest:
They were filming their video for "I Love You For Everest." Sounds catchy.
Only Teddy and his ability to turn the restaurant into a hot air balloon rescue ship can save the day. The best parts of this story were Tina throwing in some Bob/Teddy romance in the form of Bob being very excited by Teddy's heroics, which had the real Bob very uncomfortable, and that even with Tina telling the story all she can come up with as compliments for herself are that she's interesting and the boys from Boyz know her first name only. All three stories by the kids reflect their characters but for me Tina's is the most successful in generating laughs while making me think 'that is so Tina.'
When Teddy's confidence is still not restored after Tina's attempt and with the trampoline money getting closer to bouncing into the pocket of a certified electrician Gene takes a stab at lifting his spirits with a tale of Teddy saving the day from a Jimmy Pesto created monster:
Pizzilla, created by bad pizza sauce being dumped into the sewers, is getting ready to release a most dangerous weapon.
To fight Pizzilla and its dangerous farts (this is such a Gene story) Teddy transforms the restaurant into a Gundam/Power Rangers like fighting "robo burger bot" that each member of the Belcher family, plus Teddy, controls. The good guys win by tricking Pizzilla into laughing about a fart joke. Some people might appreciate the show's willingness to stick with a bit, but as someone not that fond of fart jokes I found Gene's entire segment flat and one note. I would have much rather preferred a winsome Gene musical number rather than what we got.
But in the end Teddy's confidence is restored, not just by Gene's story, but by the belief all the kids have in him. It's a nice sentiment, but since they only wanted to help him so they could go to the trampoline park their praise doesn't come across as sincere and lessens its emotional impact.
Odds and ends:
Favorite quote #1: "Teddy does all the handy jobs." Oh Gene.
Favorite quote #2: "You're too proud and too poor to fix any of that." Sometimes Louise is right on the nose.
Favorite blink and you'll miss it moment: Boyz 4 Now reward Tina by making her the director of their video, and she wins the Academy Award for Music Videos for her work. I guess that's a new categoy.
Thoughts and comments on this latest episode go below!