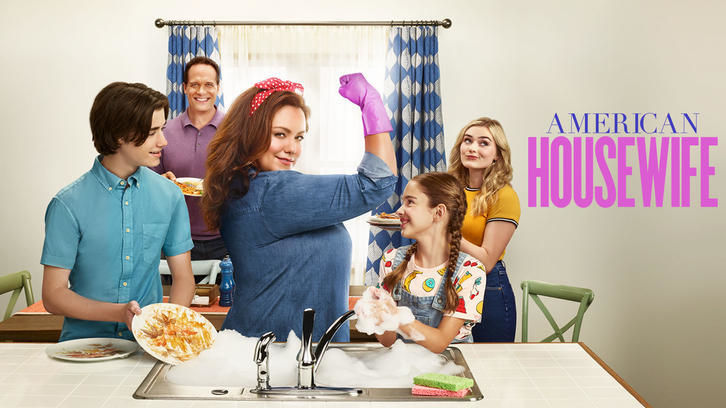 On this week's episode of American Housewife, changes are coming to Second Breakfast, and Katie definitely isn't embracing them!


At Second Breakfast, Katie's dismayed to realize Doris and Angela are too busy giggling about the brother/sister duo they're going on double dates with to listen to Katie's concern that Oliver is now taller than her (It's not as fun yelling at him when she's "staring up at his nostrils!") Angela and Doris are even going hiking with their dates the next day. They invite Katie to come, but well...it's hiking, so you know her answer.

At home, Katie punishes Taylor and Oliver by making them pick up Luther's poop out of the front yard every morning. Their sin? Acknowledging that Oliver has gotten taller than Katie! (Yep, she's really bitter about that!) Meanwhile, Greg gets excited when he finds out Anna-Kat has to build a Popsicle stick, Fort Trumbull, for a school project. With both Taylor and Oliver's history Popsicle projects in the past, he's had a blast helping them (translation - doing it for them!). So, he's dismayed to find out that Anna-Kat doesn't actually need or want his help. But, because his face has "soft, delicate features, like an old, sick woman," Anna-Kat agrees to let him help. After they finish assembling the Fort, Anna-Kat gets ready to paint the grass on it, but Greg takes over and insists they put fake grass in front instead. Anna-Kat then decides to turn the project in when Greg's not around, and he's not happy about it. Apparently, Anna-Kat's idea that the project was "good enough" wasn't enough for Greg. He wants Connecticut Perennial Rye Grass adorning the lawn!

The next morning, Katie waits for Angela and Doris at Second Breakfast but gets a text that they're still on the double date and aren't going to make it. At home, Oliver and Taylor are out picking up Luther's poop when the "Street Pics" car (the equivalent of Google Maps) drives down the road and snaps their picture in all their early morning glory - Taylor with her crazy hair and Oliver with his panda slippers and "I farted. So what?" shirt. The two get desperate to devise a plan to track the Street Pics car down before their pictures go on the internet.


Later that night, Katie complains to Greg about Angela and Doris not making it to Second Breakfast. Greg suggests Katie tell Doris and Angela how she feels about them standing her up, which of course Katie translates to "give them a taste of their own medicine!" The next morning, Katie tries out Taylor and Oliver as potential Second Breakfast bestie replacements, but they're definitely not interested and she's not impressed with them anyways. So she goes with her back-up plan, and after canceling on Angela and Doris, waltzes right past them with her new replacement besties, Principal Ablin and Maria! As Katie tries her hardest to make it look like they're having fun, Angela and Doris confront her about the new scheme. They say they're allowed to do things outside of Second Breakfast, including going hiking and basically tell her she needs to get over it. But Katie's just getting started and tells them that she too has new friends now and other things to do outside of hanging out with them.

While Katie's busy trying to show up Angela and Doris, Oliver and Taylor are convinced they're going to end up on the "Top 10 Most Humiliating Images Caught by Street Pics" List (which includes someone getting arrested, a guy bending over to get his newspaper and accidentally giving the Street Pics car a "full moon," and a drunk passed out on their front stoop!) They've got Cooper's helicopter busy tracking the car down, and thankfully they find it in a neighboring town. The two race over to confront the Street Pics driver, who only agrees to re-shoot the photo under one condition - that Oliver gives him his super expensive belt. Much to Taylor's dismay, Oliver tries selling him on a date with her instead ("She just got that vaccine!"), but he's only interested in the belt. So, Oliver reluctantly hands it over and the guy tells them he'll come back by the house tomorrow, though he won't give them an exact time, so Oliver and Taylor resolve to dress their best anytime they have to step outside the next day.

Later that night, Katie finds Greg out in the garage, looking at all the old projects he helped the kids with. Greg's sad there's not going to be any more elementary school projects to help them on but he knows he needs to apologize to Anna-Kat. He decides to take Katie since she's "always in the wrong" to coach him through it. Greg admits to Anna-Kat that he was just upset that she didn't need his help anymore and he ended up making it all about him. Anna-Kat tells him that she's still going to need him, she just has her own life now. Hearing the two makeup, Katie has a realization that she's done the exact same thing to Doris and Angela and she needs to apologize as well.

The next day, Katie chases Doris and Angela down on their hike and apologizes. They tell her they know she hates changes and they know she "feel[s] like everyone is moving forward and [she] is being left behind." When Katie asks if they can still have Second Breakfast, Doris and Angela tell her they need her too. They need to be able to complain about the people they're dating to her!

While Katie's busy getting her friends back, Taylor and Oliver get their redo when the Street Pics car comes back by. They decide they look so good that they're going to purposely be in the picture. Unfortunately, Oliver steps in the mud right then and blames Taylor for it, since she didn't turn off the hose. So he decides to throw mud on her and they end up scuffling in the mud puddle, right as the Street Pics car drives by! They gain a spot as Number 6 on the Street Pics Top Ten Fails List. They even beat out "Pant-less Granny fights Possum!"

Random Thoughts:
-Best line goes to Greg when discussing going to the arts and crafts store. "I like to go to the miniature section and pretend I'm a giant. It really brings the store down!"

Was I the only one who felt the need to go and search Google Street-view fails after this? (I would highly recommend it!)