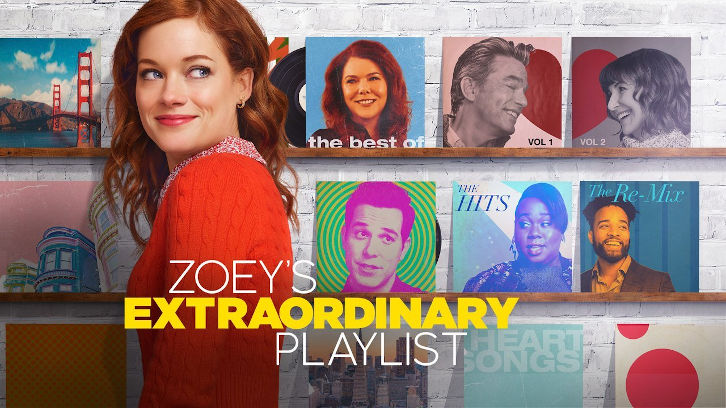 "Zoey's Extraordinary Playlist" delivered its strongest outing yet this week by turning the tables around on its own premise.
At the top of the hour, Zoey receives some unsettling news as she, Maggie, David and Mitch's new caretaker Howie all accompany Mitch to a doctor's appointment. While the family believed that Mitch was doing pretty well on his medication, the doctor informs them otherwise; in fact, he says, Mitch likely only has a few more weeks to live. The scene is jarringly quiet as we, the audience absorb the same shock hitting the Clarke family in this moment.
After that, Zoey is understandably upset going to work. So much so, in fact, that after a woman in the SPRQ Point lobby asks her if she's OK, she breaks out into a full performance of Gnarls Barkley's "Crazy." As it seems, Zoey's powers have pulled an Uno Reverse Card on her - with the added caveat that this time, the performances aren't happening just in her head; instead of Zoey being able to hear everyone else's feelings, everyone else can hear all of hers.
Beyond being a surprise, this "glitch" proves to be a big problem for Zoey, mostly because Joan has been putting a lot of pressure on her to create a timeline for The Chirp before a meeting with SPRQ Point CEO Danny Michael Davis later that day. On top of that, Zoey is still trying to hide that she saw Joan and Leif kissing the previous night, something made even more difficult to do by the fact that they're still acting creepily flirtatious with one another. As a result, Zoey finds herself suddenly belting out "I Saw Mommy Kissing Santa Claus" in a meeting with the two of them - and unable to stop!
Markedly concerned, Zoey tells Max about her new predicament, and talks about how usually, when she hears someone singing, it's because they have some problem they need to fix or face. Max, endearingly, promises to help her work out her feelings. However, she doesn't tell him about her dad's condition, instead attributing her new "glitch" to work stress.
Speaking of work stress, Zoey is about to make her Chirp presentation to Ja table full of executives including Joan and Danny (an eccentric, Mark Zuckerburg ripoff of sorts), but she knows that her timeline is still in the works. This is why she (in possibly the funniest "Zoey" scene to date) begins singing Billy Joel's "Pressure," complete with a spontaneously choreographed dance on top of the conference table. Max, seeing his friend in trouble, rushes in to try and patch up the situation, singing and dancing along with her, and then explaining to the board that the performance was an example of how people who don't know what to do in social situations can use The Chirp to never to feel that "pressure" again. It works, and Joan later informs Zoey that Danny thought the presentation was "weird" but that he loved it and was giving them the funding they needed.
Zoey thanks Max for his unfaltering loyalty, even as she was making a complete fool of herself, and shocks herself by singing him "I'm Yours" by Jason Mraz. She sang him a "heart song" - so does she heart him? The moment, as cute as it is, leaves the them both confused. I, however, am not at all confused. I mean - look at that picture! In fact, I take back all my previous middling statements about a possible Max/Zoey 'ship: Max is adorable. Zoey is adorable. Max and Zoey are adorable, and I am all in (or...Maybe 98%? No, 100%. I'm all in. Wait… I'm theirs? ...No, too cringey - pretend I didn't say that). Regardless, The amount of dedication Max has toward Zoey's happiness is sweet, but after all the tenderness from Zoey herself that scene, I'm excited to see where this might go.
However, one major thing is still in the way of #Zax (oh, lord, is that the best ship name? Please think of better ones in the comments), and that is Zoey's lingering feelings for Simon. Those manifested themselves in the wake of Zoey's "glitch" as well, with her singing Cheap Trick's "I Want You to Want Me" in a quiet moment alone with him. Except, she wasn't totally alone, as Max had coincidentally walked into the room as Zoey - who, as a reminder, had just sung him a heart song - was now singing one to someone else.
To make things even more complicated, Zoey goes to talk to Simon in his office about the song she sang, and Simon - who is, as far as we know, still engaged - kisses her. Additionally, Zoey also finally tells Max what is happening with her dad, and he gives her some encouraging words that inspire her to finally confront her own feelings. Well - she confronts her feelings about her dad, at least. It shaping up to be that the Zoey/Max/Simon love triangle is gonna take a little while longer to resolve.
While her romantic life may be more complicated than ever, Zoey did begin down the road to acceptance with her family at the end of the hour. In a moment I've personally been waiting for since the Pilot, Zoey sat down with Mitch and poured out all her emotions about his death to him, singing LeeAnn Rimes' "How Do I Live" to him ("How do I live without you? I want to know. How do I breathe without you if you ever go? How do I ever, ever survive? How do I, how do I, oh, how do I live?") and imagining him holding her close.
The episode ends as Maggie walks into the Clarke living room to see Zoey and Mitch watching a show about survival in impossible conditions, in an apt metaphor for all of their lives as we seem to be heading into the final batch of (sure to be heartbreaking) episodes.
I feel like "Zoey" keeps getting more and more comfortable in its own skin, and this episode is a perfect example of that. The premise is now established enough to toy with, and even though they seemed hesitant for a while, the writers are now having no trouble diving right in and playing in the sandbox. It's entertaining as hell, and it's nice to see that no one is putting the outstanding creativity of this show's premise to waste.
Another thing I have to mention this week is the acting: I feel like a majority of the reason why this show is so endearing is Jane Levy's quirky, heartfelt performance as Zoey, and in this episode, Levy got to show off many different facets of our titular character - and of her own acting capability. Levy is effortless in such a dedicated performance; she makes it look like balancing comedy so light and drama so heavy is a cakewalk, and this week, that dedication inspired both belly laughs (with her exuberant song-and-dance numbers and futile attempts to stop herself) and a "This is Us," shoveling-spoons-of-ice-cream-in-your-mouth level of cries. Skylar Astin deserves a quick note as well, becoming more and more integral to the core of the show with Max's charming supportive gestures and fervent torch-bearing. However, this episode was clearly Levy's spotlight moment, and she absolutely crushed it.
So, what did you think about "Zoey's Extraordinary Glitch?" What was your favorite moment? And, for a bit of a change, what do you think about the show's marketing strategy? While it is garnering comparatively low Live/Same Day ratings, it does seem to be benefiting a lot from a large online/social media presence, and pushing for a major gain in next-day viewings via DVR and Hulu. What's your opinion on that strategy? Let me know in the comments!
Zoey's Extraordinary Quotes-List:
Zoey: I can't believe these words are coming out of my mouth...I saw Joan and Leif kissing.
Max: What? Like…kissing kissing?
Zoey: Yes, and not only that, I heard him sing "I Put a Spell On You." It seemed real sketchy. Leif is definitely up to something.
Max: Are we talking, like, witchcraft or just shameless career advancement?
Zoey: Either way, hooking up with Leif is like...kissing a Slytherin!
Max: Okay, before you totally freak out, just remember that a lot of people sing out loud! Small children, waiters, on your birthday, me every time I hear that song "Africa" on the radio.
Joan: Listen: do you need to go to the hospital?
Zoey: Oh no, I don't think so.
Joan: Okay, then this is not the day for any Zoey shenanigans.
Zoey: Couldn't agree with you more. So..um...Do I normally have Zoey shananigans?
Joan: Can you schedule your nervous breakdown for another day?
Zoey: Yup, consider it rescheduled.
Joan: Thanks.