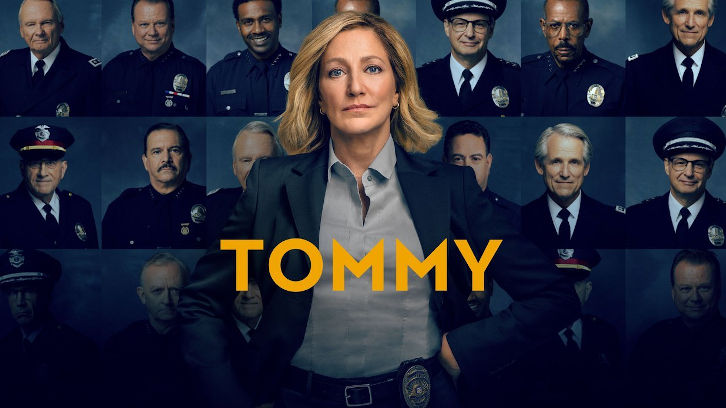 Tommy
"The Ninth Girl" was written by Carl Capotorto and was directed by Ed Ornelas, whose other credits include
NCIS: New Orleans
,
NCIS
, and
Bull
, so he's got the procedural down. Capotorto's other writing credits include
The Deuce
and
Vinyl
, but you may know him as an actor from
The Sopranos
. This episode was an odd mix of confronting racism in the LAPD and perpetrating racial stereotypes in the main story. They couldn't have known about Covid-19 when this was being filmed or written, but it seems ill timed for a show to be so insensitive to China by painting its citizens as grasping and intolerant.
The case at the center of this episode involves the kidnapped adopted baby of Li Chang (Rich Ting) and his husband Bryan (Timothy Earl Lofing). Chang is Chinese and the adoption was supposed to have happened there, but it quickly comes out that because he is gay both his family and his country have shunned Chang. Consul Deng (Fenton Li) doesn't seem to realize this at first and intervenes because Chang's family is very influential. The Mayor (Thomas Sadoski) pressures Tommy (Edie Falco) into heading the investigation because he's trying to get the Chinese to invest in a huge development.
Tommy doesn't care about the PR and is clearly very concerned about the baby. Tommy puts Diaz (Vladimir Caamano) on the case with lead detective Keller (Patch Darragh). The two clearly have a history and Keller clearly has a problem with Diaz. The first clue sends them looking for the Canadian nanny, Ella (Ruby Wolf) who suddenly went on vacation 3 days before the baby disappeared. Diaz gets the information from doing a better job questioning Ella's roommate (Laakan McHardy), and Keller essentially cuts him out of the investigation.
Blake (Adelaide Clemens) has 14 interviews with Chinese news outlets for Tommy to do, but they all seem more interested in asking her general – and stupid questions – than about the baby. Blake meanwhile starts fielding a barrage of texts from Buddy, who clearly wants to take their relationship to the next level. She puts him off later telling Ken (Michael Chernus) – without naming names – that she's involved with someone whose career is at a different level than hers – like, wow. How romantic is that? Of course, sleeping with a married guy doesn't get much lower anyway.
Cooper (Russell G Jones) and Ashley (Sasha Diamond) track Ella down and bring her in. She's quickly eliminated as a suspect when she tells them that she'd gone away with her married boyfriend – hmm. Seems to be another theme in this episode.
Tommy watches Diaz during the interrogation – as he's not actually in the room with Ella and Keller and asks if there's a problem. He tells her no…
They discover that the baby was not adopted in China and that Li and Bryan forged the photos that seemed to show it was. It's hard for gays to adopt in China – and this is when we learn his family couldn't help because they don't talk to him. They'd used a lawyer – Richard Jacks (Vin Scialla) to cut the red tape and get then a baby. Cooper knows Jacks as a bottom feeder. Tommy asks Ken to put on his lawyer's hat – but when they raid Jacks's office papers are missing and there's no evidence.
However, Ashley works her tech magic on some sim cards that were found and finds the baby's adoption records. It turns out that Jacks is connected to a prostitution ring. Vice is building a case and Vice Commander Santos (Philip Anthony-Rodriguez) is at first reluctant to jeopardize the operation. Tommy tells him too bad…
Meanwhile, we get what seems to be a stock scene for the show with Tommy and Diaz in the car. Keller has complained to Tommy about Diaz! Tommy asks about the bad blood, and Diaz tells her that previously, the two had agreed to a fight. Nothing happened to Keller – even though it's against the rules – but Diaz got punished. His career was sidetracked and he'd been put it limbo. He was about to quit when he suddenly got transferred to security. Tommy tells him to make it right. Diaz tries, but of course, Keller isn't interested.
They follow Santos' lead and track a van full of prostitutes. They find 8 of the 9 girls who were originally in the van – and the baby blanket, but no baby. Meanwhile Consul Deng withdraws any support from China or Li's family. Not surprisingly, Tommy is really angry because it's because Li is gay.
At home, Tommy sees that Kate (Olivia Lucy Phillip) and Henry (Luke Jones) are getting along a lot better. Tommy confides in Kate that she is having a hard time with the case. She can't shake of the thought of the baby, and they aren't getting a handle on the kidnapping.
Tommy is in to work early, only to be visiting by the Mayor who is upset that she pissed of Deng! He tells her to make it right – send him a gift or something! They track the missing van to a warehouse and raid it. They chase a girl with a blanket – and there's a nice tense moment when it seems like she is going to jump and then drops the baby – but it's just a blanket.
Keller is interrogating the woman and getting nowhere as Tommy, Cooper, Santos, and Diaz watch. Diaz says he's going at her too hard, and Tommy clearly agrees as she says that she'll talk to her. When Keller tries to stop her, Cooper yells at him – like Dude! This is your BOSS! It's another subtle nod to the fact that Tommy is still discriminated against in her own department – for being a woman and not being Milt.
Tommy shares how she got her name, and Guan Ping (Ellen Mah) shares hers. It turns out the baby is hers, and she never wanted to give her up. Tommy tells her that she's an amazing mother, but the baby isn't safe wherever she is and gets her to tell them where the van driver is.
Meanwhile, Keller pulls Diaz aside to talk to him. Cooper sees them go. Keller accuses Diaz of smirking at him and tells him it's going to get ugly if he keeps doing it. Diaz tells him that it's already ugly. Keller tries to get Diaz to fight – and it becomes clear that Keller's problem is rooted in racism. Keller tells him that he doesn't deserve his job – and neither does his "lady-boss." Diaz calls him on it.
Tommy and Diaz go to the restaurant where the Van driver (Young Mazino) has the baby. Guan Ping watches from a car as Tommy gives the baby to child services.
Tommy briefs Brian and Li that Guan Ping had managed to get close to Jacks and see the fake adoption papers when he was asleep. She then got the van driver to take her to their house to steal the baby back. Li wants to know what they can do. They have lawyers to fight, but Brian tells her they don't want to rip them apart again. Li suggests that they want to stay close and help with money. We see Guan Ping reunited with the baby – and Li and Brian are there too.
Between them, Blake and Tommy get Consul Deng back on board by promising a story of cooperation. Deng is mostly interested in having his personal role played up.
Tommy gives a press conference and I thought this was one of the best scenes in the episode. She tells the press – and is putting the city on notice – that if anyone is in LA to harm or exploit young people, she will track them down! I believed her! Falco was fierce in this scene! And I'm really loving the character that she's building here.
Diaz watches as Keller gets all the credit and Cooper pulls Diaz aside. He congratulates him on not punching Keller but tells him not to get that close to the edge again. He then tells him that he's the one who got him the detail with Tommy. He knew he was about to quit – and why – and didn't want to lose him.
Blake is clearly going to take her relationship further with the Mayor – even though Ken warned her not to.
At home, in the final scene, Tommy is watching Henry with Luna (Naledi Murray) when Santos sends her some information on the prostitution case – pictures of Johns. And of course, among them, she finds Henry. So. Does she tell Kate? Confront him? Have him arrested??? We'll have to wait to find out.
I thought this was an interesting episode. It confronts the racism within the LAPD which Tommy has already pledged to address. We do see Chinese as victims here, but we also get a large dose of China as homophobic and Deng as its representative of being callous and grasping. Overall, I did like this episode, which gave us some great insight into both Diaz and Tommy. I continue to dislike Blake. What about you? What did you think of the episode? Let me know your thoughts in the comments below!