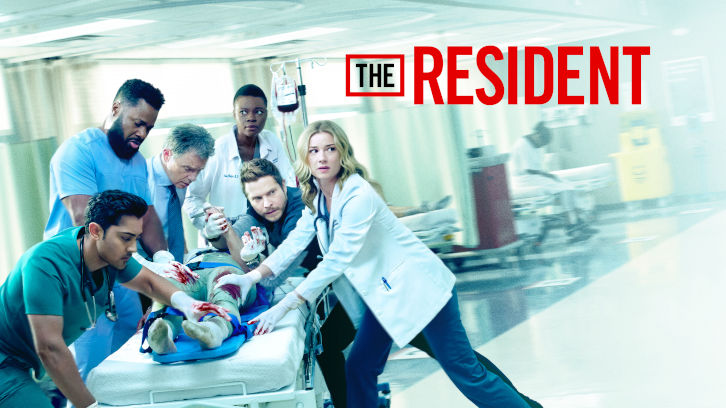 This week's episode of The Resident felt a little quieter, especially compared to the previous one, and especially to me since I've been catching up on the show and was used to having my daily dose of Chastain adventures. Basically having to go cold turkey from this, to a one-episode-a-week rythm is always something of an adjustment, especially when some characters are missing! Looking at you Mina, but I'll admit not having to suffer through Logan Kim's presence was a very nice bonus (as was not seeing Dr Cain).

Still, there are always some highlights even in filler episodes and I'm sure we're gearing up towards some heavier stuff towards the end of the season, so I'll take this week's emotional cases and the small but important moments between the characters.


I've started to really enjoy Ezra's presence, he's come a long way since he debuted as the (seemingly) obligatory insensitive doctor. His interactions with Joe, reassuring him about his voice were unexpected and touching, and so was his bonding with (new mentor?!) Randolph. If I could share a wishlist of what I'd like to see happen before this season ends, more personal scenes for Dr Bell would be at the top. It's been a while since he's had stuff happen that wasn't directly medical-related, and I'd enjoy getting to know more about him. Where was Kit by the way? Or his little assistant? The medical case was pretty endearing too, it's always hard to choose between what makes you,
you
and, well, staying alive. But as always, compromises can be found, and Joe ended up still being a fabulous Doll E.
Following up from last week's ball, Nadine's father's goddaughter's baby (won't be spelling that out again) was still in serious condition, with two surgeries planned to resolve his heart issues, including one with at 5% success rate according to AJ. And you just know when AJ doesn't feel confident, things are dire. Dr Torres, who used to work at Atlanta General (when are we going to learn more about him, too?) happens to know a world-class pediatric surgeon (I'm just glad to learn they aren't all concentrated in Seattle) whom he invites for this very important surgery. I'm assuming the fate of the OB department still depends on whether that baby makes it or not. The only slight problem, is that Dr. Brown is a functioning alcoholic and can't afford to deal with withdrawal symptoms during sucha crucial surgery, leading to her, well, drinking on the job. AJ navigated the situation as prudently and smartly as he could, but does end up telling her help exists and she needs to get it.
Sex-trafficking was not a storyline I was expecting to see, but as hard as it was to watch, it was enlightening on a subject I, at least, am not familiar with. Nic handled it very tactfully, allowing her patient to trust and confide in her, and it ended on a high, with Yvette reuniting with her mom. Also, Conrad getting into a fight, while unsettling because of the subject, was kind of a high too. (What can I say, Logan Huntzberger was my favorite Rory boyfriend and seeing him in scrubs every week definitely makes my day better!) Speaking of Nic and Conrad, they aren't broadcasting their engagement yet, but I'm sure it will be public-knowledge soon and someone (Mina) will start wedding-planning with a frenzy. I wonder if they've told Nic's dad yet, I know he's in that facility but this kind of news would probably be very welcome. I have no idea what the timeframe of this wedding will be, if we're heading for a finale-wedding or if it will veer into season 4, and considering the current situation with show productions being interrupted because of the very dire situation in the world right now, who knows.
Other couples aren't faring so well, however. It looks like the end of Devon and Nadine's cute little romance, she's following her father's orders and leaving Atlanta. She does, however, have a surprising offer for Devon: follow her back home and become a doctor over there. Devon dismisses it almost immediately (but not unkindly), his home & friends are here even if he does say he'll think about it.
That's it for this week! Did you guys enjoy this entertaining, if a little slower, episode? Would you rather watch episodes which focus on specific characters or have everyone be present (even if it means a little less screen time for everyone)?

Full disclosure: To be completely honest with you all, it's a little challenging to review medical shows right now considering the situation with the coronavirus. So if this review seems a little less lively than last week's, well... My country is in lockdown and I'm very worried about the future. Stay safe out there, take care of yourselves, and please stay at home if you can.