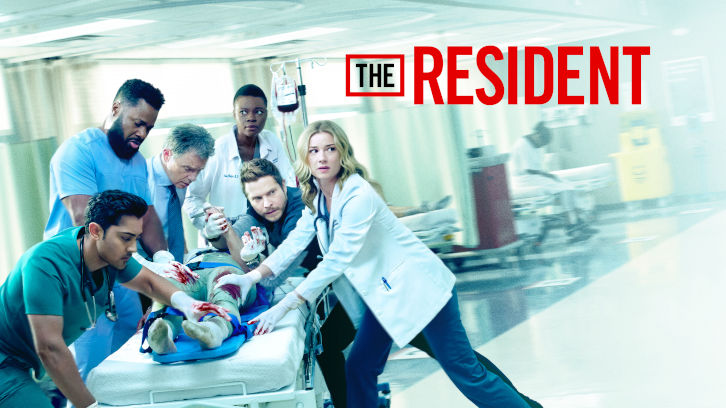 After a lot of darkness this season, this episode was a little more lighthearted and it was pleasant to have some levity and the team of Chastain doctors back together. In fact, between the two proposals and the literal princess ball, you wouldn't be too far off by thinking this was a Valentine's Day episode, but no, it was just a regular day on The Chief Resident! The medical cases were fun and interesting, the more personal storylines moved along well, basically, this was a very satisfying episode and the backhalf of this season has overall been very enjoyable, so let's dig in!

We don't see that much of Irving and Jessica, but since the episode during which she almost died, we've known this was coming and Irving really delivered on the proposal front. Having all their friends wear letter-printed t-shirts to spell out his very important question was a really nice touch, even if it came after a shortened prelude of Shakespearian poetry that was touching but a little out of character. Irving then tells a perplexed Jessica to look up and after seeing all their friends she immediately says yes. Those two are pretty cute together and I hope we get more double dates with Nic and Conrad (or even triple, with Nadine and Devon, but that seems a little compromised right now!).


Speaking of, Nadine's royal father was in town, planning a ball for his daughter and thus making it a very intense Meeting The Parents session for Devon. He's all in though, and to his credit accepts immediately. However... he is a brand new resident, and I've watched enough
Grey's Anatomy
to know they have 0 free time and the patient always comes first. Initially, however, his main challenge was actually finding a tux fit for a princess ball. The... thing he turns up in in front of Mina and an outraged patient who happened to be a fashion genius was
not
it. For someone who wore a bow tie on his first day as a resident and prides himself on being snazzy, this was an incredibly ill-fitting choice he got mercilessly mocked for. Thankfully, Gemma was able to not only determine his exact size by sight only (and calm him down on how large, exactly, he thought his torso was!) but also provide him with an outfit that would make Nadine proud. If only he'd managed to get to the ball on time, that is. Gemma's case turned out to be more complicated than they thought, and going with the princess theme, involved "Rapunzel Syndrome" (which we won't delve into because, ugh, that visual during the surgery was more than enough for me).
The other medical case, which Nic was working on, revolved around a teen with confusing symptoms and an even more confusing family. Remarried but protective father, seemingly unconcerned and forceful step-mother, dead mom, makes for an uneasy teen who wasn't sure what was wrong with her and neither was Nic. Who knew supposedly helpful 'tea' could end up being so dangerous! It was nice seeing Nic and Conrad work on a case together though, and especially putting those diagnostic skills to good use. Figuring out what was wrong with the teen was, in any case, more fun than having to tell an entire OB department that they were getting cut, including residents in the middle of their training who would have to start the process all over again elsewhere.
You wanted this "chief resident" title. It's time to earn it. Give the obstetrics residents notice.
Time goes by and Logan Kim becomes more despicable at every turn. The smugness and complete disregard for other people's lives he displays during each episode is infuriating. Of course Red Rock doesn't need Chastain, but sacrificing people's livelihoods because they need to make budget cuts while the insanely expensive neurosurgery center is just sitting there, not fully equipped or functional, the plaything of Cain's inflated ego, is baffling. If doctor Bell has anything to say about it though, the OB department won't disappear, and it's really nice having him side with the good guys rather than as a villain.
Everyone (or, at least, the medical team who saved Nadine) finally makes their way to the ball, and it's always a treat to see these usually scrubs-clad doctors in formal wear. Mina and AJ haven't shared nearly enough scenes together recently, and I for one, was glad that Andrea was nowhere to be seen. AJ being constantly in awe of Mina reflects what we all feel, but it's nice to see it acknowledged. Devon, on the other hand, finally met up with a very relieved Nadine. Their relationship is pretty cute if a little immature so far, and Nadine is going to have to learn that dating a doctor means coming after his patients.
I'll figure something out. Just don't replace me yet.
Well, I do have the prince of Zamunda on standby.
I've seen Coming to America. Zamunda is not a real place.
I'm currently pretending she said Genovia and not Zamunda.
Unfortunately, Nadine's father has no intention to either let her stay in Atlanta, or pursue her DJing dreams. Between a failed engagement, a wild chase with Julian and this, Devon seems to be woefully out of luck with his relationships. But who knows, maybe Nadine will renounce her title and stay in the States.
I'm not sure if Logan Kim is supposed to be portrayed this way or if it's the actor, but I'd never buy him as a competent executive who can schmooze his way into donations on the best of days. The coldness he exudes doesn't really make for confidence in the face of, say, a king and even though Randolph warns him about it, he walks straight into a firm shut-down by Nadine's father. However, his pregnant goddaughter's water broke right on time, and guess who needed a very competent medical team because her baby had a life-threatening condition? Yep, that OB department is not going anywhere.
Which brings us to the conclusion of the episode, and the second proposal. Which, at first, comes from a very practical Nic who thinks it's the next logical step and that it makes sense for financial reasons (how romantic, I agree with Conrad on this one). Conrad can't believe Nic would just suggest this in such a way and ends up proposing for real, and of course Nic says yes. I'll admit I'm not particularly enthused about this because I've always found their chemistry to be lacking and that they work better as friends. That said, it seems inevitable now and the show considers them to be in for the long haul so... they may as well get married.
That's all for this week! What did you guys think? Are Nadine and Devon doomed? Will Logan Kim ever leave our lives? Does Mina have many more fantastic dresses hidden in her "spectacular wardrobe" that we will have the joy of seeing?