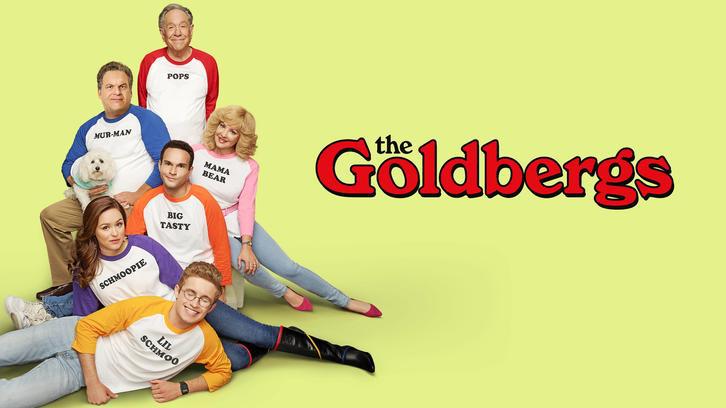 Barry and the JTP are obsessed with body swapping movies of the eighties (like Freaky Friday and 18 Again). Geoff laments that, while he's starting college in the fall, life until then is tough and concludes that no one would swap bodies with him if presented with the option. That is until Barry proposes that exact arrangement by giving Geoff his ID so he can take advantage of student perks like food and building access.

Meanwhile, Adam and his friends are excited when the principal announces that juniors can now eat off campus for lunch like the seniors do. Their plans are halted when they find out they need parent signed permission slips to leave school. Adam's friends concede that Beverly Goldberg would never allow that to happen but he's determined to get her consent. But his friends are right and Beverly says no, citing the many times the Goldberg family has proven to be bad drivers (despite the fact that Adam drives everywhere else). Even an attempt at getting a signature from Murray provides no help as he goes with the old adage "ask your mother."

Geoff's nervous about using Barry's ID but Erica pushes him to do it. Unfortunately and predictably, he gets mistaken for the real Barry Goldberg and gets dragged into a class that Barry was supposed to have dropped by its professor. Geoff ends up doing well and begins to actually steal Barry's life and identity in this class. He makes a ton of new friends and signs up for a slew of activities, all as Barry Goldberg.

Adam still doesn't have Beverly's permission to leave campus but doesn't want to disappoint his friends. They want to go to the mall for lunch but his excuse is that the mall is too far away to make it back in time. Just then, Johnny Adkins steps in and offers to drive them and insists they can make it back in time. Afraid of begin left out, Adam forges Beverly's signature to give himself permission to leave campus. Just as the group arrives at the mall food court, Beverly, who is on her weekly mall walk, spots Adam and apprehends him with the authority of a mall cop.

Barry finds out that Geoff has been using his name to gain personal favor around campus and is succeeding at being Barry more than he is. He assembles the JTP to do something about it and they realize he's just looking for validation and that he's jealous that Geoff is living Barry's best life. Barry decides to step in and prove that he can do just as well as Geoff does at life and specifically, Ultimate Frisbee. This proves to be completely unsuccessful and Barry realizes his only option is to take Geoff's identity.

Beverly interrogates Adam over disobeying her wishes and forging her signature to do it. He apologizes and hopes to move on but she insists he will never be allowed to leave campus for lunch, even if his friends do. Murray chimes in and tells Beverly that if she takes away Adam's ability to see his friends, he will resent her for it and Beverly's only reason for existence is for the unwavering approval from her children. Rather than giving in, Beverly decides to offer a food court experience at home, leaving Adam mortified and his friends impressed.

Barry interrupts one of Geoff's classes dressed as his version of Geoff. He goes on to ruin the class and body swap experience, as he is exposed by the professor. Geoff concedes that Barry wins and sulks away, saying that he really enjoyed being Barry. Barry apologizes for ruining the experience but that the intention was just for Geoff to use it to get food and not become a better Barry. Geoff agrees that he got carried away but that Barry can do all of the things he did too.

Adam decides he wants to go to the mall food court again and invites Brea. She asks if he can handle the drive that Johnny Adkins can pull off and responds with a confident yes. While still in the school parking lot, Adam throws his car into reverse and backs all the way up onto a teacher's car. Beverly questions the principal on their lack of "forgery verification systems" and they concede that they, of course, do not have those. Beverly tells them to end off campus lunch for good or she'll sue and Adam is terrified of becoming a social outcast because of it. He even says that once he no longer needs his mother's signature, he may never see her again. Beverly confronts Adam and tells him he she will never stop worrying about him but that she will agree to loosen the reins a bit. She even allows him off campus for lunch (even if it's just to the hoagie place across the street).


What did you think? Leave a comment below!