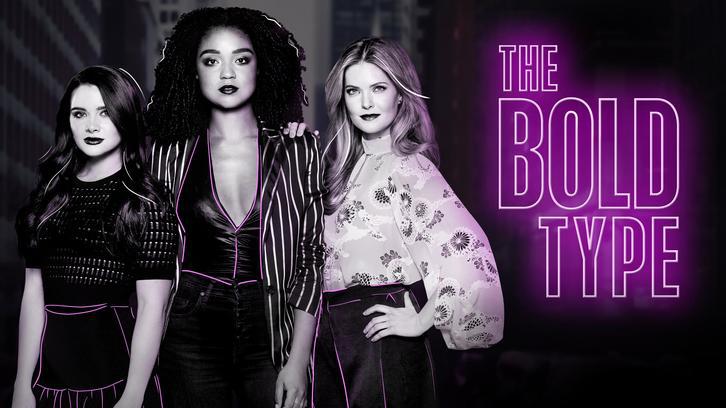 This week on The Bold Type, Jane's brother Evan comes to town. At first, he and Ryan don't get along but they start to bond. He tells Ryan that he's separated from his wife. Jane later gets upset that Ryan didn't tell her. Kat and Adena want to honor a teenage boy who killed himself after being sent to a conversion camp but they keep getting blocked by the legal department. They decide to be friends again. Sutton struggles at work and has little time to spend with Richard who flew back to New York. She decides to move to San Francisco with him and they move up the date of the wedding. Alicia gives Alex a second chance after he admits on the air that he was an idiot. Jacqueline finds new love in an old flame.

A worthy cause: You know, I was really happy to learn that the show would tackle the subject of conversion camps. I'm actually surprised it doesn't come up on TV shows more often. Because it definitely still happens, even though I'm pretty sure it's no longer legally allowed? Thought I'd read that somewhere. But when has that ever stopped a homophobe. Jacqueline was not even remotely subtle when she filled Kat in on what Adena was fighting for and it's a good thing. Kat was still angry after what happened last week, understandably so. But she did happen to be the perfect person to help. When Kat finds something to fight for, she goes all out. And now that the legal team of Safford seems to be blocking them, I'm sure she's going to fight back even harder. I'm glad she and Adena are friends again, but I'm starting to doubt that they'll ever be anything more than that.

Not where I thought this was headed: I actually expected Jane's brother to expose that Ryan had been lying about what happened the night he cheated. Instead, we got an entirely different storyline. Maybe I'm just so used to there always being more to the story, but I keep forgetting that this show has always defied the tropes. So, maybe I was wrong. Maybe it was just a kiss. As for how Jane reacted at the end of the episode, I have to side with Ryan here. It was not his place to tell Jane. If he had, it would've completely ruined the bond that Ryan and Evan just built up. All so that she would know 1 day sooner. I get that it feels like he lied to her, again. But it would've been worse if he'd told her. But maybe this means that what happens still bothers Jane.
The end of an era?
Let's face it, this show is in danger of cancellation. I feared for it last season and I feel the same way this season. I wonder if the writers are writing towards a series finale. Because if Sutton moves to San Francisco with Richard, the most important dynamic on this show will forever be changed. The interactions between the 3 women just wouldn't be the same without them being in the same city. That said, it would be much better for Sutton's relationship with Richard. Long-distance is difficult, even more so when it's between 2 incredibly busy people. And Sutton hasn't been happy at work for a while. I'm still surprised by Oliver's response. I did not expect him to be this mad at her. Was what she did really that bad? Anyway, I completely forgot that this season will have 18 episodes instead of 10. I assume that Sutton will make the move in episode 10 and that we'll see her interact with Jane and Kat long distance for the remaining 8 episodes. But I think the odds of a fifth season are very low.
Good for you: Both Jacqueline and Alex got a second chance at love. Jacqueline decided to go out with an old flame. Though I guess the flame is no longer that old. Am I the only one who thinks this was a bit fast? But it is nice to see her happy. As for Alex, he finally got his act together. I thought it was really big of him to admit on-air that he made a mistake. And he was so lucky that Alicia called him first because I'm pretty sure it would've taken him a bit longer to work up the nerve.
Best quotes: Sage: "Oh no, no. Jane is way hotter than Ryan."
Adena: "I love you for who you are. And whoever you choose to love, man or woman, is very lucky." Kat: "I love you too."
Jane: "It must be really exhausting to be a straight, white guy." Ryan: "You have no idea."
Richard: "Wait, before I get too excited, just to be clear, you're willing to move across the country to be with me?" Sutton: "I mean, my horoscope did say that I should ditch the familiar and expand my horizons, so…" Richard: "I have never loved Astrology as much as I do right now."
That's it for this week. Check in again next week for an all-new review and let me know in the comments what you thought of this week's episode.
Please be respectful in the comments, any unnecessary rudeness isn't welcome.