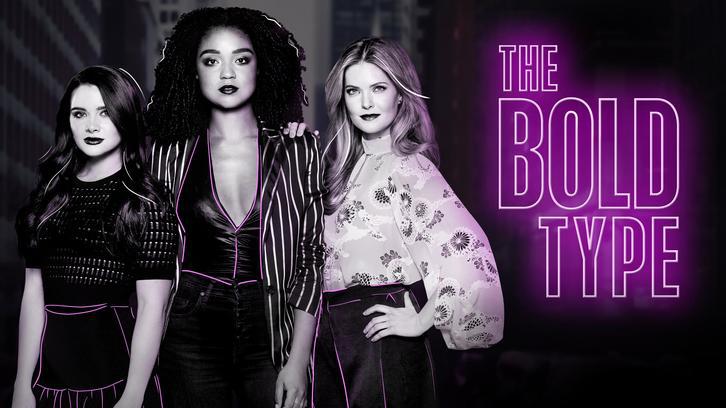 This week on The Bold Type, Sutton decides to take a styling opportunity when it comes along but it does not end well. Oliver is not happy with her. Adena comes to Scarlet and Kat tells her she's bisexual. Adena doesn't react that well. She tells her the lesbian community might be uncomfortable with that, but they are totally fine with it, it's Adena who is uncomfortable. Jane has a cancer scare which leads her to decide to get a double mastectomy. Jacqueline goes out for a night of dancing with friends.

Learn from your mistakes: You know, I was a bit surprised by Oliver's reaction to Sutton's mistake this week. He's usually always so supportive but not this week. And I think the weirdest part is that he didn't really react at all. He didn't yell, he didn't say anything. It was just odd. And even his facial expressions were difficult to read. He didn't look mad, but his tone was definitely not good. I guess we'll have to wait and see how this unfolds next week. I mean, it probably wasn't the smartest move on Sutton's part, but they do say you have to take opportunities when they come along so… This will be continued.

Jealousy, yikes: I was really disappointed in Adena this week. I can understand not being comfortable around your ex. I can understand being jealous when your ex dates someone new. I can understand being insecure when your ex decides to date guys again. But that is not an excuse for biphobia and for making Kat feel terrible about who she is. And I didn't think Adena was the type to pull stuff like that. I couldn't tell if it was out of jealousy or if that was what she actually believed, but neither is okay. I was all for Kat and Adena getting back together but now I'm not so sure. Maybe it is better if they just keep their distance from one another.
Getting proactive: I was really proud of Jane this week. She made a very tough decision. Yeah, it's a heavy surgery, but living with the fear of breast cancer, constantly worrying every time you feel something… it does something to a person. You could see that it was always on herm mind. And I think that it may have held her back sometimes. But I think she might feel freer after the surgery. She can make real plans for the future, which is bound to bring up the issue of kids. Jane clearly wants them, it showed when she was looking at the family in the park. But does Ryan want kids? I'm not so sure. I don't think I've ever heard them mention the subject. This ought to be interesting.
Favorite team-up: I absolutely loved seeing Kat and Oliver hang out. We haven't seen that much of these two together. But it was really sweet to see him support Kat. We need more of this. And we don't really see many moments like this on TV. Most shows only have one token queer character (+ love interest) but we rarely see two main characters who are queer and not romantically involved support each other like this.
Finally: Jacqueline has had a tough time so far this season. There has not been much reason to smile, which is why I was so happy to see her have fun again. Separating may hurt now but it might be good for her. If the marriage isn't working anymore, there's no reason to stay and make each other feel miserable. It's better just to end it and move on. It does suck for those kids, though.
Best quotes: Oliver: "So bisexual erasure is still a thing." Kat: "That's what I said."
Jane: "So I'm sorry, but instead of focusing on what I've achieved before thirty, I want to live in the present and look toward my future.
Sutton: "Don't leave again. Everything falls apart when you're gone." Kat: "Yeah, you're the glue that holds us together, Jane."
That's it for this week. Check in again next week for an all-new review and let me know in the comments what you thought of this week's episode.
Please be respectful in the comments, any unnecessary rudeness isn't welcome.