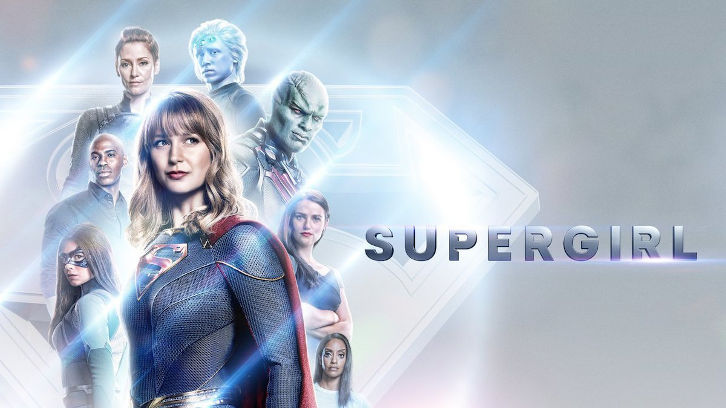 Foreword by zandarl (DC)

In 2015 I heard the news we were getting a female superhero on the small screen. For a young girl who had the likes of Wonderwoman on screen, it had been 40 years since a female superhero had hit the small screen. Supergirl would arrive in October 2015, I was one of the lucky ones to see the pilot prior to its airing and I was instantly hooked. The scene when she saves her sister, well the whole Aeroplane, gave me goosebumps. Finally, no hair tossing, over the top heroine but real Supergirl for a new generation. Supergirl had a strong female supportive cast too with a somewhat overprotective and later supportive sister Alex and Boss/mentor Cat Grant. Working as Cat Grants' P.A in a kind of a 'Devil wears Prada' type scenario. Melissa Benoist's portrayal of Kara Danvers /Supergirl as a woman for young women and girls to look up too.
Five years later, the landscape has shifted slightly ( drama both on and off-screen seemed to be an underlining factor) and at times, the female empowerment seems a little lacking, I can't help but applaud the fact despite its ups and downs, Supergirl still strives to entertain us each week and gave us a very entertaining 100th episode.


Foreword by DJRiter (DR)

In 2015 a short nearly 7-minute promotional video about an ambitious new television series popped up on my computer screen. One of my all-time favorite DC superheroes, Supergirl, was coming to television on CBS of all networks. I began reading everything I could about the show and the young woman cast as the lead. Based on that video and what I read, I anxiously awaited the show's October premiere. It became a watch party that night when a friend joined me to catch the show because her actor nephew had a bit part as the date who dumps Kara.
But it was in a short, almost blink and you'll miss it moment that I knew this show was something special. Alex Danvers brings her sister a hologram from her Kryptonian mother and then starts to step away to let her watch in private. Her sister wordlessly reaches out to take her hand and asks her to stay. This simple action of two sisters holding hand elevated this show about your typical superhero adventure. And in the 99 episodes plus crossovers that have aired since, Supergirl has never disappointed me because its heart and soul remain that bond between the two Danvers sisters -Alex and Kara and the extraordinary actresses that portray them, Melissa Benoist and Chyler Leigh.
The show has been unafraid to tackle difficult topics. But for me what makes this show stand head and shoulders above the rest are those iconic sister moments: Supergirl versus red kryptonite, Alex saving Supergirl in space, Alex's c coming out, the return of Jeremiah Danvers, Supergirl stopping a spaceship with Alex aboard from hurtling across the universe, painful break ups, and last year's gut-wrenching mind-wipe storyline told the ultimate story of sisterly love and sacrifice.

The Danvers sisters are the foundation upon which Supergirl is built and stands stronger than ever today. Now at the prestigious honor of Supergirl reaching 100 episodes, the Danvers Sisters remain El Mayarah- stronger together.


It's A Super Life


The episode is loosely based on the Movie 'It's a wonderful life'. For anyone who hasn't seen 'It's a Wonderful Life', it's the story about a man, George Bailey, who is contemplating suicide and believes his life would be better if he never lived. God overhears him and sends an Angel who needs to earn his wings to help him. The Angel grants George his wish and shows him the impact he had on people, not just to those around him but the rest of the world as well and how their lives would be different if he had not lived. Of course, everything returns to how it was and George Bailey realizes no matter how hard things get he has people around who love and rely on him.
Less dramatic and more comedy 'It's a Super life' took us on a journey into the past and gave Supergirl the answer to her question, what if she had only told Lena Luthor sooner that Kara Danvers was indeed Supergirl?
Aided by reformed and facelifted imp Mr Mxyzptlk, who wants to make up for past misdeeds. Mxyzptlk gives Kara an insight into key times she feels she could have told Lena the fact she was Supergirl. Done like we are watching our own version of Kara's movie with flashbacks and some familiar old faces. We get glimpses into what would have happened. However, each time she tells Lena it takes a tragic turn of events. Ultimately it gives her the clarity to realize she is not responsible for the path Lena has chosen and tells her former best friend if she chooses to stay on this path she will stop her. The closing scene in the loft with J'onn and Alex echoes the final word of the movie 'remember no one is a failure who has friends '
Approaching the 100th episode I asked some of my fellow spoiler tv writers to participate in a roundtable. I would like to thank them for their participation in this review.
1.Being the 100th episode is a good excuse to look back over the past 99 episodes of the series. What has been your favorite episode and why?
What's your favorite scene from the series so far? and why?
DC
Even though I posed the question I found it difficult to pick just one. I adored the 'Pilot' it gave me goosebumps, the first female superhero on tv in 40 years Melissa Benoist certainly encompassed everything I imagined the character could be. Season 1 also gave us the first crossover, 'World's Finest' another favourite of mine. Season 2 started off with a bang 'The Adventures of Supergirl' giving us two superheroes and I loved the interaction between them also the introduction of Lena Luthor who is later saved in heroic fashion by Supergirl. For emotional impact, though Alex's coming out story when she told her sister in 'Changing' in season 2 had me reaching for the tissues.' Midvale'in season 3 again was another stand out episode for me, both Danvers sister's getting over broken hearts head home and remember something about their past long forgotten. The Danvers sisters always are the heart of this show.
As for scenes, Again, two scenes too close to call both Danvers sister centric. Alex tells Kara she killed her aunt at the end of season 1 episode Solitude, previously Hank had taken the blame causing Kara to turn her back on the DEO. You see Alex's heartbreak thinking after her confession she will lose her sister only for her to turn and hug her. As J'onn goes to leave she takes his hand.
It was fitting at the end of the 100th episode these three were the only ones on screen as the originals they have come through so much together.
Season 4 'Red Dawn' Supergirl is in a fight for her life with Red Daughter. Alex races to Supergirl, due to earlier in the season she has no memory that her sister Kara and Supergirl are the same person. Alex starts remembering her sister, as Kara is defeated Alex remembers everything and begs her to take the solar energy from the grass around her (something we know Supers can do) placing grass in her hand.
TL
It's a tough call but I'll say as of right now my favorite episode would probably be 4x16: "The House Of L". Coming hot off the heels of Lex Luthor's debut and the reveal that Eve has been working with him, this episode gave us a full dive into what Lex has been up to all this time as well as what exactly was going with the Red Daughter. I love Jon Cryer's take on Lex and also love whenever Melissa gets to do evil Supergirl ("Falling" from Season 1 was also a strong contender for me) so this episode is always one I'm going to go back too.
As far as my favorite scene goes, Kara telling Lena her secret in 5x01 definitely takes the cake for me. Melissa gives a powerful performance for one of the most emotionally charged scenes in the entire series. Though the audience knows this isn't new info for Lena, that doesn't take away from the scene's effectiveness in the slightest.
JC
That is not an easy question. At first, I thought I would go for a season 2 episode, there were a lot of good ones there. But then I remembered the red kryptonite episode 1x16 Falling. I love me some dark Kara and this episode really delivered. Even five seasons later, this episode has really stuck with me.
As for favorite scene, that's even harder but I might have to go with the confrontation this season between Kara and Lena in the fortress of solitude in 5x07 Tremors. Both actresses did a fantastic job in this season. It still gives me chills when I rewatch it, including when a clip was shown in the 100th episode.
DR
Being the 100th episode is a good excuse to look back over the past 99 episodes of the series. What has been your favorite episode and why? What's your favorite scene from the series so far? and why?
There have been so many amazing episodes of this series that it's difficult for me to choose just one episode. On my list of favorite episodes are the Pilot (1x01), For the Girl Who Has Everything (1x13), Changing (2x06), The Martian Chronicles (2x11), Exodus (2x15), The Faithful (3x04), Midvale (3x06), Suspicious Minds (4x10), and Red Dawn (4x21). And what's significant about these episodes is that they all contain iconic moments of what I consider to be the heart, soul, and foundation of the show, the Danvers sisters. In the pilot, it was Kara reaching for Alex's hand as the latter started to step away while the former watched a hologram from her mother (this was the moment that told me this show was going to be something special and may very well be my favorite scene of the series because of the foundation it set about this special sisterhood). For the Girl Who Has Everything, we got a desperate Alex fighting, willing to sacrifice her own life to save her Red Kryptonite affected sister. Their fight where Kara angrily tells Alex they were never sisters was especially hard to watch. In Changing, how can we ever forget the heart-breaking moment of Kara supporting a devastated Alex after Maggie's initial rejection, these were as raw and guttural a performances from Chyler Leigh and Melissa Benoist as I've ever seen and it's difficult to determine when it stopped being about the characters supporting one another and transitioned to the same for the actresses. The Martian Chronicles gave us the Earth-birthday cupcake moment where Alex reassures Kara that despite her being with Maggie she was never going away from her sister. Exodus was the culmination of the return of Jeremiah Danvers story with a desperate Supergirl tries to stop a spaceship carrying her sister from jumping into light space, they did so much with this scene without dialogue and their bond was strongest when Alex put her hand on the windshield and Supergirl did the same. The Faithful's Danvers sister's iconic moment is in the school hallway as Kara once again comforts her sister who declares she wants to be a mother and that means she cannot be with Maggie. The entire episode of Midvale is an homage to the sisterhood and told us the backstory of how they became so close. Alex begging Kara to let her be the one to save her this time by having her mind-wiped to protect Supergirl literally brought me to tears with a heroic act of sacrifice to save her sister. The anguish on both actresses' faces was gut-wrenching. And while many might choose the "take the grass" moment of Red Dawn as that episode's most iconic, for me it was a quieter moment and simple gesture that stood out. When a mind-wiped Alex follows Supergirl to Red Daughter's apartment and becomes upset at realizing she is stalking her sister, Supergirl reaches out to take her hand as they sit side by side on the bed. Even mind-wiped Alex feels the connection as Supergirl's face is full of hope that this might be the moment her beloved sister remembers her. There have been many great moments in Season 5, yet I hesitate to pick one until the end of the season as I suspect an upcoming one regarding SuperAlex may contain my favorite this year. While my first inclination in any episode is to want great sister interaction, I would be remiss if I did not mention the great action sequences over the years, in particular Supergirl's destruction of Red Tornado, her epic battle with a Kryptonite infected Superman and most dynamic the incredible battle with Reign.
2. Obviously, the premise of this episode was taken from It's a Wonderful life-giving Kara her 'George Bailey' moment. Did you feel the episode did justice to the fact it was in fact 100th episode of the series.? What did you enjoy most about it?
DC
It answered Kara's questions .. What if I told Lena when we first became friendly? well yes, you would have been great friends but eventually, people would use it against Lena and Supergirl and kill all those she loved as the world found out her dual identity. Yes, it would place Lena in danger as Kara feared and yes if She told later it could also result in death and destruction including her own as Lena has played a vital part at times In the fight. If Kara was never a friend to Lena or knew her Lena would have succumbed to her mother's and Lex' evil ways long before now. It gave Kara the chance to see that everything happens for a reason. The moment she told Lena her secret was the correct moment as every other point resulted in tragic events. Sadly though Lex beat her to too it and rather than see why Kara kept her secret Lena chose to see it as a betrayal. The episode was very enjoyable despite its comedy value but I think it didn't want to take itself too seriously despite some of the tragic turns of events in the episode and had some nice flashbacks and return of a few favorites though I would have loved a Cat Grant cameo.
TL
Overall, I enjoyed the episode quite a bit. It was fun and I appreciate the focus on Kara and Lena's relationship. Their dynamic has always been the best part of the series to me, not unlike how Clark and Lex were the focal point of Smallville. I was a bit disappointed with the lack of a Superman and/or Flash appearance, as I feel both have played a huge part in Kara's journey over the years. Also, seeing how I hold Smallville's 100th episode as the gold standard for superhero shows, I would've appreciated a big surprise twist at the end that would carry the season forward in a major way. Sure, Kara confronting Lena was a big moment, but it wasn't really that surprising as a lot of the audience has been expecting something along those lines for a while now.
JC
I know this fun style is something a lot of shows do for their 100th episode, but I'd much rather have had an episode with a tremendous impact, with a storyline that's a real game-changer or something. But yeah, this was fun. I do feel like they should've tried to include a few more characters like James. I would've loved to have seen Lucy again, it seems like everyone's forgotten her. And it's strange but while I strongly disliked Mxy the first time he appeared on the show, I much more enjoyed him this time around with his reactions to certain things.
DR
When the title for the episode was announced I called on what the result would be – that Supergirl's life was fine as is. When the episode first began airing I admit I was not happy because once again they were having Supergirl apologize and take the blame for Lena's actions when in my opinion she had nothing to apologize for and had done nothing to feel guilty about. However, as the episode unfolded, I recognized what they were doing and by the end of the episode, I was very pleased about the way it unfolded. That said, my favorite moment is when Supergirl told Lena she was done blaming herself for Lena's bad decisions and that if she continued to work with Lex, she would treat her the same as she would any other villain. While it was a powerful and effective episode, I can't help but admit a little disappointment that more attention to the Danvers Sisters relationship, the Space Family dynamic with J'onn J'onzz and all the things that made me fall in love with the show, in the beginning, were not a primary focus. They did make up for that somewhat with that wonderful final scene of Kara, Alex and J'onn in Kara's apartment where she thanks them for being there with her since she became Supergirl, a lovely Space family moment. And as I suspect when Melissa Benoist spoke those words, she wasn't just saying them as the character, she was saying them to her friends and original castmates Chyler and David.
3. We saw some familiar faces from the past in this episode who did you enjoy seeing back and why?
DC
I loved seeing the return of Samantha Arias and Reign. I always was sad that by Reign's defeat it meant Samantha leaving National City, obviously needing a clean break but I enjoyed her alter ego Sam ... We also got to see her villainous side return in Reign as well. I do believe Samantha could be the one who could bring Lena back it's a shame she chooses to stay in Metropolis.
TL
Reign was the best non-Luthor villain the shows ever had, so I loved seeing both her and her alter ego Sam back for the episode, even if it wasn't for a long time. Also, that sky fight between her, Supergirl, and Martian Manhunter was one of the show's best-looking fight scenes in a while. I wouldn't be opposed to having Reign return as a villain again in some shape in the future.
JC
I loved seeing Sam again, I really miss her and kind of wish they'd bring her back. I've never been a huge fan of Mon-El but I didn't mind seeing him. But other than that, we didn't really see that many significant faces. Sure villains, but who cares about Ben Lockwood?
DR
There were so many great returns, yet for me seeing the wonderful Betty Buckley as Patricia was a nice surprise. I was always a huge fan of Odette Annable's, Sam/Reign. It was especially nice to see Jeremy Jordan again, and of course Chris Woods as Mon-El, I found it so gratifying to see how much both those characters had grown. Like many fans, I would have loved to see the return of the Queen, Cat Grant, although from what I've read producers did reach out to Calista Flockhart who was unfortunately unavailable for filming
4. In this episode, Mxyzptlk picked key scenes for Kara to go back to change the outcome. If you could pick any supergirl scene to revisit and alter what would you pick and why? Do you think this scene would have changed the series for better or worse?
DC
Alex and Maggie not splitting up (basically not a silly storyline about Maggie not wanting kids), this hasn't anything to do with shipping war but basically, is it too much to ask for an LGBTQ storyline with a happy ending.
I wanted to see Alex and Maggie happy together, I wanted to see the relationship grow, how they juggled their professional and personal lives and yes… I wanted a wedding, was it too much to ask for a bit of happiness! What we would have had was a happier Alex and imagine Kara happily planning her sister's wedding.
TL
Interesting question. I don't remember what specific episode it came from, but I think James' reaction to having his camera destroyed was a bit too extreme. I think his storyline as Guardian was one of the weaker elements of the show in seasons past, and I think having him give up being a photojournalist in order to be a vigilante was an odd creative decision in general. Being a photographer was what made James unique from the other characters and having him becoming Guardian made him almost like everyone else. Having everyone become a superhero is a problem most CW DC shows have at one point or another, so it's not like it's an isolated and/or unexpected event, I just hate that it had to happen to such an iconic character. If I could change anything, it would be keeping James as a photographer (it also would've helped his progression to become the head of CatCo a bit more natural).
JC
Yeah, I wish crisis hadn't brought Lex back. I just can't stand the guy. I actually hope he moves over to the Superman series. Also, remember when Cat was sure Kara was Supergirl back in season 1? I wish they hadn't gone through all that trouble to convince her otherwise. I wish Kara had just owned up to it. I'm curious to see how it would've affected their relationship.
DR
There are a couple of scenes I would like to revisit, the first was in episode 3x16 -Of Two Minds – There could have been a great parallel drawn between Supergirl and Imra fighting to save their sisters from Pestilence AKA the Blight. When Alex and Winn are laying there seriously ill, the conversation between Winn and James talking about being afraid of dying and regrets of what he hadn't done was a conversation that should have been between Kara and Alex as Irma watched from outside the room. It would have been a very powerful moment. Another impactful opportunity was missed in It's a Super Life, when during the third alternative world when Supergirl talks with Winn on the balcony about her waking up every day with fears those close to her would be in danger once she revealed her identity. The point and impact would have, in my opinion, carried far more weight had that conversation been between Supergirl and Alex.
Otherwise, it's not so much of a scene as it is a couple of storylines that are dangling that I would like closure on. Following the events of Exodus and his battle with Cyborg Superman, whatever happened to Jeremiah Danvers. I would like to see Kara, Alex and Eliza all get closure on this storyline, once and for all and one way or another. Also, from last season, they made such a point of establishing Red Daughter's connection with Mikhail and of Otis hiding the boy from Lex then let Red Daughter die without knowing he was alive and safe. I truly wish before Red Daughter died in Supergirl's arms, the superhero could have told her the boy was alive and safe.
5. Supergirl's confrontation of Lena near the end was a long time coming for some, can you see Lena coming around or do you feel it's too late?
DC
Lena isn't that innocent and ' I'm just a soul whose intentions are good, oh lord please don't let me be misunderstood ' could have been written for Lena. I knew Lena had the potential to go the dark side so to speak but they really could have surprised us all by not going there or her redemption in the final hour making her above her brother now I feel she has sunk so far into the darkness she will struggle to get out. Lex's hold is getting stronger every day and the one person who could pull her back seems to see she has become the very thing she fought against. Supergirl's words to her certainly hit home, it was but a flicker, but you can see a slip in Lena's mask when Supergirl calls her a villain.
TL
I think it's too late. It's pretty clear that Lena isn't going to change her mind anytime soon, and I believe she is going to be a villain from now until the end of the show. I think we're going to see a true "turning to the dark side" moment in the future where she does something truly evil that's on the level of Lex. The portrayal of her in the reality where she never met Kara is honestly where I see her character heading in the future. Even though it'd be awesome if Kara and Lena could remain friends forever, I'm excited to see where this dynamic is going to end up. The show has always lacked a bit in big consequences and twists compared to Arrow and The Flash, and I feel like Lena's full descent is going to give us one VERY soon.
JC
I think it all depends on what the writers have planned. I hope they don't make her go full villain. She's been my favorite since she first appeared. I think it's not too late, though I think it would take a sec for Lena to come around (not instantly in the next episode) but I just fear that's not what the writers have in mind. If Lex does move over to the Superman show, they're going to need a new villain for Supergirl. I've loved her relationship with Kara for years now, I would really hate to see it go down like this.
DR
As I stated in my reviews of Back from the Future, Part 1 and 2, I'm leaning toward the idea that Lena may be too far gone for redemption. While after the Crisis reset, there are not many who know the full scope of her actions, save Lex, the fact remains she has gone to extreme lengths to get her way and whether she realizes it or not her actions are not heroic. Alex made a valid point during Episode 100 when she told Kara, that if going back to make things right with Lena and change history before she hurts someone then she should do it. What Alex doesn't know, is that she has already hurt people whether she intended to or not, think Adam from her Harun-El experiments; kidnapping Eve and invading/replacing her mind and free will with the HOPE AI; purposely damaging Andrea's Obsidian Platinum project to force her to work with the Luthors. But, for me, two things mark the clearest indications that it's too late for redemption for Lena. The first is her decision, regardless if he was a psychotic villain or not, to play judge, jury, and executioner who shot and killed her brother in cold blood. And, the second thing is her incessant need to be right and vindicated, combined with an ego that believes she knows what is best for the world – Non-Noncere. Perhaps Supergirl did reach her in the 100th by telling her from here on out she is responsible for her actions, but I am not holding out hope that is the case. It would be interesting should they decide to make her redeemable and make her a "good" Luthor, however, I think her friendship with Kara and Supergirl is irreparably harmed. I do want to point out here that major Kudos go out to Katie McGrath who is doing some of her best work of the series this season. Her scenes of Lena sparing with Jon Cryer's Lex and Brenda Strong's Lillian are fun to watch.
Please feel free to post your answers below in the comments