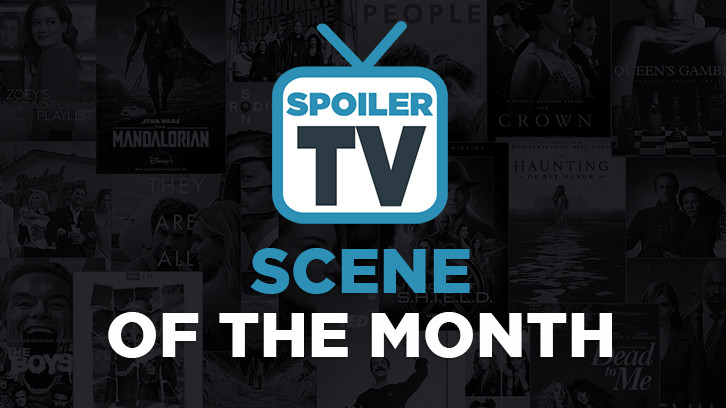 A monthly feature in which we're trying to find the most compelling, best acted, written, directed and just generally great, memorable scenes that we've seen in the past month on TV.

A MILLION LITTLE THINGS, "Guilty", February 6th, 2020, Actors: Christina Moses, Romy Rosemont
The Scene: Regina and her mother have a heart-to-heart
Marko: The strained relationship between mother and daughter put a shadow on both characters for so long. Getting this moment where both can speak freely and express their thoughts and regrets was truly beautiful. Romy Rosemont brought so many emotions into her speech. The scene was quite simple but got carried by the emotions and words.

BATWOMAN, "Take Your Choice" & "Drink Me", February 16th & 23rd, 2020, Actors: Ruby Rose, Rachel Skarsten, Nicole Kang, The Scenes: Kate says goodbye to Alice & Mary figures out the truth
Justyna: Kate is left to make an impossible choice between her sisters from two different realities. There is only one that she can save and she knows in her heart that she made the right decision by protecting Beth, but it doesn't make it any easier to let go of Alice. Alice has caused an enormous amount of pain as a result of her tragic childhood and eventual breakdown. Kate realizes that despite all the chances she has given her sister Alice hasn't shown any signs of improvement or regret. She killed Catherine, sent her father to prison and continues to be Gotham's most dangerous resident. So when the time comes to make a choice Kate shows up to say goodbye to her sister. This time, she chooses not to save her. It's clear just how painful and heartbreaking this decision still is for her. Regardless of her crimes, Alice is still Kate's sister and a part of her feels like she's losing her all over again. Both Ruby Rose and Rachel Skarsten are excellent during this scene and the entire hour. It's rather easy to see Alice as nothing more than a villain of the story, but it was still sad to see her reaction to Kate's decision, especially after her earlier hallucination, when she admits how much she believes that her sister will save her. The truth hits her hard. While she never really tried to make amends for the things she has done, there's a part of her that still wishes for Kate to keep fighting for her. Here she is confronted with a brutal reality and is left dying in her sister's arms. That is until she surprisingly survives and it becomes clear that things between the two couldn't be worse. In a tragic turn of events Beth is killed just when she's about to start living and her story ends without a warning. Such a powerful episode with many emotional moments, kudos to cast & crew for all their work on the show.
DJRiter: Mary puts the pieces together about Batwoman's identity. Kang's role as Kate Kane's stepsister Mary has been one of the highlights of the first season of Batwoman and I've hated the way they've kept her in the dark about Batwoman. Like Supergirl this week, this was a Finally! Moment when the super sharp Mary put all the pieces together and concluded that Batwoman and Kate Kane were the same person. Watching what she does with that information and how she confronts Kate with the news is going to be a highlight of upcoming episodes.
Jamie: I have been waiting for Mary to figure it out since the pilot and I'm so glad that she did, rather than that someone else told her. Once Sophie mentioned Batwoman was drugged, I knew Mary would figure it out. Mary and Kate's relationship is one of my favorite aspects of the show and I can't wait to see them work together more now that she knows.
Marko: Ruby and Alice say goodbye. In Ruby Rose's (probably) best acting performance since she started playing Kate Kane no eye was left dry. An impeccable performance by both Ruby and Rachel as the life was fading out of Alice made me open another box of tissues and squeeze my blanket even harder.

CHARMED, "Needs to Know", February 7th, 2020, Actors: Azura Skye and more
The Scene: Helen kills herself and her Darklighter
Marko: Helen's life was a tragedy, she's so traumatized she could barely speak. Taking her life and making a choice in killing herself was such a poignant moment as she was finally able to make a choice for herself without anyone else interfering. Azura Sky did an exceptional job with so little words.

DOCTOR WHO, "The Haunting of Villa Diodati", February 16th, 2020, Actors: Jodie Whittaker, Tosin Cole and more, The Scene: The Doctor's "words matter" speech
Justyna: This is one of my favorite shows. There are so many great and memorable moments from it that I keep coming back to after all these years. Quite a few of them include the Doctor's powerful speeches and I feel like I've been waiting for another one of those ever since Thirteenth Doctor first showed up. I liked her back in season 11 but she's been a clear highlight of season 12 for me and I'm very glad to see Jodie Whittaker finally getting her opportunity to shine. This moment, when the Doctor is forced to make an impossible choice, is certainly one of my favorite scenes in a while. A famous poet named Percy Bysshe Shelley is dying. After he is possessed by the Cyberium a lone Cyberman shows up and threatens to kill the poet in order to take it back. Ryan points out that if they fight to save Percy they are putting in danger billions of other lives. One life against many. But when it comes to actually making a choice no one is willing to take that responsibility, no one but the Doctor. This is when she not only makes her friends realize what a powerful impact one life can actually have ("Words matter!"), but she also admits how lonely she feels at times. When it comes to making terrible decisions and sacrifices, she's left alone in the stratosphere. That's exactly who the Doctor is. There's so much sadness, pain, truth, anger in her voice. Sometimes even the Doctor can't win. But she never stops trying. Such a powerful moment and a wonderful performance by Jodie Whittaker. Kudos!

FBI: MOST WANTED, "Invisible", February 11th, 2020, Actors: Kellan Lutz and more
The Scene: Kenny talks about the pressures a vet suffers when he comes home
Dahne: This was a poignant moment as he sheds light on how difficult the transition from soldier to civilian is.

FRESH OFF THE BOAT, "Commencement", February 21st, 2020, Actors: Constance Wu, Hudson Yang
The Scene: Eddie and Jessica sing a duet
Dahne: While the final two episodes concentrated a bit too much on Eddie for me, this duet was a great way to highlight Eddie and Jessica's strong, but complicated relationship and sent the series off on a high note.

HAWAII FIVE-0, "He kohu puahiohio i ka ho'olele i ka lepo i luna (Like a whirlwind, whirling the dust upward)", February 21st, 2020, Actors: Meaghan Rath, Beulah Koale, The Scene: Junior and Tani get together
Klutzy girl: I'm so glad these two finally took the next step in their relationship and ended up together before the end of the show. It's been a pleasure watching these two slowly work their way towards each other.

LEGACIES, "Kai Parker Screwed Us", February 6th, 2020, Actors: Chris Wood, Kaylee Bryant
The Scene: Kai tricks Josie into breaking the Sandclock
Jamie: This was such a clever moment. I don't think I realised until that moment how much I miss twists like this. This felt like old school TVD. This show has always been lighter, I get that. But I loved the darker theme of this episode, in this scene especially. The way Kai had Josie completely cornered. It's a shame they got rid of him so quickly, he would've been a great long term villain for the show.

LEGENDS OF TOMORROW, "Miss Me, Kiss Me, Love Me" & "Slay Anything", February 4th & 11th, 2020, Actors: Courtney Ford, Jes Macallan, Seth Meriwether and more, The Scenes: Nora comforts Freddy & Ava sings "Poison"
Justyna: Nora's journey and development on the show might be one of its best stories. This was a truly great episode and she was certainly a big part of that. Nora has been struggling with her mantle of Fairy Godmother since she was tricked to take over Tabitha's curse. But throughout this hour she finds a new purpose and important meaning in her duties. She gets to make things better for the kids and seeing someone like Freddy, who genuinely deserves a little help, get a happy ending is rewarding and heartwarming experience. The scene I wanted to highlight is the part when Freddy is deeply hurt by his classmates during prom and Nora offers him advice and comforting words he needs to hear in this moment. She shares with him a few details from her own tragic past and offers hope, that if he stays himself and won't let his personal demons control him, things will get better and the right people will find him in the end. There's so much potential in him and he can't let his pain and fear take over. "Being yourself, that is a magic stronger than any wish." I'm so happy to see this growth in Nora, she truly has become one of my favorites on the show. Courtney Ford and guest star Seth Meriwether are absolutely wonderful in this scene. Kudos!
Abby: Ava singing "Poison". A drunken Ava deciding to get on stage at a nightclub as a distraction turns into a showstopping number of Bell Biv DeVoe's "Poison" which was entertaining enough. But when it's revealed that the entire scene was in Ava's head and that in reality Ava was a slurring mess whose singing was so bad that it cleared out the nightclub it ratcheted up the fun by at least 90%. Extra kudos to Macallan for giving it her all during both her "good" performance and the less good reality, and Lotz's adoring expression when she sees her girlfriend acting like a fool on stage.

LINCOLN RHYME, "Game On", February 14th, 2020, Actors: Claire Coffee, Brían O'Byrne
The Scene: The Bone Collector kills his wife
Dahne: The Bone Collector kills his wife, Danielle, when she finds out his secret. While all the scenes with these two were chilling and riveting, the final one, where Danielle thinks she's talked her husband into giving her her freedom, only to have him snap her neck, was so powerful.

LOCKE & KEY, "Dissection", February 7th, 2020, Actors: Darby Stanchfield, Connor Jessup and more
The Scene: The Locke family reunites after a turbulent night
Marko: Episode 7 of their first season was definitely the most action-packed and emotionally draining. Seeing the family reuniting after such a horrible night made my heart go all fuzzy. We all needed that hug at the end.

OUTLANDER, "Between Two Fires", February 23rd, 2020, Actors: Duncan Lacroix and more, The Scene: Murtagh partakes in tar and feathering
Laura B: In the books, Murtagh no longer exists in this part of the story, so it is curious to set up a trajectory where Murtagh is willing to do something that Jamie is probably not. The scene was truly disturbing to watch and a stark reminder that early America was a hard place to exist in, especially coupled with Claire dealing with mercury poisoning later in the episode and all of the Bonnet scenes. But it sets up the season with a premise about Murtagh's fate and if he simply just wants Jamie to be the end to it?

SINGLE PARENTS, "Untz, Untz, Untz", February 26th, 2020, Actors: Brad Garrett, Kimrie Lewis
The Scene: Poppy and Douglas decide to move in together
Klutzy girl: I love Douglas and Poppy's relationship and am thrilled they've agreed to move in together. It's not going to be easy but it should be fun to watch these two and their kids attempt to co-habitate.

STAR TREK: PICARD, "Stardust City Rag", February 20th, 2020, Actors: Patrick Stewart, Jeri Ryan
The Scene: Seven of Nine and Picard talk about humanity
DJRiter: While Jeri Ryan's return as the iconic Seven of Nine Borg was marked in an action filled episode, it was a quiet moment that was the standout moment for me. Seven's discussion about their humanity after having Borg implants removed was a beautiful piece of writing and expertly played by Ryan and series star Stewart.

SUPERGIRL, "It's a Super Life", February 23rd, 2020, Actors: Melissa Benoist, Katie McGrath, The Scene: Supergirl tells Lena that she's now accountable for her actions
DJRiter: Supergirl tells Lena she's responsible for her own actions from here on out. While it was not a moment I envisioned happening in a celebration of the show's 100th episode it was a moment long overdue. I have long held the opinion that when it came to her strained friendship with Lena Supergirl had done nothing to feel guilty about or apologize for. When, after Mxyzptlk, held a mirror up for her to see that changing history would not have changed the outcome, I was thrilled to see a strong and self-confident Supergirl stand on Lena's balcony and declare that she was done blaming herself for Lena's bad decisions. Finally! This is the Supergirl I didn't realize I'd been missing so much this season. And then she went on to tell Lena, that from here on out she was responsible for her own actions and that if she continued with whatever she and Lex were playing that she would do everything in her power to stop her, just like any other villain. This, this is the Supergirl National City deserves.

THE GOOD DOCTOR, "Unsaid", February 17th, 2020, Actors: Freddie Highmore, Paige Spara, Jasika Nicole, The Scene: Karaoke night
Marko: This was a really unexpected but just as impressive scene. Shaun getting there to feel comfortable enough to perform a Nicki Minaj song and let it all out just shows how much he has to come with the help of Leah and Carly. But the sweet moment turned into a game changer when Carly noticed how Shaun was focusing his energy and joy onto Leah.

THE OUTSIDER, "The One About the Yiddish Vampire", February 9th, 2020, Actors: Marc Menchaca and more, The Scene: The Monster attacks Jack Hoskins
DarkUFO: Jack Hoskins has the shit beaten out of him by the Monster who appears in his mother's form.

THE ROOKIE, "Day of Death", February 23rd, 2020, Actors: Melissa O'Neil and more
The Scene: The team finds Lucy (picked by Folie-lex)

THE SINNER, "Part III", February 20th, 2020, Actors: Matt Bomer, Chris Messina, The Scene: Jamie nearly gives imaginary Nick his newborn baby
Laura B: Somehow The Sinner's third season has recaptured the tensely darker spirit of its first season with this scary new story about one man trying to outrun his past, and not really being able to do it. Matt Bomer and Chris Messina have done an excellent job at showing the scary relationship between the two men and delusional states of mind Jamie continues to find himself in, proving that he might not just be a danger to himself like he nearly did to his own child.

THIS IS US, "A Hell of a Week: Part Three" & "The Cabin", February 11th & 18th, 2020, Actors: Chrissy Metz, Justin Hartley, Mandy Moore, The Scenes: Kevin builds his dad's dream house & Rebecca and Kate decide to go for a swim
Jamie: Kevin builds his dad's dream house. I didn't think it would be possible, but despite this show being in its fourth season, it still manages to punch us right where it hurts. And the fact that Jack never got to see it just makes it hurt even worse.
Klutzy girl: Rebecca and Kate decide to go for a swim. Rebecca telling Kate that "You're fat. I'm ancient. We're gorgeous." was an amazing and empowering moment.

WHITE HOUSE FARM, "Episode 6", February 12th, 2020, Actors: Alexa Davies, Freddie Fox
The Scene: Julie Mugford gives her evidence against Jeremy Bamber
DarkUFO: Julie Mugford gives her evidence against Jeremy Bamber which results in him being convicted of the murder of his entire family.

ZOEY'S EXTRAORDINARY PLAYLIST, "Zoey's Extraordinary Boss", February 23rd, 2020, Actors: Jane Levy, Lauren Graham, The Scene: Joan sings "Roar"
DJRiter: I am truly enjoying this unusual show. It's telling a wonderful story with perfectly placed musical numbers that feature different characters. This episode focused on Zoey's boss Joan played by the luminescent Lauren Graham. The memorable moment of this episode comes when Joan takes charge of both her life and the company's new watch. Graham shines as she belts out Katy Perry's Roar at this pivotal moment.