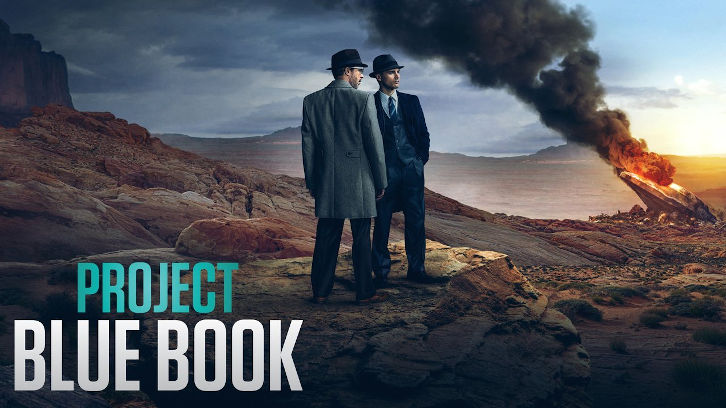 Project Blue Book
"Close Encounters" was written by Linda Burstyn and was directed by Wendey Stanzler. Burstyn joins the writing room with credits from
Chasing Life
,
State of Affairs
, and
NCIS
, which makes her a good fit for this episode which mostly centers on the Robertson Panel.
I really liked how this episode was told from the perspective of 1976 with flashbacks to the events of 1957. We find out that Hynek (Aidan Gillen) was a consultant on Stephen Spielberg's
Close Encounters of the Third Kind
! This is actually true – and the real Hynek even had a cameo in the film! It's while on set that Hynek is interviewed by a reporter (Catherine Lough Haggquist). Mimi (Laura Mannell) is there with him and helps to tell the story of the events surrounding the Robertson Panel.
Help with the Robertson Panel comes from an unexpected source when Hynek arrives home to find David Dubrovsky (Bronson Pinchot) performing magic for Joel (Nicholas Holmes) after tracking Hynek down through Mimi at her UFO group. He has a message from extraterrestrials for Hynek. Only David can save him from the Robertson Panel.
Quinn (Michael Malarkey) is reluctant to give any time to David and his story – or the photo of aliens that he has. Pinchot was a terrific guest star. I loved how he was both matter-of-fact about his encounters and totally eccentric. Quinn scoffs that the aliens spoke English to David, and he shoots back of course not! They communicate telepathically. He also surprises Quinn by knowing exactly what Quinn saw over Washington. David tells Hynek that he's been chosen – by the aliens – to tell the truth, and David has been chosen to help Hynek. He leaves, telling them that he can't help unless they let him.
When an expert (Yumi Ogawa) verifies the picture – as far as she is able – Quinn and Hynek go after David to learn more. He shows them where the aliens come to meet with him – and they've left a message for Hynek – the mysterious symbol from last year, now woven into the grass. David is sure it's a message that they want the three of them to work together. The three sit around a fire that night waiting for them to arrive. There's a nice moment between Hynek and Quinn when David goes for firewood. Hynek confesses he's worried about the Panel and Quinn tries to reassure him.
When David returns, he's not himself. His eyes are completely whited out and he's clearly channeling someone. When Quinn tries to touch him, he looks like he's been shocked by electricity. "David" tells them that Hynek is in danger and only David can save him – and then he collapses.
Quinn and Hynek meet with Valentine (Michael Harney) before the Panel. He gives Hynek a prepared statement to read. Hynek wants to say that they need further study and money to do it. Valentine tells them he expects them both to act with honor and integrity – and Hynek to state that there is no evidence to support that UFOs are extraterrestrial in nature.
We flash to 1976 for Hynek to explain that they wanted him to state that he didn't believe. The reporter presses to know what he really believed. Hynek explains – not for the first time – that science doesn't "believe." The one truth is that UFOs exist and some can't be explained. His choice was to tell the truth and have Project Blue Book shut down – or lie. And then he abruptly ends the interview and Mimi apologies by explaining that Hynek still has a hard time talking about it.
Hynek is appalled by the Panel because the supposed scientists aren't even looking at the evidence. They've already made up their minds. In the end, even Quinn is disgusted by the sham. Hynek realizes that they have two choices. Read Valentine's statement and be shut down for incompetence or tell the truth and the Generals will shut them down. It seems as if the cavalry has arrived when Banks (Jerod Haynes) shows up to help.
And then, like magic, David shows up at just the right time. At first, Quinn is angry because he thinks David is with Banks. It's Quinn, however, who convinces the Panel to hear David's story – and then he uses it to his advantage. David tells them that he was told to come to the panel by beings from another planet and that they have a message for the Panel: Don't be afraid. Stay open and believe. The ships aren't there to hurt them but to teach them.
Quinn then tells the panel that David is a typical case. They look into it and the prevent panic. If the Panel shuts them down, they invalidate all the work they've done and call all their findings into question – it would start a panic! He tells them that they understand their role and with the Panel's help they can continue to spread their message that UFOs don't exist.
Hynek is effusive in his praise of Quinn. Banks leaves – and is not happy. Quinn is happy that he was right about Banks all along! Banks thinks of
Quinn as an equal – it's just a new administration bying for a position on the field. Quinn points out that Banks also played against Hynek – who really isn't "one of them," and Banks replies – all the more reason to push him off the field!
This episode gets back to Susie (Ksenia Solo) as she carries out her promise to do something about Rizzuto (Michael Imperioli). He's woken out of a sound sleep by the television suddenly turning on. It turns out that she's trained him, and he's supposed to report to her and hand her information. She tells him that she knows he's turned double agent. She also tells him that Daria is done with her – true – and that she didn't tell Daria she knew he'd turned – false!
She goes on to try to enlist his help to get her daughter out of Russia, so she can't be used as a pawn against her anymore. There's a poignant moment when Susie actually gets her daughter on the radio. However, as she is distracted, Rizzuto picks up a hidden gun and turns it on Susie…. Only she knew he would and beat him to it by removing the bullets. She ends up shooting – and presumably killing – him as he watched baseball – his symbol of the American Dream.
The episode ends in 1976 as it began. The reporter remarks that it sounds as if Quinn really saved the day. Hynek says even more than in the Panel. It seems he'd written out what he really believed the night before – and Quinn made sure that it never saw the light of day. The reporter asks what happened to David, and Hynek said that David was a conman, but he did what he said he would do and saved Blue Book.
This was another good episode. I enjoyed the different format – and learning something about what happened later to Hynek and Mimi. Pinchot was a terrific guest star as David. I can't help thinking that the name David Dubrovsky is very similar to David Duchovny who played Fox Mulder on
The X-Files
… It looks like Banks is set up to be an adversary, which disappoints me – I really liked the character! But then, he IS CIA… Finally, will Susie get her daughter back and disappear? Will she ever tell Quinn the truth? What did you think of the episode? Let me know your thoughts in the comments below!