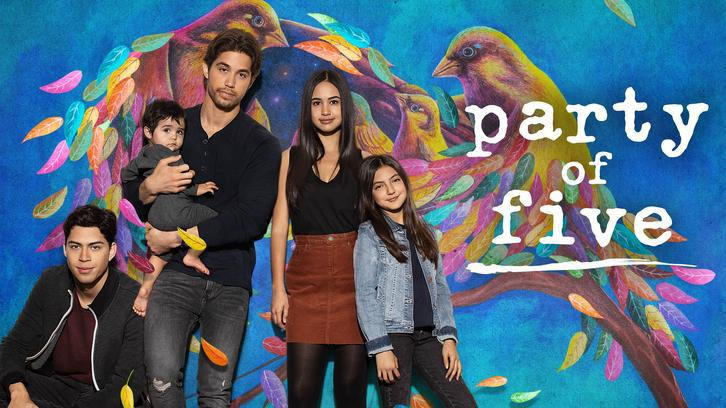 We've come to the end of the Season 1 road. Let's get started.


Dos y Dos - Episode 8


We start this episode with a viewer discretion advisory because the content will touch upon suicide. Help is available, The National Suicide Prevention Lifeline can be reached at 1-800-273-TALK (8255).

Emilio, clued in by Natalia, confronts Val about her masquerade as Amanda Davis. Val lashes out at an emotionally exhausted Emilio then runs away in the middle of the night. When Val is detained at the border, the remaining Acosta siblings take a combative road trip to bring her home. The episode ends with Lucia, Beto, Val, and Rafa crossing into Mexico to visit their parents.

Elsewhere, Beto discovers Ella's mental health struggles, including a past suicide attempt and hospitalization. He's shaken by the news and Ella ever fragile is worried that his reaction signals the beginning of the end.

Continuing the trend of emotional distress, Lucia finds herself falling for Sully. Even worse, she lets Sully know about her feelings. The older woman is obviously caught off guard, but quickly lets Lucia know that there can never be anything beyond friendship between them. Lucia is left spiraling.



Mexico - Episode 9


The life of Gloria and Javier Acosta in Mexico is revealed in a series of flashbacks that parallel the family reunion in the present. Through the flashbacks, it becomes clear that the Acosta's marriage has taken a significant hit. They play pretend for their children, but the specter of separation looms. Their secret doesn't stay hidden for long.

The time in Mexico isn't what any of the Acosta's imagined. Val turns a cold shoulder to Gloria when she catches her talking to the real Amanda Davis. Beto and Ella's relationship parallels Gloria and Javier, but they reconcile after Ella makes a grand gesture. Lucia hides the truth about Sully from Gloria by using he/him pronouns to describe her feelings, but eventually she slips and is left stricken by the look on her mother's face.


Diaspora - Episode 10
Emilio's fitness as a parent to his younger siblings is questioned when Social Services is notified of Val's encounter with border patrol. He blows up at a required parenting session, expressing all of his frustrations and inadequacies. During a later talk with Natalia he realizes that perhaps becoming a parent to his siblings is the moment his life began.
Lucia desperate to prove her sexuality to her mother and reeling from Val telling her that she doesn't have the qualities of a woman reacts badly, and she has sex with a boy that works at the motel. After returning home, she has a talk with Matthew and realizes she is still searching and defining her identity.
Val, desperate to stay with her parents, throws away her passport. She convinces her father to let her live in Mexico, but it takes Beto to convince Gloria that it's the right thing for Rafa and Val. Whether this will save the Acosta's marriage will have to wait for a potential Season 2.
The end of the season finds the Acosta siblings in different places literally and figuratively. Emilio, now in a relationship with Natalia, leaves on a road trip to New York. Beto and Ella are traveling home from Mexico, his feet firmly planted while Ella continues to dream. Lucia is on the verge of arrest at an immigration protest. Val, who finally feels at home, and Rafa are in Mexico with Gloria and Javier.
What I Loved:
Natalia. We needed her.
I'm also a fan of Ella because who doesn't love a hot mess, you never know what they'll do next. She keeps the viewer on their toes.
What I Didn't Love:
Val being allowed to explain away her every action and never suffering a single consequence. Her obvious and realistic pain in early episodes quickly gave way to annoying histrionics. If I had to listen to her talk to people like they were stupid, and she was superior one more time I was going to do something figuratively drastic. Her comments to Lucia, no ma'am, just no ma'am.
Overall, I wanted to love this show. I wanted to love it because it was taking a personal look at the immigration issue. I wanted to love it because we still have miles to go before television is wholly committed to telling great stories through a multitude of lenses. In the end, I didn't love it, but I liked it well enough to hope they get another season of storytelling.
What did you think of Season 1? Hoping there's a season 2?