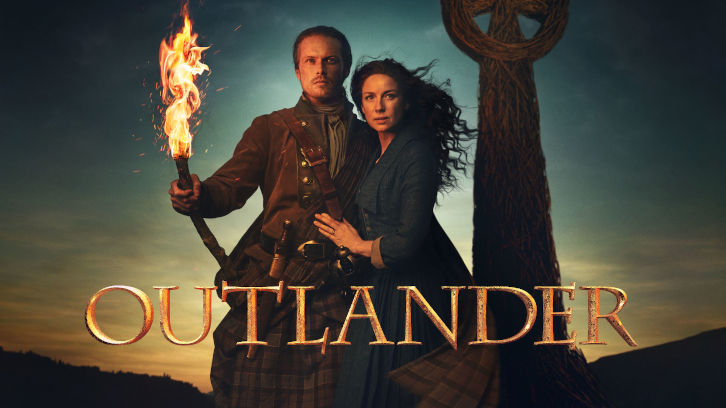 Your regular Outlander reviewer had to step out this week, which means you're trapped with me in 1770-something to see what fresh dilemmas have befallen the Frasers and Friends. It could be worse. We could be trapped in a town where we're related to absolutely everyone! And the town is even named after us. To give some background, I have read the book, and I did like this particular book quite a bit. The show is, of course, an adaptation, but the changes they have made this season have mostly worked for me.

Babies abound in this episode. One of them is in significantly more danger than the rest, as Bree finds a coin in Jemmy's basket that a well-dressed Irishman apparently gave him. (Of course Bonnet would gve him a choking hazard.) Needless to say, when Jemmy briefly disappears, Bree nearly loses her mind. The subsequent scene with Marsali sitting at the table with Bree is one of my favorites from this season so far, as they share a drink in their "sacred silence." Lauren Lyle has largely built this character with her portrayal, as Marsali wasn't as present in the books, and she is stealing scenes left and right. Young Fergus would be proud. Marsali's loving, blunt reminder encourages Bree to confront her fear. The first step she takes is to burn her drawings of Bonnet. Ominously, an exterior shot suggests the house is being watched. While the mystery watcher is most likely Bonnet or one of his men, there is at least one other person it could be.
Other Thoughts:

Claire's Dr. Rawlings list got published! It can't be traced back to her…….or can it?
The dancing scene was utterly charming, the way Jamie pulled Claire into the circle to dance just for her. It's a little thing, but the details like this make the characters real people.
A great deal of this episode seemed to take place at night.
Do we think it was Bonnet watching the house?
I do not remember from the books if Fanny Beardsley (Bronwyn James) reappears (and as always please use spoiler tags if talking about the books in the comments), but I can't pass up an opportunity to recommend another one of James's shows.
Harlots
on Hulu! Truly a priceless gem.
So many babies in this episode, toddler baby, newborn baby, baby on the way, but the baby I'm waiting for is Adso!