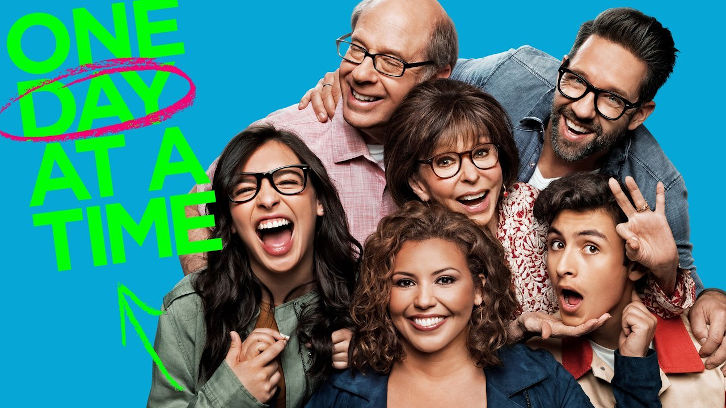 This week on the premiere of One Day At A Time the Alvarez family is visited by a census taker who makes Penelope self-conscious about being single. She tries to go on a date but finds that she can't stop thinking about her ex, Max. She decides to go see him at the hospital but it turns out he's out of the country with Doctors Without Borders. She decides that while she values her independence, she does want someone to share her life with. Elena and Syd had previously decided to break up before college and Alex suggests they do a trial run. But they end up missing each other too much and decide to try to make their relationship work through college. Schneider asked his girlfriend to move in with him. Lydia was fabulous.

Thank you, Pop: First things first, around this time last year we didn't think we'd ever be getting any more episodes of this show. When Netflix canceled it, it came as quite a shock to many, though considering their track record, it really shouldn't have. Even more shocking, though, was when Pop saved this show. I do believe it was the first time a Netflix show was ever picked up by another network (usually it's the other way around). And I'm so glad this show was saved. I still consider this one of the best sitcoms I've ever seen, the move between networks hasn't changed that one bit, and it has a ton of representation. So, thank you Pop for saving this show. Is it too soon to ask for a renewal?

In case you're new: I must say, I really enjoyed the intro. It was perfect for new fans to learn who everyone was without being overly obvious. And I liked that Syd was in it. It makes me hope that they'll have a more regular role throughout the season.

Will he be back? I was surprised when Max was mentioned again. I kind of thought that this was a closed chapter for Penelope. But clearly, he's still very much on her mind. He may be out of the country now but I have a feeling we'll see him before the season is over. It does make me worry. They broke up for a very good reason. He wants kids, she doesn't anymore. And unless he had a complete change of heart, I think this is still a pretty big issue between them. One you can't and shouldn't compromise on. I'm curious to see how this will play out.
Good call: Relationships were front and center this week. Elena and Syd thought they should break up before college because couples from high school rarely make it through college. I must say that I was surprised by this. I figured Elena would be all for defying the odds. But I guess neither of them was all that excited about the break-up. It makes me wonder who came up with the idea in the first place.
Best quotes: Penelope: "Did you decide what we're watching for movie night?" Alex: "No, it's like there's nothing good on Netflix anymore."
Brian: "And what is your age?" Lydia: "I am ageless."
Lydia: "What are you watching?" Penelope: "A Lifetime movie. I just love watching rich people in trouble."
Penelope: "I don't need a man. The problem is that I still like men." Ramona: "We all have flaws." Penelope: "What I want is to not want a man. Discuss." Ramona: "Step one: start liking women. Step two: turn to your right."
Penelope: "But it's okay for me to admit that I can still be a feminist badass and want a boyfriend."
That's it for this week. Check in again next week for an all-new review and let me know in the comments what you thought of this week's episode.
Please be respectful in the comments, any unnecessary rudeness isn't welcome.