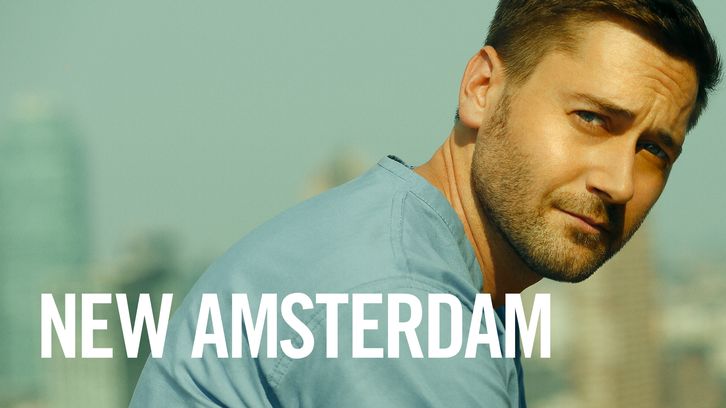 On this week's episode of New Amsterdam, the hospital gets sued; Dr. Sharpe confronts Dr. Castro about her drug trial; and Iggy deals with a student who has suffered severe trauma at school. Max also has some new developments with his personal life. Let's dive in.

At the beginning of "Perspectives", Bloom, Reynolds, and Max all get served. Max was in such a great mood, but this is quickly squashed as Karen informs him that the family of George Whitney is suing the hospital for malpractice and wrongful death. The three doctors have to give depositions about their work with George. Lauren starts to worry as she doesn't remember things correctly about Whitney's treatment.

She talks to Kappor since she's concerned about her memory loss. Kappor assures her she doesn't have anything to worry about, however, her mother's memories may never return. I definitely understand Lauren's concerns about her memory loss. I'm glad she felt like she could confide in Kappor; they seem to have a good friendship. I did like the ending where Lauren told her mom that they should make new memories. I felt like this was her way of trying to move forward with her life.
Dr. Reynolds explains his surgery to Evie, and she asks if he decided to go with an invasive surgery before or after he learned the patient was a white nationalist. She later brings a resident who confirms that they had already started the surgery before they learned he was the one who released the toxins at the middle eastern street fair. At the end of the episode, we learn the truth: Reynolds really didn't do anything wrong, but he was embarrassed. I completely understand why he was bothered by George Whitney, but I'm glad that he didn't let that affect his job.
Evie tells Karen that Bloom, Reynolds, and Max didn't do anything to cause Whitney's death, but they all made choices that could be considered suspect by a jury. She recommends that they settle. I think this was a very realistic story. Doctors make the best choices they can, but they're all under so much pressure. If they even make one wrong move, they could get sued or lose their medical license.
Moving to on Dr. Sharpe. Near the beginning of the episode she switches the labels on the medicines for Dr. Castro's drug trial. Once Castro realizes her trial has been compromised, she confronts Sharpe. Sharpe realizes Castro's medicine is important and she is willing to help, but Castro must resign. Max definitely knows something is off, and he wants to know why Sharpe let Castro back into her department in the first place.
This leads to a moment between Max and Helen. Helen admits everything she's done has been for him. I have to be honest: I've been pretty much against the two of them being romantic. They just have such a wonderful friendship that I don't want to be ruined. But this moment may have changed my mind. After this, I can definitely see Helen and Max being together. But the show needs to continue to build this romance very slowly. He clearly isn't ready for a serious relationship as he can't bring himself to remove his wedding ring.
The other main story this week was Iggy. His patient, Danica, feels unsafe because her school had a school shooting. The shooting was just a drill, but to Danica, it was real. I couldn't imaging dealing with what Danica did. That shooting drill sounded absolutely horrible, and I can't believe that's the way the school chose to handle things. I love that Iggy went to the school and encouraged the students to talk about their feelings. He's right: feelings aren't just going to go away. I think that's an important lesson.
What did you think of "Perspectives"? Do you want Helen and Max to be romantic or stay friends? Are you glad Castro's gone? Share your thoughts below!