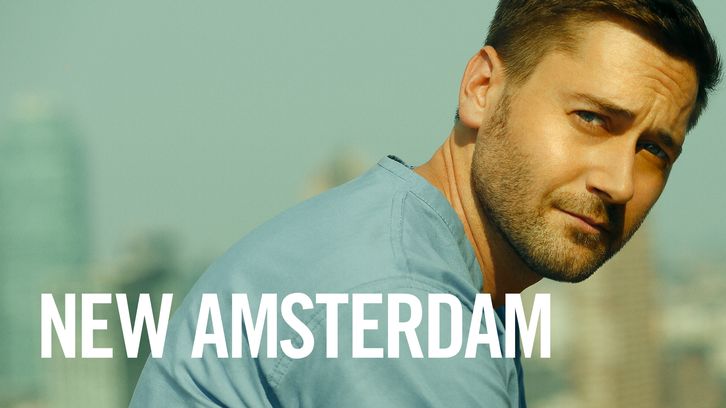 This episode of New Amsterdam was another emotional one as Max and the team try to battle the opioid crisis; Iggy does couples counseling; and Sharpe discovers troubling news about Castro.

At the beginning of "Double Blind", Karen asks Max to try to stop the opioid epidemic. At first Max brings the staff together and tells them that they have one year to prescribe 79 percent less or they will get fired. Karen isn't impressed. Then Max shuts down the ED so the doctors can attend a training and get certified on how to manage the symptoms of withdrawal. Finally, he decides that he's going to rip up the Nyler contract, which I can't help but think this could cause problems in the future.
Max spent the entire episode trying to figure out a way to solve this problem, but the thing that worked the best was having the pictures on the wall. This shows how many people have passed away, and how many people have been affected by addiction. And at the end we see Karen put up a picture of her and her sister who turned out to be Dr. Bloom's patient. This explains why Karen was so invested in this, and it was honestly nice to see her so passionate about this. Addiction is definitely a problem in our world, and unfortunately, there's no easy solution. As usual,
New Amsterdam
did a good job of writing about a real world problem.
As far as Max's personal life, it looks like he may be moving on with Alice, and I have mixed feelings about it. On one hand, he definitely needs something good in his life (especially since he's losing Dr. Reynolds now), but I don't know if either Max or Alice are ready to date. I guess we'll see in the coming episodes how this plays out.
Elsewhere, Dr. Sharpe thinks there's something wrong with Dr. Castro's trial. She has a hunch that she's hiding the patients side effects so she goes around her and looks in Castro's case files. Castro tries to explain that her trial isn't to blame for the patient's delierium, and Sharpe believes her at first. But then she discovers Castro has been altering her trial. This is so dangerous! I really hope that Sharpe can help fix this and get Castro's drug trial shut down. Doctors should be trying to help people, and this is the opposite of that.
Moving on to the most disturbing story line of the episode: Chris and Jenny. I know Iggy wants to help and his heart is in the right place, but he shouldn't want half-siblings to stay together. This just grossed me out, and honestly, I wish the show hadn't gone here. I think the writers could have come up with something better for Iggy or focused on one of the other characters. I am concerned about Iggy and his health, though. The binge eating is very worrisome, and I'm afraid he's going down a bad path.
Other Thoughts:
- It was so sad to listen to Lauren talk about her troubled childhood only for her mom to reveal she didn't remember any of it.
- I'm so glad we got to see Adele again!
What did you think of "Double Blind"? Leave a comment and discuss below!