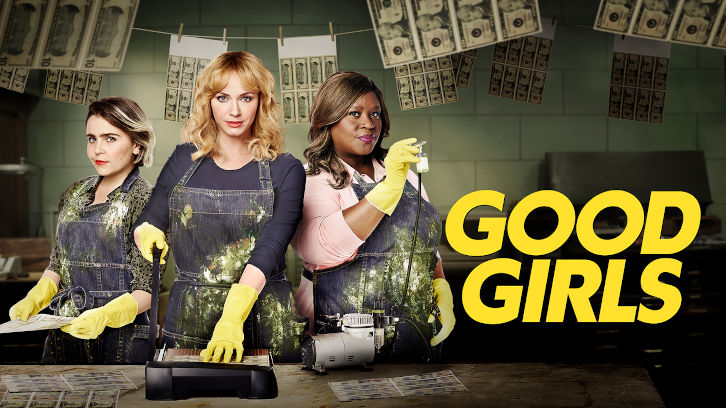 Remember last week when I was upset that the first few episodes were a little slow because they were mainly buildup? Boy, was it worth it. This week's episode begins strong and ends even stronger, so let's jump right into it!

Do I want to talk about Dean buying a gun in order to "protect" his wife and family? No, I do not. Will I? Unfortunately. He goes on with a dumb metaphor about how a "moose" is trying to shack up with his wife and threaten his family. Of course, the gun salesman gives him a recommendation! Those aren't ready yet, though. He needs a background check if he wants those ones. So what does he do? Buys a shotgun. A gun he's able to take home today. 'Merica.

The worst part about all of this is that he tells Beth later that he's keeping the ammo in the office, and the gun in the garage, so why did he even need it? He tells her he likes knowing it's there, which is still stupid to me because even if you know it's there you can't use it if you need it right away. Especially if Rio comes in. You think Rio isn't going to have guys blocking every exit? Please. Dean, you're a fool, and you just wanted to show your wife you were big and strong and could have a gun like Rio can. We get it.

Rio and Beth were on fire in this episode. Beth tells Rio's men to have him meet her in a bar, and when he gets there, she's already drinking. Uh, aren't you not supposed to do that while pregnant? Then she orders more shots, which gets Rio to try and shake her out of it. "What are you doing, Elizabeth?" Man, every time he calls her that I internally lose it, I'm telling you. She says she lost the baby, which is damn clever.

This scene is tricky because while Rio now realizes he has to kill Beth, he also believes he just lost a child. Him and Beth's child. Even my roommate said "is he, dare I say, disappointed?" and yeah, he really looked it. He puts his mask back on quickly when she asks how much it would take to keep her alive. Let's be real here, I thought he was going to say upwards of $1M. Maybe half a million. You know what he says?

$100,000.

I decided to play a game of "let's make the FBI agent monitoring my computer confused" and Google what you could get with $100,000. My favorite answers: a jet pack, 200 human-sized hamster balls, and private security for a little over a year. There you have it, Beth. You're worth 200 human-sized hamster balls and not one cent more. All in all, this will take the ladies a while to achieve, but it could be worse!

Since they're at a sports bar trying to come up with ways to put all their money together and make it happen, Ruby gets a bright idea. She's gonna steal Gordie Howe's jersey from the 1955 Stanley Cup, which just happens to be hanging in the men's bathroom. Whatever that means. I prefer more recent sports. It's smart, really smart until we find out it's a fake. When they take it to the pawnshop, the man tells them it's from a few years ago, produced in China. Whoops.

There, Ruby finds the pen her daughter Sara was accused of stealing from a tutoring gig earlier in the episode. It's a platinum-engraved pen that's worth about what a car is worth apparently. Not to be that person, but when you have someone in your house you don't know, wouldn't your first thought be to hide the items you own that cost, oh, I don't know, upwards of $34,000? Maybe that's just me. So Sara did steal it, but then she pawned it, and put the money with all the rest of Ruby's money.

I wish I could say I was surprised that Sara now knows of Ruby's extra money and where she hides it, but Ruby's kids are much older than Beth's, so it doesn't really cut it for Ruby to be hiding the money in cereal boxes anymore. Teenagers eat cereal on their own accord, Ruby. You had to know you'd get caught.

Let's talk about Annie! In this episode she: suggested the women go to Canada and buy a baby, lied to her therapist about her sister having eyeball cancer, and then tried to seduce said therapist. Woof, am I right? Her therapist rejects her, as he should, and of course, being Annie, she lashes out. He shows up at her place later and tells her that she uses men she knows she can't have as a defense mechanism against actually opening up, and wow, you can see how hard it hits her. Yikes. Hopefully, Annie can learn from this? I would love to see her end up with someone who actually cares about her at some point.

Rio ends up finding Beth's guy and questioning him about where he gets his money. He demands Beth show him how she makes it, and I swear, y'all, every scene with them is like foreplay. It's insane the chemistry these actors have. I almost, for a split second, think Rio is going to hurt her. Maybe take over what she's doing, have it for himself. Instead, when she asks him what he thinks when he's done, he says "I think I need you alive." Sigh. Of. Relief.

My favorite part of the episode by far was also my favorite quote from the episode, which is really just a mini-monologue from Annie: "I tried to seduce my therapist, okay? Like, sexually, bone town. He straight up rejected me, so I went home -- alone -- drank a lethal amount of Goldschläger, and fell asleep in my own pile of Cheeto Dust." We've all been there, girl. I feel for you.

What were your thoughts on the episode? What are you looking forward to for the rest of the season? Are you rooting for Beth and Dean or Beth and Rio? Did Annie really fully swallow that fortune from her fortune cookie? Let me know what you think!