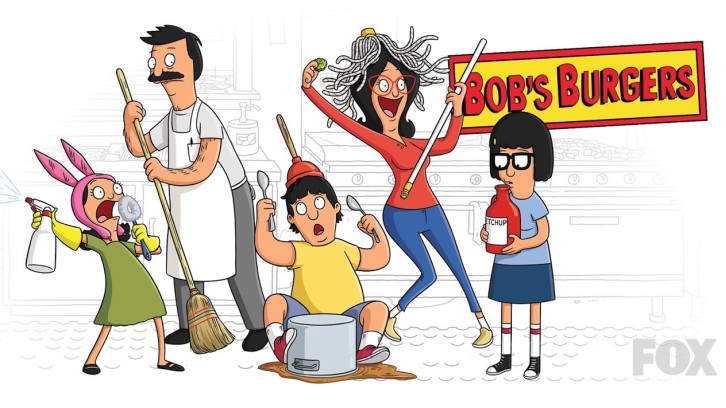 My affection for Bob's Burger runs deep, but it is not limitless. My limit is Gayle. I'm generally fine with her as a supporting character who might pop up for a couple of minutes a few episodes a season, but in this episode Gayle takes center stage, with diminishing results.

The premise is sound, with Gayle's latest venture an art workshop set in a yurt in the woods. Linda is an investor and this is where the problems begin. It's been well documented that the Belchers are barely keeping the restaurant afloat and finding out that Linda gave money to her sister for another harebrained idea doesn't sit well with Bob. It gets worse when they find out that only one person has signed up for the workshop. In order to support her sister, Linda joins the workshop, disguised as "the other" Loni Anderson, and Tina tags along to improve her drawings of horses. Tina of course would be a horse girl. Giving herself the alias of Lena Benina, the prankster fifteen year old, mother and daughter venture into the woods to so some art.

What they end of doing is fighting for their lives, with Gayle going off the deep end with her teaching methods. Here is some guidance she gave her students:

Take off their clothes and only wear a smock.
Practice without actual paint.
Use blood and spit instead of actual paint.
Use crayons instead of actual paint.
Chase them around the woods while wearing a cardboard box labeled "creative block."
On paper these are all funny scenarios, but in practice, coupled with Linda's desperation to shield her sister from her own dysfunction, it comes across as sad and a bit infuriating. There is the additional complication of Annie Cragston, an online reviewer who Linda finds out only writes scathing reviews. This gives Linda extra motivation to protect Gayle from public ridicule, but right around the time Linda tussles with Annie in the yurt, leading to its collapse, I wonder why Linda is going through all the effort. I understand supporting your family, but at some point an adult who has the capabilities to do so has to stand on their own. Even the reveal that Annie was actually inspired by Gayle's passion for art falls flat because of Gayle's ridiculous behavior. I'm usually all in when Bob's Burgers pulls out the heartwarming family ending, but in this episode if felt more like Gayle was being rewarded for her bad behavior than family supporting each other.
If I had a kid, guess who I'd trust the most to babysit? Hint: it's most definitely not the tallest one in this picture.
The secondary story line featured Gene and Louise being forced by Bob to work at the restaurant when they'd much rather be looking for a lost cat in order to claim the reward. The addition of Rudy, Ollie and Andy, as Louise's foot soldiers while she and Gene are waiting and bussing tables with varying success, is nice enough. When the kids think they find the cat in the alley and are rewarded not with money (since it was the wrong cat) but instead scratches all other their arms, it seems a fitting resolution considering how exasperated they made Bob with their lack of work ethic.
Odds and ends:
Favorite quote #1: "I think that cat might have a knife."
Favorite quote #2: You've been drawing horses? I thought they were people standing sideways."
Favorite blink and you'll miss it moment: The homage to the movie Chinatown between Gayle and Linda. That's the only part of the movie I've seen otherwise I would have been like "what?"
Any Gayle fans want to tell me how wrong I am? Comments and thoughts go below!