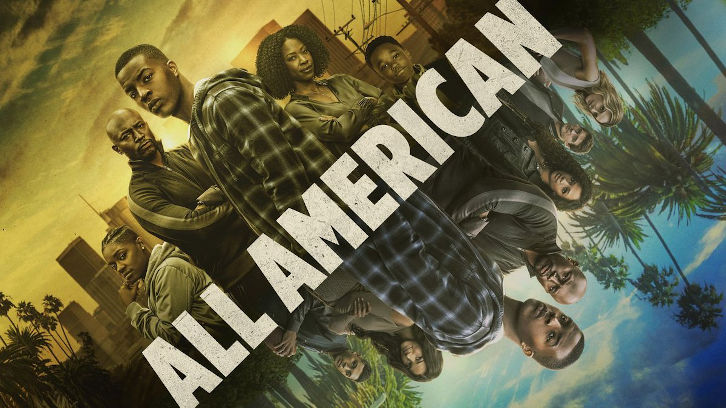 This episode of All American, "Who Shot Ya" focused on finding out who shot Tyrone. And let me just tell you, I hope that this is the last we ever have to talk about Tyrone. There was also some fall out from Asher's steroid use, and Jordan got his heart broken.

"Who Shot Ya" begins with Tyrone's funeral, and Coop is definitely a suspect. Coop doesn't seem to be that concerned, but Spencer's definitely worried especially after his talk with Laura. I have to say that I enjoyed Laura and Spencer's talk. I know Grace is a wonderful mother, but can we have more Spencer/Laura bonding moments, please?
Coop looks more and more suspicious as the episode goes on. There's a video of her, and her rap lyrics do make her look guilty. She knows her gun will prove that she didn't shoot Tyrone, but Patience got rid of that gun. Oops. I know Patience was just trying to help, but she made things worse. Coop decides to turn herself in, but when she gets to the police station, she learns that the warrant has been cancelled. Tyrone's real killer turned herself in.
Shawn's mother was the real killer, and honestly, this kind of broke my heart. Tyrone took so much from her, and and now she has to go to jail. I am glad that Coop wasn't the one who shot Tyrone. It would have broke Spencer if Coop had to go to jail. Spencer and Coop's friendship is so real, and it was evident in this episode how much Spencer cares about Coop. I hope that Coop, Spencer, and everyone else can move forward now and forget about Tyrone.
The other big story this week was Asher's steroid use. Coach Baker confronts him, and Asher admits to using. I thought Cody Christian did a fantastic job in this scene as I could understand Asher's pain and why he started using in the first place. Coach Baker lets Asher stay on the team as long as he agrees to daily drug tests. This sounds reasonable, right? Unfortunately, the janitor finds a bottle of steroids, and Billy has to choose whether to cover for Asher or not.
Billy lies and says the steroids are his, and he ends up getting suspended. I know he wants to protect Asher because he knows what it's like to make mistakes at his age, but I have a feeling this isn't going to end well. And I know this will make Asher feel guilty so I hope he tells the truth in the next episode and saves Billy's job.
I'm also glad that Asher realized that Olivia did the right thing by telling her dad about his steroid use. She wanted to save their relationship (since she can't be with someone who uses drugs) and help Asher at the same time. I'm relieved that he understood and believes he can still trust her. I do worry about if she is going to blame him for her dad's suspension, and if that will cause tension in their relationship.
Finally, Jordan tries to help Simone. He was just trying to be a good friend, and honestly, I like this side of Jordan. But Laura's worried about Jordan getting hurt and talks to Simone. She advises Simone to come up with a plan after the baby's born. I know Laura's concerned about her son, and she was right about Simone needing to think about the future with the baby, but this ended up just causing Jordan even more pain. He doesn't understand why Simone left, and now she's alone in a hotel. This isn't good for anyone.
Other Thoughts:
- I wonder how this Darnell/Chris situation is going to work. Obviously, only one of them can be Crenshaw's QB next season. Will the other one have to switch positions?
- I felt so bad for Olivia when she thought she heard gunshots. She's still suffering from PTSD, and I hope she's still talking to the counselor. I hate that she's suffering.
- I like that Laura was there for Billy even though they're separated. I'm still holding out hope that these two can work things out.
What did you think about "Who Shot Ya"? Leave a comment below and discuss!