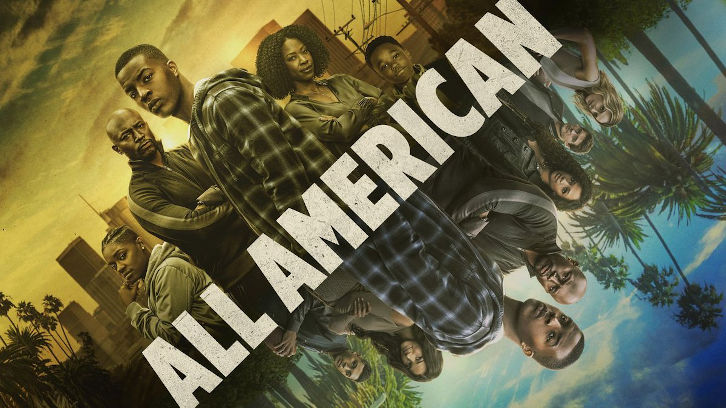 In this week's episode of All American, "Stakes is High", Spencer and Asher both make choices that could change their football careers forever; Jordan tries to figure Simone out; and Coop makes an important decision about her music.

I want to start this review off on a positive note. I loved the scene at the beginning of the episode where Olivia, Spencer, Layla, and JJ are doing yoga. I about died when I saw the goats! It's hilarious that JJ thought goat meant "Greatest of all Time." I thought Daniel Ezra was great at showing how annoyed Spencer was at having a goat standing on him. This was much needed comic relief.
Olivia and Asher meet at the cafe, and Olivia decides they need a break. She needs to be with her family, and she thinks Asher needs to focus on him. I think she's right, but I just don't understand why the show spent months building up Asher and Olivia just to break them up. But later in the episode Asher comes clean and admits to everyone that he was using steroids. I was so proud of him for this. I hope that now he can focus on becoming healthier and building a better relationship with his dad as that's what he really needs. I also couldn't help but notice Olivia smiling at Asher, and it gives me hope that Asher and Olivia aren't completely over.
Even though Asher told the truth, Billy's job is still in danger, and the football team is being investigated. I cannot emphasize enough how much I hate this steroid story. Not only did it ruin all of Asher's character development, but now Coach Baker could lose his job because he lied. I really wish the writers hadn't gone this route.
Spencer decides he has to play in the game to get a scholarship to UCLA, and after talking to Darnell, he gets cleared to play by the athletic director. I'm glad that he didn't get hurt and seemed to impress UCLA, but I hate that he went over Coach Baker's head. I hope that Spencer's decision doesn't negatively affect his relationship with Coach Baker. Billy just wanted to make sure Spencer was completely ready to play, and I feel like Spencer somewhat betrayed his trust.
Jordan was busy this week trying to help Simone. Olivia warns him not to meddle (she's learned that sometimes meddling makes things worse), but he doesn't listen. He figures out she's living alone, and he ends up fighting with the real father of Simone's baby. As you can guess, this doesn't go over well with Simone. Olivia tries to help and get Jordan to see that Simone cares about him, and she's trying not to bother him with her problems. Jordan decides to talk to Simone's mom, and while this was still meddling, I think it was the right call. Simone needs her parents right now, and they're really the only ones who can help.
Finally, Coop gets offered a music contract with JP. She has to think about his offer as she doesn't want music to come between Patience and her again. I'm so glad that Patience and Coop are back together. Ultimately, Coop decides that she wants to keep working with Layla. I was kind of surprised, but I like this decision. I'm excited to see Layla and Coop work together, and while this has been an unexpected friendship, I think it's good for the show.
Other Thoughts:
- I hope that Olivia isn't headed toward a relapse. I thought it was a nice gesture that Asher made her a replica of her award, but the award made her flashback to that awful night of Spencer being shot. At least she's not having to keep any more secrets.
- I loved the Jordan and Olivia scenes this week. I've missed their relationship.
- What's going to happen to Crenshaw's football team? I want Darnell to stick around so I hope they can figure something out. Or maybe the show is heading toward Coach Baker becoming the Crenshaw coach next season?
What did you think of "Stakes is High"? Next Monday is the season finale so make sure to watch and see what happens to our favorite characters!