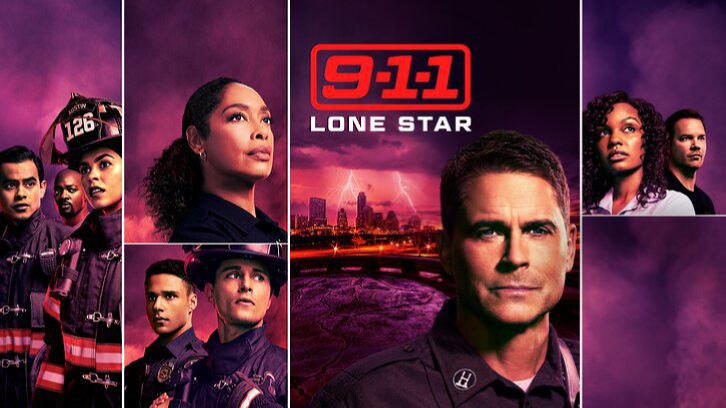 What's worse than finding out your baby is alone in a room with a rattlesnake? Finding out your babysitter is passed out amongst an infestation of them in the basement. Yikes. This is how we start this week's 9-1-1 Lone Star, and I hate to say it, but it only goes downhill from here.

We're finally getting some flashbacks! We get to see Iris and Michelle at open mic night, Michelle being too afraid to get up and sing even though, as we'll find out later, she's pretty fantastic. Michelle and Carlos have such a beautiful bond, and I love it so much, so I'm glad he was the one to be there for her when she searched through the evidence bags from the truck her sister was last seen in. More on this later…

But first! Owen's tumor shrank! He adopts a dog! TK hates the dog! Wait, TK hates the dog? This was a clever way to address TK feeling like he could lose his dad at any second, and I love that they did it this way. When TK finally talks to Owen about it, Owen is warm to him, telling him he could lose him at any time, but that he's a fighter. Then, and only then, does TK finally get down and hug the dog, Buttercup, telling him he loves him. Ugh. Is anyone else crying?

While there were other much more important things in the episode, I have to talk about one of the calls Michelle was on, because it made me lose my mind. A man called and said "Mother" was sick. Not his mother, not my mother, just Mother. As someone who has seen all of Bates Motel, alarm bells went off in my head. For the right reasons, apparently! His mother is dead! Michelle, as she always does, finds a perfect way to distract the distraught son, and talks him down. I love her! I love this show! I miss Bates Motel!

And thaaaat's not what we're here to talk about! What we are talking about is a home invasion, that's not actually a home invasion, that ends up getting TK shot. Yup. Shot. As a firefighter, he was shot! It always happens like this, doesn't it? The worst part? The person who shot him was just a kid thinking he was protecting his parents. Heartbreaking, but also so easily preventable! I know your husband is having a heart attack, but you didn't think to move the loaded gun out of the reach of a scared child?! Mistakes were made, y'all.

Don't worry though, he's… OK? Eh. We're not sure, technically. Owen and Carlos each get a sweet scene with him, and then the team comes and it's even sweeter. I love this show, I love this team, and I love that it just keeps getting better.

Back to Michelle's sister: we get a few more flashbacks of how she was right before she died -- panicky, paranoid, seemingly on drugs. Michelle even accused her of that at one point. Michelle and her mom are both noticing that something is off, and it seems weird to me that this wasn't focused on more when we were originally introduced to the storyline, but it's fine. We find out that the massive amount of blood in the truck does indeed belong to Iris, and that she's most likely dead.

Except… Michelle gets a call towards the end of the episode where she runs to the homeless camp to help the father we met in a previous episode, he's loaded into an ambulance, and Michelle leaves, which is when we get a shot of, you guessed it, Iris, in a tent! If you did indeed guess it, man, you're better than me. I thought she might be alive, but I didn't think she'd be right there in front of our faces. I. Am. Excited.

What were your thoughts on the episode? Do you think Michelle will find Iris? Do you think something is wrong with Iris's memory? Will TK recuperate? And will Michelle and Owen actually date? Let me know what you think!