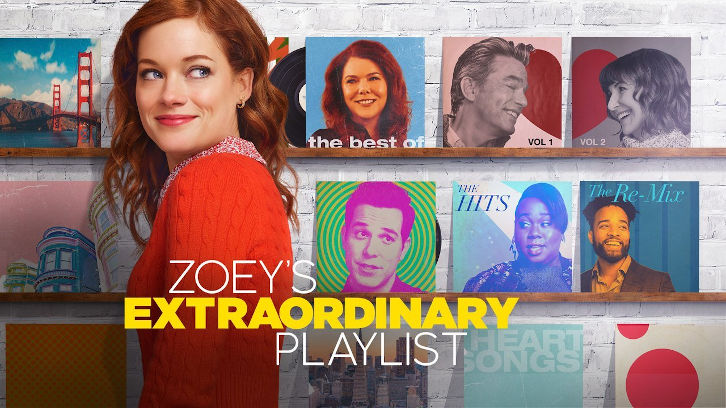 "Zoey's Extraordinary Boss" kicks off with Zoey, Max and the rest of the SPRQ Point team working on a smartwatch that is set to be launched later that week. For all their hard work, Joan lets them off "early" - if by early, you mean midnight. Before leaving, Zoey stops in the bathroom - where she's surprised by Joan, who bursts out of a stall to sing The Rolling Stone's "(I Can't Get No) Satisfaction." Seeing her boss' dramatic, theatrical performance is bewildering to Zoey, to say the least; "What...the actual f-" ...roll intro!
Zoey, Max, Autumn and Simon then hit the club for a double date - well, make that a date and a half, since Simon is still very much betrothed to someone else - but despite the surroundings, Zoey can't shake Joan's message. An interesting aspect of Zoey's ability that I hadn't considered is interpretation; sure, when someone's singing "All By Myself" as they walk alone on the street you can be pretty sure what they're thinking, but there are a lot of songs that can describe a lot of different feelings. We saw that idea played with last week with "Moondance," and again this week, as Zoey sets herself to try and figure out what exactly is on Joan's mind.
After trying to casually bring up her team's performance with her, Joan reassures Zoey that she's not dissatisfied with the work they've been doing. Instead, she confides to Zoey that she's frustrated with her marriage; her husband, a big-time investor, is preparing to demo the new smartwatch at the launch, and Joan is upset that the company that she built needs his "stamp of approval" to succeed. At this point, Zoey wants to stay out of the situation - after all, it doesn't have anything to do with her - but as she leaves, she hears the same "(I Can't Get No) Satisfaction" playing all around her - as elevator music, and as the ringtone of the guy standing next to her, even in the honking car horns as she crosses the street. It looks like Zoey can't get no satisfaction, either.
If you could indulge me for just a second, I'd like to take a brief pause from Zoey's life to acknowledge the actor who played "guy in elevator with Rolling Stones ringtone;" he had exactly one line: a terse "Hello, mother," as he picks up the phone. However, this "elevator guy" has left an indelible mark upon me. Not only was this one line one of the funniest moments of the hour, but I was taken aback by the way in which he answered the phone; so bluntly, unsmiling - even spiteful! What did this man's mother do to him to achieve such disdain? This is only episode 3, so I don't believe it's too late to ask the ZEP writer's room to give me some backstory on this guy. I want lore!
Zoey can't stop hearing "Satisfaction" in her head, so she gives up and returns to Joan's office to inquire about her love life. Joan, for her part, takes little coaxing to break out a 72 year-old scotch and spill her feelings. Zoey isn't comfortably being a part of Joan's personal life - but Joan isn't the only one whose marriage issues are seeping into Zoey's life. After creating a computer program that allowed her dad to write simple words and sentences (his first request? "Lemonade!"), Zoey thought Maggie would be doing well. Much to her surprise, though, Maggie breaks out into a sorrowful "How Can You Mend a Broken Heart" by Al Green. "How can you mend this broken man? How can a loser ever win? Somebody, please help me mend my broken heart and let me live again"; Yikes!
Meanwhile, at SPRQ Point, Zoey's decision to talk to Joan seems to have gone well: she's happy, she wants Zoey to come with her to a Women in Tech event, and she even gifts her a pair of Louboutins! That all changes, though, when Joan's husband Charlie arrives, heralded by the men of the office to the tune of "Jesus Christ Superstar." Joan asks Zoey to sit in on her meeting with Charlie, but when that meeting turns into an argument, and Joan reveals that she's been talking to Zoey about their relationship, Charlie storms out, cancelling the endorsement event. But there's gotta be another major influencer who can be reached on short notice? "Sure," Simons says - right after Zoey hears him emphaticlly singing "No" by Meghan Trainor. Is there no winning for our leading lady?
After Zoey expresses concern for Maggie, David takes her to the grocery store. He didn't believe Zoey at first, but soon sees that Maggie is indeed doing worse than they thought when she gets in an altercation with two girls trying to buy all the lemonade in the store, and Maggie is banned from the store for life. Maggie shares that she feels a responsibility towards Mitch because he is her "life partner," and she should shoulder the burden accordingly. These bits of the show with Zoey's family are so fascinating to me because they really show the difficulty of caring for an ill family member with a level of sobriety that you don't see in many dramas even, much less a quirky comedy. As they literally make lemonade out of lemons, Zoey and David agree to put more time aside to take care of Mitch so that Maggie can have more of a break.
Joan manages to get Charlie to agree to attend the party again, but she confesses to Zoey that it was because she begged and apologized to him for an argument that he started. After some wise words from Zoey ("You deserve to be satisfied,") Joan breaks up with Charlie and decides to make the smartwatch presentation herself. Finally, Joan has her confidence back - proven by her passionate performance of Katy Perry's "Roar" to a cheering crowd. The episode ends with Zoey and Simon "dropping it like it's hot" on the dance floor, in a moment that sets Mo's 'shipper heart aflutter.
In all, I enjoyed this episode the most so far. The first few episodes really seemed odd, just because the tone and plot of this show are very out-of-the-box, but now that I understand how everything is meant to play out, I'm really loving the direction it's going in. The writers aren't just using this premise as a fun way to get Lorelai Gilmore to sing; they're setting up a narrative commenting on the raw ability of music to express the feelings we don't know how to say. On top of that, they've crafted honest and emotional storylines about complicated relationships, moral responsibility, and the death/terminal illness of a loved one - and this is a comedy show! Good on you, writers! Now please make elevator guy a series regular.
What did you think of "Zoey's Extraordinary Boss?" Let me know in the comments!
Zoey's Extraordinary Quotes-List:
Mo: Sounds like somebody's a little jealous of Max and Autumn.
Zoey: I'm not jealous! Just...aware. Which I acknowledge is weird, 'cause I'm the one who set them up.
Mo: I get it! I wasn't into Cory Booker until Rosario Dawson. Then, I was like - "Okay Cory, I see you!"
Max: I don't know what you did to Joan yesterday, but she's a totally different person. She actually yelled at me by name when she told me to move in the stairwell.
Maggie: I have bras older than you!
Lemonade Girl: That's not even a diss!
Maggie: Oh, it's a diss. It's a d-mn diss!
Simon: Everyone I've reached out to either isn't available or doesn't want to be a last-minute fill-in for Charlie.
Tobin: How about Jeff Bezos…'s niece?
Leif: I know Katie Zuckerberg. No relation to Mark.
Zoey: What?