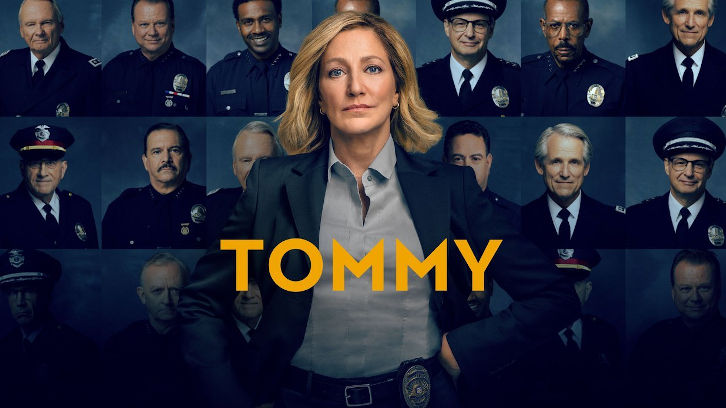 Tommy
"Lifetime Achievement" was written by Jill Blotevogel and was directed by Christine Moore, whose other credits include
NCIS: Los Angeles
,
Elementary
, and
Scorpion
. Blotevogel's credits include
Crossing Jordan
,
The Dead Zone
,
Eureka
, and
Scream: The TV Series
. It's appropriate that this episode that once again focuses on the #MeToo movement was written and directed by women. It's also great timing as the verdict and conviction of Harvey Weinstein came down this week.
The episode opens with a splashy Hollywood party in Pacific Palisades held to celebrate the Lifetime Achievement award of movie producer Alexander Shaw (Byron Jennings). Buddy (Thomas Sadoski) is there and ends up getting buttonholed by a reporter until Blake (Adelaide Clemens) steps in and saves him. Tommy (Edie Falco) was too busy to attend. Buddy asks Blake to meet with him to help with a "thing," which later turns out to be how to separate with his wife, Roni (Stacey Roca) without it turning into a media disaster. He clearly has a sexual interest in her, and it's not clear whether she's interested that way or just wants to advance her career. Given the focus of the episode, it's clear that Buddy is also a sexual predator, which likely goes a long way to explaining his marriage problems.
Alex is murdered, and we aren't ever really in doubt that it's server Tara Rollins (Samantha Smart) – we just don't know why until later. While the show is primarily shot in New York, they did spend some time with outdoor establishing shots from LA – like Tommy running Runyon Canyon with Diaz (Vladimir Caamano). The subplot in this episode revolves around Tommy passing the qualifying exams for the LAPD. And I loved the way that this subplot also dovetails seamlessly into the main theme of the show.
Buddy asks Tommy to personally step in and reassure the wife, Sasha (Reiko Aylesworth), about the investigation. Tommy is reluctant as she doesn't want to step on the toes of her detectives, but Buddy insists. LA is a "people" city – especially the movie-making kind who have all the money… I loved Tommy firing back – aren't all cities people cities? She isn't political, and she isn't going to play favorites.
Tommy has little choice and goes to see Sasha. I loved how respectful she was of Detective Keaton (Susan Heyward). Tommy has time to look at the scene and cool her heels before Sasha has "time" to see her. There are security cameras everywhere, but not in the study where Alex was attacked – so he clearly didn't want anyone knowing what went on there. Sasha would know this, and it's clear that Tommy suspects her at first. She also loans Diaz to Keaton to keep an eye on the investigation.
As expected, there's some fun dialogue and banter in the episode, including Tommy trying to be relevant by calling a potential witness Jabba the Hut and throwing Batman and superheroes into the mix. She's clearly not all about the movie business! So it's even a bigger surprise when we learn that her ex-husband, Michael (David St Louis) is the star of a very successful zombie show! But maybe that's one of the reasons she isn't a fan of the business too…
We see Tommy at the shooting range, preparing for her test. She obviously enjoys it and is really good at it. Diaz calls her there to tell her that Tara, who they've tracked through the catering company, has confessed. Tara has told them that she was told to take Alex a scotch in his study and he put his hand on her and tried to sexually assault her. I loved the reactions from Ken (Michael Chernus) and Blake as they are unexpected but also reflect reality. Blake shrugs off a hand on the ass as nothing, and Ken defends her. Women can be a woman's worst enemy while all men don't condone such behavior. It also sets the stage for Blake to allow Buddy to take advantage of her in her quest to further her career.
By this time Alex has died, and Buddy calls Tommy. This kind of accusation could ruin Alex's reputation and he's not around to defend himself – Buddy doesn't want to lose Sasha as a potential donor to his future campaigns… Tommy insists on talking to Tara herself. Connor (Russell G Jones) warns her that they'll bring up Tommy's own past – and she's fine with that. In fact, she uses her own experience to get Tara to open up. In this first interview, however, Tommy doesn't get Tara to open up and when she tells her that Alex is dead, Tara stops talking and wants a lawyer.
Jane Bannon (Veanne Cox) takes Tara's case, and there's soon another accuser who comes forward. Ken wonders what it is about Hollywood, but Blake tells him that it's everywhere. She tells him the story – and it's an old chestnut – of a business trip with her boss who turns up with only one hotel room for them to sleep in for the night. Blake tells Ken that she slept in her car. So will she follow through with Buddy?
Michael and Tommy seem to have a pretty good relationship, and Tommy invites him to dinner at Kate (Olivia Lucy Phillip) and Henry's (Luke Jones). The dinner is awkward and tense. Henry suggests that the #MeToo movement has gone too far. Kate insists that it's tough to be a woman – and let's face it, if you are a woman, you know this to be true! Henry finally leaves the table – and by the end of the episode has gone to Portland for a "while."
Meanwhile, we see again that not all women stick together to support each other. Sasha holds a news conference and insists that Alex had a consensual relationship with Tara. Meanwhile, it's revealed that another server was supposed to take Alex that drink and Tara specifically asked to do it. It turns out that Tara did know Alex before the party. She'd worked at a production company with him just prior to his marrying Sasha. The story is that Tara was jealous when Alex picked Sasha over her. Deputy DA Hanson (Victor Joel Ortiz) is going to charge Tara and wonders if Tommy's own background has biased her. Buddy tells Tommy that Alex and Sasha donated a lot of money to… people… but he also tells her that if she wants to investigate Sasha, he'll stall.
Diaz and Keaton go to Hyland Vista – the production company where Tara worked with Alex. Walker (Joseph Adams), Tara's former boss says that Tara spent a lot of time around Alex until she didn't. He supports the jealousy story.
Tommy interviews Tara with Bannon present and shares her story. Tara finally opens up and tells them that Alex raped her while she worked at the production company. She told Walker who then fired her two days later after saying that he'd talk to Alex. Tara didn't know that the party at the Palisades was his until she walked in. She wanted to show him that she'd survived and that's why she asked to take him the drink. But he barely remembered her and when he grabbed her, kissed her, and then held her down, she panicked. She tells them that women talk and no one ever believes them – Tommy assures her that she does.
Tommy goes to see Walker with Keaton. She threatens him with perjury or he can tell Keaton everything. I also loved that the detective on the case is also a woman! It turns out that the real traitor to her sex is Sasha. She told Walker to fire Tara and demanded that he stay silent about it. It turns out that Sasha has been covering up her husband's crimes for some time.
At the trial, as the Judge (Lucia Spina) – also a woman! – reads the charges against Tara, a series of women all stand up, including Sasha's own assistant! Hanson and Bannon approach the bench. Bannon reveals that Tara had been raped before and that she fully expected she was about to be raped again – by the same man – and merely defended herself. It's clearly self-defense. Hanson moves to dismiss the charges. While I fully support this fairytale ending, I doubt that Tara would get off so easily in real life – though she clearly should.
Buddy and Roni give a joint press conference in which they both look very happy. They announce that they are co-sponsoring a program aimed at sexual harassment. Is Buddy doing damage control? Does Roni have information that could easily destroy his career? Blake watches and sees her chance at getting closer to Buddy slipping away.
Tommy takes her test and – of course! – aces every part of it, scoring higher than any Chief since the Korean War! Connor, Diaz, and Ken are all thrilled. Connor points out that she didn't really have to take the test at all, and Tommy points out that she did. She had to prove not only that she was as good as any man but that she was actually better than any man – at least since the Korean War. And sadly, she's not wrong. It's never good enough for a woman to be as good as a man. She must always be better.
The episode ends with a nice bonding scene between Kate and Tommy. Henry has gone away and Kate is much happier and relaxed. Tommy, meanwhile, has received a package. It's from Kiley Mills (Katrina Lenk), a friend of Michael's who just happened to stumble on them when they were having lunch in the park. At the time, she offered Tommy baseball tickets – as she has sports connection, but Tommy turned her down. Kiley is a fan of Tommy – and her history. She's sends her boxing gloves! It's perfect because Tommy stopped her own rapist by punching him in the nose.
I really liked how this episode focused on so many nuances of this complicated subject. It came at a perfect time as the Weinstein case wound to a close in the news. What did you think of the episode? Let me know your thoughts in the comments below!