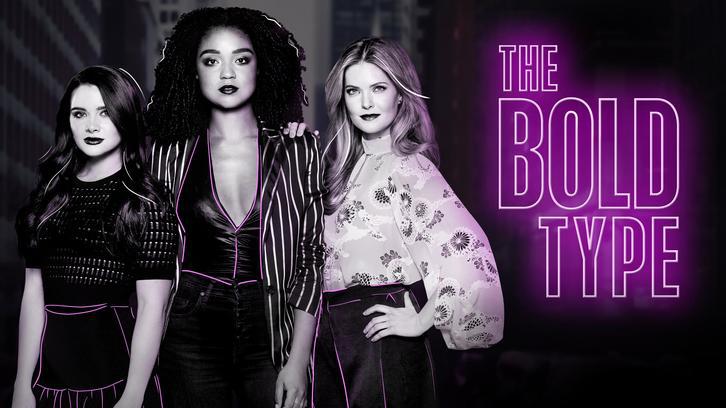 This week on The Bold Type, Sutton meets Richard's mother. It doesn't go too well at first but after an argument, they finally start to agree on things. Jane tries a vagina facial which goes horribly wrong right before she's supposed to speak on a panel. She uses the platform to address the fact that women should talk about vaginas more, even when it's embarrassing. Kat's new guy asks her to peg him (which I learned a whole lot about with this episode). She's not crazy about the idea at first but comes around to it. She reveals to the girls that she thinks she may be bisexual. Alex meets a very successful woman. They go on a date but Alex tells her he's not ready to date someone as intimidating as her yet, despite wishing he was.

Face your fears: Kat has been on quite the rollercoaster these past few seasons. She went from non-serious relationships with guys and thinking she was straight, to a very serious relationship with Adena and identifying as gay, to now where she realizes that she might be able to have serious feelings for a guy after all and identifying as bisexual. I feel like the writers really missed a great opportunity here. I don't think I've ever seen a show address that romantic attraction and sexual attraction might not be the same for everyone, and they had a great opportunity to do that here with Kat. I mean, they briefly touched upon it, but it was so small I'm pretty sure most people missed it. But regardless of that, Kat really stepped out of her comfort zone this week, being the dominant partner in the "relationship". And while I applaud her from trying something different, I do think it's important that you should only step out of your comfort zone like this if you actually want to. No one should be allowed to force you to do something in the bedroom that you don't want to do. But that was clearly not the case here.

No shame: I was so proud of Jane this week. She stepped up in such a big way. And luckily the audience went along with it because that could've totally backfired on her. But look how much stronger tiny Jane has gotten. She stood up for something she believed in. And usually, she does this in her articles, but doing it in person is so much scarier. And it was live-streamed as well.
Stand up for yourself: While Jane stood up to a crowd, Sutton had to face her mother in law. We knew Richard came from money, but at a certain point, I started to forget. Until we met his mother. I was afraid she'd be a stereotypical rich mother in law, unwilling to accept Sutton, so I was very surprised to see her apologize to Sutton. But I guess I should know better by now because this show doesn't really do stereotypes. But I also admired Sutton for standing up for herself. Just because she's Richard's mother, doesn't mean Sutton just has to sit there and take it. Though, I do think the reason Sutton struggled to defend her being an influencer is that she still doesn't fully believe in it herself. And I felt so bad for her having to call for sponsorships. That's like my worst nightmare.
Be honest: I'm glad Alex is getting more of a storyline because there are some stories that you just can't do with the girls. Alex's storyline this week is one of them. Hey, I get it. Alicia was intimidating. Whether you're a man or a woman, I don't think it changes much. I mean, she came across as someone who 100% has their shit together. And it kind of made me hate her a little bit, mostly because I currently do not have my shit together at all. But I'm glad Alex was honest with her. I think a lot of guys would expect the woman to change or would even react negatively. But Alex doesn't want her to change. He just acknowledged that while he wishes he was confident enough, he's just not there yet. And that's entirely on him, not on her. But I also think Alex needs a bit of a confidence boost. The way he talked about his previous job and his current one at Scarlet made me wonder if he's still happy where he is.
Best quotes: Sage: "If you don't ask her out, I am going to."
Jane: "I was nervous that it was gonna smell, so I did something." Sutton: "You did all of the things."
Alex: "That's different." Sutton: "Why, because I'm a woman?" Alex: "That's not what I said." Kat: "But that's what you meant." Alex: "Why do I feel like I need a lawyer?" Sutton: "Maybe you do."
Jane: "Bisexual, lesbian, queer, Kat … We love all of them as long as you're just being you."
That's it for this week. Check in again next week for an all-new review and let me know in the comments what you thought of this week's episode.
Please be respectful in the comments, any unnecessary rudeness isn't welcome.