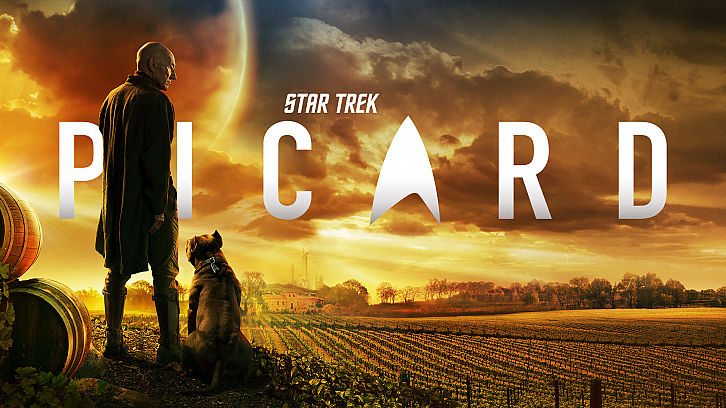 *NOTE – This review may contain spoilers.


It's always nice when old friends stop by for a visit. The
Stardust City Rag
episode of
Star Trek: Picard
is no exception. Jeri Ryan's return to the
Star Trek
franchise as Seven of Nine is an exceptional outing, showcasing her star power. And while Ryan is that standout here, she is not the only dynamic woman in the series this week. Series co-stars Michelle Hurd and Alison Pill and guest star Necar Zadegan also turn in powerful performances as the ladies take command.
Stardust City Rag
begins with a flashback scene that's the rather graphic and gruesome torture of Icheb (Casey King) for his Borg parts, by the Black Marketeer Bjayzl (Zadegan). Seven of Nine arrives too late to save the young Borg who was as close to her as a son and mercifully kills him at his request to end his pain. That brief sequence sets the tone and motivation for her character for the rest of the episode. After dramatically arriving on the La Sirena, she accepts a ride to Freecloud with Picard and his team on the guise of getting a new ship, however, she does have an ulterior motive.
And she's not the only one. Raffi (Hurd) and Agnes (Pil) both have secrets they are hiding and that comes to light once they arrive at Freecloud. The results, in a nutshell, have Picard (Patrick Stewart) locating Bruce Maddox (John Ales), essentially purchasing him from the Bjayzl who now operates out of a club on the planet by offering trade of Seven of Nine (Ryan); he learns from Maddox that the other clone he is seeking (Soji) is on the Borg artifact shortly before Maddox's surprising death. However, it's the story of the women on the ship that commands your attention.
Hurd gives an emotionally charged performance as a woman seeking redemption and a chance to reunite with family. After helping to set up the exchange for Maddox, she mysteriously and abruptly leaves the ship for good. What the others don't know is that her reason for coming to Freecloud was to reunite with her estranged son, Gabriel (Mason Gooding) who is now living there. The family reunion didn't go quite as she expects, and she does end up returning to the crew. Hurd put so much into her portrayal of a woman who knows what she has lost and is desperately trying to make amends. She's remorseful, contrite, almost to the point of begging like someone who has reached rock-bottom, which she has. Her body language and expressive face make you feel every ounce of Raffi's desperation and pain, especially after her son cruelly rebuffs her. It was raw and emotional work and some of Hurd's best so far on the series.
Pill was a little bit of a surprise in this episode, saving her big moment for the last. Since coming on board, her Agnes has appeared to be the fish out of water, the person who didn't seem to belong or have anything to do. Now we know differently. At first, she seems lost without purpose, but her purpose soon became clear. While the others were off rescuing Maddox, she was reminiscing, and we learned there was much more to her relationship with the scientist. So, it was a delicious twist at the end of the episode when she was reunited with the rescued Maddox, then proceeded to kill her former lover, because of what she had seen. While killing did not come easy to her and was slightly bothered by it at first, she had no hesitation in lying to Picard as to why Maddox was dying. That close-up of Pill's seemingly innocent features that transformed ever so slightly into a hardened woman was chilling. It gave new depth to her character making her more interesting. What had she seen? Who had shown it to her? Commodore Oh (Tamilyn Tomita)? Would that explain her serendipitous arrival at the chateau during the attack, and her sudden desire to join Picard on his quest? Was she a woman seeking revenge or has Starfleet Command blackmailed her into going on the mission as their spy? All those questions make for a hard second look at Agnes.
Make no mistake however, this was Ryan's episode from the beginning. From Seven's anguish at having to kill Icheb, the matter of fact manner she offered to trade herself for Maddox, to the barely seething rage and sparring with Bjayzal (the superbly cold and calculating Zadegan), to her final moments of revenge with guns blazing she commanded your attention with a passioned and driven energy. The highlight of her performance for me though, was a quiet, introspective scene with Stewart's Picard, as the two former Borg victims wondered if they had regained their humanity after being freed. It was a was beautifully written, and performed scene between Stewart and Ryan. Kudos as well to
Star Trek
alum Jonathan Frakes for his deft direction.
I hated to see Seven leave but understood why she had to go and she certainly departed in as dramatic a fashion as she arrived. One can hope that she makes a return visit to
Star Trek: Picard
before season's end or certainly next season. After this episode, I didn't realize that Jeri Ryan would become a space action star I needed to see. I'm sure that I'm not the only one who would eagerly watch a spin-off of the character's adventures as a space ranger/assassin. This was a solid and powerful episode of
Star Trek: Picard
that ends on a big surprise.