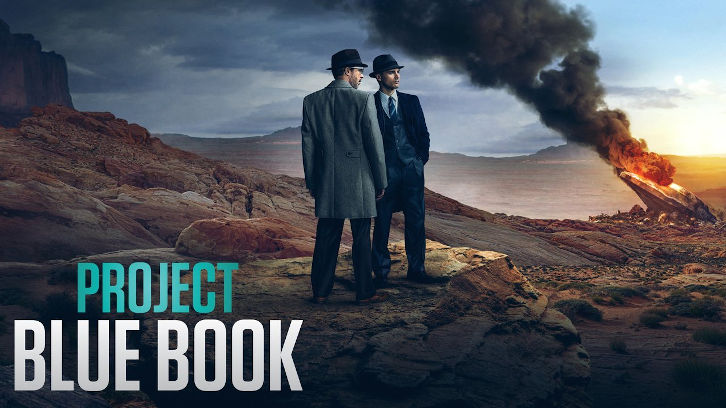 Project Blue Book
"Area 51" was written by Alec Wells, who moves up from writer's assistant, and was directed by Pete Travis. Jarod Haynes guest stars and is terrific – I'm hoping we will see him again. Brendon Fletcher also guest stars and also puts in a good performance.
Mimi (Laura Menell) and Hynek (Aidan Gillen) go to the drive-in and discuss the movie – it's a great scene! The Hyneks have unexpected visitors who upset the babysitter. Mimi attends another meeting and is asked to do something out of her comfort zone.
The CIA have a role to play. And there CIA contact is not what they expected, especially Quinn (Michael Malarkey). Two soldiers go missing and one is found. Quinn isn't happy about working with another agency. Hynek likes their new contact. They find something interesting in the desert. Quinn and Hynek find answers to questions in an unexpected place.
Harding (Neal McDonough) makes a visit to a church. Valentine (Michael Harney) and Harding discuss tactics. Susie (Ksenia Solo) gets a new assignment.
Be sure to tune in to this new episode on
History, Tuesday night at 10pm!
And of course, just a few dialogue teasers…
You really know your stuff.
What's going on?
That's not helping, Doc.
Now or never Captain!
Loath might be a better word.
I don't even know where here is.
Remember what we talked about?
This is the real Area 51.
Boys with toys.
Lying sack of shit.
Don't get too close.
You've gotta be fucking kidding me.
Where they shoot on sight.
What the hell happened here?
These days, you never know what the government is capable of.
I know. Handsome and well read. Something to shoot for, Captain?