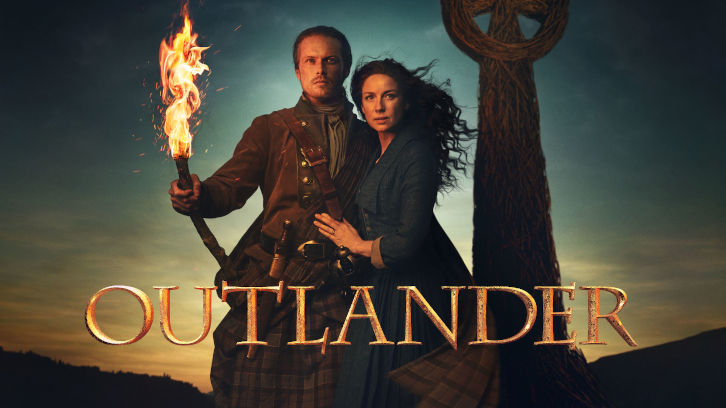 More than a year after season 4 of Outlander concluded, the story finally continues.

Season 5 of the popular period drama officially started airing on February 16. However, Starz released the episode ahead of time on February 14 as a Valentine's present for the show's fans. And what a fitting Valentine it was! The season premiere mainly takes place on the day of Brianna and Roger's wedding but doesn't only celebrate their relationship but also honors Claire and Jamie's.

Fraser's Ridge has changed significantly since last season. Several people have settled on Jamie's land, Claire regularly sees patients and Brianna and Roger received their very own cabin to live in.

The episode starts out on a very positive, uplifting note with Brianna and Roger getting ready for their wedding ceremony. Jamie is finding it rather difficult to let go of Brianna, even when he is just "giving her away" symbolically. He only got to know his daughter recently and is not quite ready to see her become someone's wife. The fact the Roger possesses absolutely no skills when it comes to building, hunting or fighting does not exactly reassure him that Brianna and his grandson will be safe. And maybe Jamie already suspects that there will come the time when Roger will want to return to the 20th century and Brianna is likely to follow him. Her marrying Roger means he will probably lose his daughter once again at some point. However, he is aware that Roger adores Brianna, that the two share a secret few other people in this time and life would ever be able to understand. It certainly makes sense for them to get married.


The wedding is a welcome distraction from the everyday drama the characters have to face. The ceremony is beautiful and during the vows, Claire and Jamie fondly remember their own wedding day. The viewers get to see a flashback of their nuptials, a union that could not have been any more different from Brianna and Roger's ceremony. This scene makes it unmistakably clear that Bree and Roger might be a cute couple but they are lacking their parents' chemistry. Caitriona Balfe and Sam Heughan have us completely convinced that Claire and Jamie are destined to be with each other and that nothing and no one will ever be able to keep them apart for long. The audience can feel the intensity of their connection, feel their passion. Brianna and Roger's relationship is entirely tedious in comparison. If you are looking for sparks your effort is in vain. There simply are none.

The happy, relaxed atmosphere begins to crumble when Brianna overhears Lord John Grey inform her father that Stephen Bonnet has been seen in the Province. Bonnet, a cruel criminal (who hopefully is NOT the biological father of little Jeremiah) brutally raped Brianna when she first arrived in America of the 18th century. From the moment on that Brianna hears Bonnet's name being mentioned, she is in a trance of fear which she hides rather well from her loved ones, even from her husband of only a few hours. She seems to have never really dealt with her trauma, with the horrible thing Bonnet did to her. With him gone she could pretend it never actually happened but now that he might be lurking around the woods of this Province his person, his actions and the threat he poses become real again.

For me, one of the most shocking moments of the episode was when Brianna decided to consummate her marriage only a few hours after finding out about Bonnet's possible return. Knowing what happened to her and knowing what she had just found out, this scene was entirely dreadful to watch. One could imagine that having someone touch her body was probably the very last thing she wanted after hearing the news about her rapist. However, she went through with it, she had her wedding night. Maybe because she refused to let Bonnet ruin her wedding day or maybe she just wanted to pretend for a little while longer that everything was fine. Either way, the entire scene was rather heartbreaking to watch. Especially since Roger did not even suspect that she was suffering on the inside.
In the meantime, aunt Jocasta sneaks away from the wedding celebration to visit Murtagh who is wanted by the Governor and therefore hiding in the woods not too far away from Fraser's Ridge (is that really a good hiding place?). He and Jocasta are still very much attracted to each other and spend the night together. Even when we did not get to see much of it so far, the relationship (or non-relationship?) between the two seems a lot more interesting and real than what we have seen of Brianna and Roger up to this point. And that feeling does not only root in the fact that Roger had to think twice about whether he really wanted to be with Brianna after she was raped and fell pregnant with a child that might not be his.
In the morning Jocasta announces that she was asked for her hand in marriage, she has not accepted the proposal yet but she is thinking about it. She knows, just as well as Murtagh does, that the both of them do not have a future together. Not with Murtagh being wanted by the Governor.
When Jocasta returns to Fraser's Ridge she asks to speak with Roger. She tests his loyalty to Brianna and the baby and is delighted to find out that the man passed the exam with flying colors. Roger, however, is not aware that he was only being tested and tells Jocasta to "cram it up yer hole" when she questions whether he can really love a child that might not be his. This encounter with the matriarch prompts him to officially claim the baby as his:
Brianna:
Roger, what are you doing? Something I should have done a long time ago.
Roger:
Jeremiah Alexander Ian Fraser MacKenzie, you are blood of my blood, bone of my bone. I claim thee as my son before all men, from this day forever.
Meanwhile, Governor Tyron pays Jamie a visit and reminds him that he only received this land they are currently standing on because he signed a contract in which he swore loyalty to him and the crown. It is now time to honor that oath. Tyron wants Jamie to find Murtagh and kill him as he has become the leader of a movement that revolts against corrupt officials, like Tyron. Thus, the governor wants him dead and Jamie is supposed to be the man who kills him. Tyron provides a group of his men who will help Jamie track down his fellow Scot.
Jamie decides that now is the time to make sure all his settlers are loyal to him and won't choose to side with Tyron when the time comes. He gathers everyone and burns the fiery cross.
Jamie:
In the Highlands, when a chieftain sets himself to war, he'll burn the fiery cross, sending a sign throughout the lands of his clan. It was a call for his men to gather their weapons, come prepared for battle. We are friends, neighbors, countrymen. But we're not a clan. I'm not your chief. But I hope that if the time comes, you will ALL stand by my side. We canna say what might befall us. But we must not only be willing to make oaths to our wives and loved ones, but to our brothers in arms in this new country. Stand by my hand!
One settler after the other swears an oath to him, to always be loyal, to always stand by his side.
The day after the fiery cross ceremony, Jamie leaves to visit Murtagh. He tells him that it is no longer safe for him to stay in this Province. He wants him to leave, to hide and to not be found.
Jamie is very well aware that Murtagh's reason for staying close by is because of the vow he made to his mother Ellen. He promised to always protect Jamie. At the very beginning of this episode, we get to see a flashback of Murtagh making his vow to wee, little Jamie.
Murtagh:
I swore an oath Jamie Fraser, when you were no more than a week old and a bonny lad at your mother's breast. I knelt at Ellen's feet, as I now kneel by yours, and I swore to her by the name of the threefold God that I'd follow you always to do your bidding and guard your back when you became a man grown and was needing such service. She's gone now. But I'll always be with ya. Always.
That opening scene becomes even more meaningful with the ending of the episode when Jamie releases Murtagh from his vow and begs him to disappear. It is an entirely heartbreaking scene. Murtagh is his godfather, his Ghoistidh, but their relationship is more that of a father and son. Jamie wants him to disappear, knowing he might never see him again, because it is the only way to save his life.
Jamie:
It's no longer safe for you to remain here. I know you stay because of the vow you made to my mother. And to me. Now... I release you from it. Go... Go! Please. Be hard to find.
Jamie was definitely not the only one with tears in his eyes during that scene.
All in all, the episode was a successful opening for the shows' fifth season. However, I certainly hope we will get to see a lot more of Claire and Jamie (individually as well as collectively) in the upcoming episodes than we did in this season premiere.
What did you think of the season premiere? What are your thoughts on Brianna and Roger? Do you think Murtagh will actually leave?