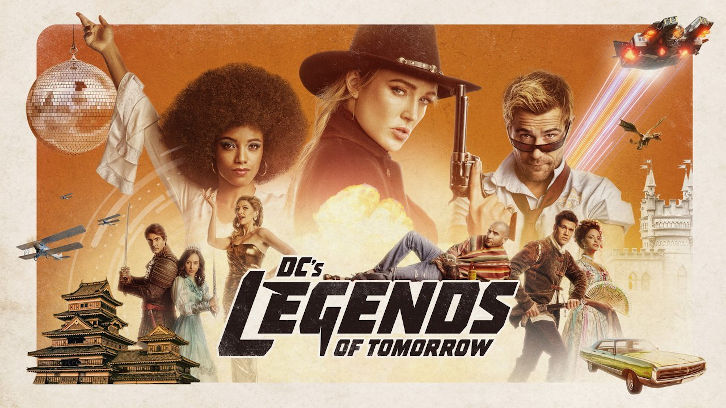 "The Legends are super enough."
-Someone from this show, probably (definitely) Gary
"This isn't playtime, you twits."
-John Constantine
It is always playtime for our lovable, wacky band of kickass misfits that form the crew of the Waverider. No one makes lemon bars out of lemons like the
Legends of Tomorrow
, and few shows exercise creative storytelling with this much finesse. This show's crazy energy also means that its missteps can be easily forgiven and forgotten, simply because they usually disappear quickly. At a certain point, you stop questioning how this show exists and just accept it for the quirky, magical miracle it is. Warts, demented puppets, fluffy gods, and all. Last season ended with people holding hands and singing someone back to life with the power of love and James Taylor! There are no limits. Time bros, Time ladies, Time monsters, and Gary...let's see what season five hath wrought.
This review covers the season 5 premiere
Meet the Legends
, the second episode
Miss Me, Kiss Me, Love Me
, and the third episode
Slay Anything
.
It is 2020, and not even time travelers can escape the ennui that a turbulent new decade brings. Nora (Courtney Ford) is missing from the first two episodes, as she's still bound to fairy godmother duty. Constantine (Matt Ryan) is drinking liquified bodies and tasting human ash. Sara (Caity Lotz) returns from the crossover with the weight of infinite worlds on her shoulders. No longer the head of the Time Bureau, Ava (Jes Macallan) struggles to find a new role. She spends the majority of the second episode getting drunk and singing drunk, and, if that's not 2020, I don't know what is. Meanwhile, in a fun subplot undercut by his looming exit from the show, Ray (Brandon Routh) works on improving his image after the whole body possession thing. Nate (Nick Zano), well, he's missing Zari (Tala Ashe) whose life was reset in the previous season finale. And Charlie (Maisie Richardson-Sellers) just takes off in the jumpship. It is not the most engaging material to kick off the season with. Before the season gets better in episode three, some potential weaknesses reveal themselves. Time will tell how they impact the season.
Despite her dramatic connection to Constantine, Astra Logue (Olivia Swann) isn't a compelling antagonist, with or without the potential redemption arc. Neither of the first two resurrected specters of infamy, Rasputin and "Bugsy" Siegel, are particularly entertaining. The Astra connection also means that Constantine (and his new apprentice Gary) largely exists on a separate TV show entirely, which only reinforces how isolated from the group dynamics he has become. In these first three episodes, I could only wonder why Constantine isn't the one being written out this season.
Legends of Tomorrow
possesses two secret weapons that save these early episodes from being completely medium. His name is Shayan Sobhian, he plays Zari's brother Behrad, and he is perfect. Seriously, the way Sobhian gels with the rest of the cast, you would think he has been there from day one. From the first moments, after Behrad introduces himself as a likely "awesome future man" and smiles into the camera while meeting his infant self, if your heart hasn't been stolen, do you even have one? The show doesn't wait long before reintroducing Zari to the rest of the team, and her exasperated bickering with Behrad is both hilarious and devastating. Who else cannot wait for Zari to get her memories back and give her brother a
Reunion Hug™
? Thanks to a message that Zari left asking Nate to find her (my stone-cold heart melted), Nate is aware of their past connection to an extent, even though he can't yet recognize his donut-devouring true love in the influencer focused on growing her business. Tala Ashe hits a home run with this new version of her character, giving us a little bit of the Zari we know underneath the icy entrepreneur. The second secret weapon is Caity Lotz, as Sara struggles at first to communicate how Crisis impacted her and later starts to regain her spirits after opening up to Ava and the rest of her Waverider family. We don't talk enough about how suave and groovy Lotz is in this role. She is always operating at one hundred percent.
While the first two episodes are rescued by these standout performances,
Slay Anything
is a slice of heaven on earth in terms of both characters and story. Just about everything worked for me. The killer twist. Mick's stroll down memory lane. The Nate/Ray jump scare outside the doors. None of the CW's shows about "actual" teenagers have as much fun as the Legends' stroll through a "minefield of teenage emotion." Seth Meriwether gave us our first great guest character with his performance as teenage Freddy Meyers. Between crushing that one gal inside a locker, killing Mick, and attacking the limo; the Prom Night Slasher brought just enough jeopardy. Let's not forget Ava's Stabcast. Everyone's reactions to it, the realization that no one read the emails, and Nate immediately downloading it on the spot. It was just perfect.
I am burying the lead. Courtney Ford returns as Nora Darkh. She's stellar, and I am in deep denial that she and Ray will be leaving the series this season. Impossible to select a favorite scene of hers in Slay Anything. Her protests over the pony requests, and Ray's response! The first scene with Freddy and Nora. That last conversation where she tells Freddy that dysfunction doesn't get to choose who we are. The impact of her portion of this episode just brought to mind everything that has gone into
Legends of Tomorrow
's greatest triumphs. While other Arrowverse shows sometimes trap their characters too long in roles and relationships assigned to them by their source material, this show beautifully takes what doesn't fit into the corporate narrative and sets it free to become anything or anyone it chooses to be. It's a celebration of found family, creativity, and humor. And I adore it. I can also completely get on board with Constantine not drinking any more villains.
Second Thoughts:
"I hope you never loved him at all." Ava's sympathy card!
"Give him the usual."
"One taxi and a lollipop."
"The cookies are the teacakes." I screamed, because the one thing I can bake is Russian Teacakes a.k.a Sandies a.ka. Snowball Cookies.
"I want to be the person that's there for you."
"And that's just the biscuit. Here comes the gravy." I hear Kristen Wiig's Liza Minnelli in my head when I read this line.
"I like the way you walk."
"I learned it all by myself."
"My team is my extended family."
"That clown over there, the one riddled with responsibilities." This was a Batman reference.
"Being truly okay with myself, scars and all, is how the right people truly found me."
I'm not sobbing. You are.
"You are my final girl." Put it on your Valentine's Day cards, people.
Please use the comments to talk about
my boyfriend
Behrad.