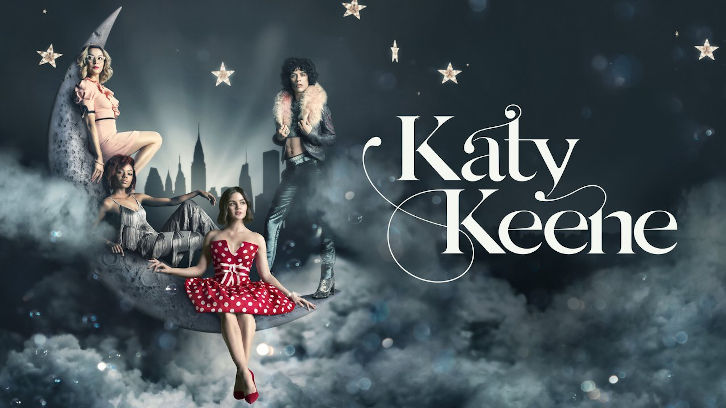 "New York City was no mere city. It was instead an infinitely romantic notion."
--Joan Didion
While
Riverdale
takes a small town and transforms it into the endlessly foggy "murder capital of the world," its (barely connected) spinoff takes the Big Apple and bathes it in the glow of a hundred sunrises. Spoilers ahead. If you want the short review, know that this show doesn't seem to be a serialized mystery soap. It will live and die on the charm of its characters navigating what passes for ordinary dilemmas in a version of the world that isn't quite meant to be reality. Lucy Hale glides across the screen in the titular role of Katy Keene, forever one splendid homemade outfit from running across Central Park full of song like Giselle. (The show actually films in New York City, and this decision gives the show a wonderful energy boost.) The actual singing is left up to Ashleigh Murray's Josie McCoy, rescued from aforementioned Murderville where actress and character were regularly wasted. Murray truly gets to shine at last, even as Josie falls under the city's spell a little too quickly and learns some hard lessons. Katy and Josie live with one of the other two main characters, Jorge (Jonny Beauchamp), whose parents own the body where they live. The lead quartet is squared by Julia Chan's Pepper, who seems to have it all but is still cool. Katy also has a sweet, basic boyfriend K.O. with big dreams of his own.
The pilot primarily focuses on Katy, Josie, and Jorge pursuing their respective dreams to break into fashion design, the music industry, and Broadway. In each scenario, our protagonists get knocked down a rung or two. Katy has a tough, perfectionist boss in Gloria Grandbilt (Katherine LaNasa). Contrary to the usual, Grandbilt does not (yet?) secretly respect Katy's pluck and talent; in fact, she demotes Katy for stealing the spotlight. Josie wanders around New York with a newspaper looking for jobs (see: not quite meant to be reality) until she winds up singing in front of an empty fountain. An extremely suave gentleman, Alexander Cabot (Lucien Laviscount), happens upon Josie's performance and whisks her off to his bedroom, with a short stop at his record label so she can create a demo track. However, not only does the track not impress his board, his sister Alexandra Cabot (Camille Hyde) gives Josie some cold, hard facts. Alexander picks up young artists from parks on the regular. He wants to restart the record label, but she is so not onboard. And only someone "undeniable" will make her change her mind. Jorge gets dismissed from his Broadway audition with the note that they are looking for someone more "tough." Katy encourages him to try again, this time as his drag alter ego Ginger. Jorge is rejected again, but this time he fires back with some red-hot declarations that he won't let this diminish his dreams. "One day you will know my name. Ginger Lopez. And you're going to see it in lights. Carnegie Hall, bitches!" Katy and Josie cheered from the balcony, and I felt a warm glow. Sometimes there's nothing better than friends just lifting each other up.
Of course, if you know anything about
Katy Keene
, you want to know how the fashion held up. Darlings, it was everything. With the exception of one questionably placed heart hanging off the side of an outfit, there was no shortage of insanely cute pieces to adore. The outfits were in tune with the general mood of the pilot, which was relaxed. A side plot about Katy's boyfriend wanting to move to Philadelphia and them talking about it being a long distance relationship was a wee bit silly. I have never lived on the East Coast, but in
The Day After Tomorrow
they had a fairly easy time getting from Philly to NYC with the world frozen over. There seems to be no reason why they couldn't make it work, but K.O. drops to one knee and proposes at the end of the episode. Why? Is he the jealous type, worried about being in another city without a bigger commitment from Katy? What are we to think? This is in no way as interesting as Katy's new job with Francois (Nathan Lee Graham from my beloved short-lived LA to Vegas) and the promise of new conflicts with Gloria in the Marvelous Mrs. Maisel-ish world of Lacy's. Still, an undeniably enjoyable kickoff for a show that doesn't seem to be taking itself too seriously or driving itself off any significant rails.
Bobbins and Needles:

A marvelous assortment of memorable quotes.
"When I die, I want them to scatter my ashes here in Lacy's."
"You're not deathly allergic to hard work."
"It should be me helping the prince tonight, not you….Have you even been to Europe?"
"Justin Bieber was discovered busking. I know because he would not shut up about it when we went to see Britney in Vegas." (Is Pepper a Tahani?)
"I am from Riverdale. It is the murder capital of the world. I'll be fine."
Hopefully that will be the last reference to the other show for a while. With Katy Keene being set some years in the future, I don't foresee too much crossover. It's a shame that Josie didn't rescue Kevin on her way out, but fingers crossed.
I have a great deal of respect for that lengthy (reminded me of Hallmark Channel) joke with the vague handsome prince who brought along his commoner girlfriend who freaked out at trying on expensive dresses. That said, I cringed when Katy did the classic movie/TV thing of stepping forward too soon, although Gloria's "keen sense of fashion" play on words was delightfully devious. I did also appreciate how the window display Katy put together wasn't over-the-top; it felt like something that could have been put together in less than one night.