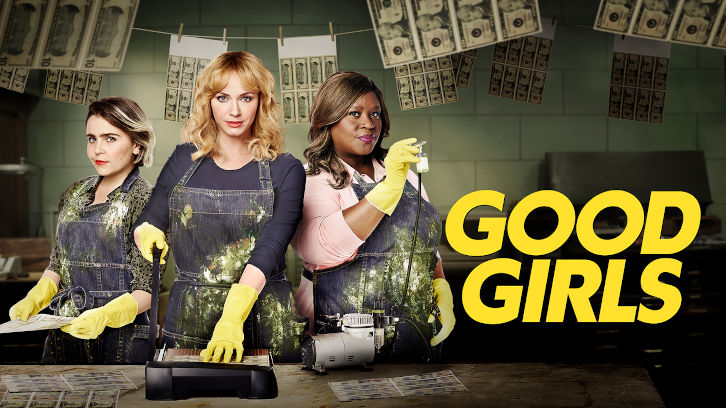 When we open on season three of Good Girls, we find out that Annie (Mae Whitman - Parenthood), Ruby (Retta - Parks and Recreation), and Beth (Christina Hendricks - Mad Men) all have new jobs. Annie is a valet, Beth works at a gift card shop, and Ruby works at a nail salon. At first, we're all relating to the misery that comes with working retail, but then, when Beth's new coworker, Lucy (Charlyne Yi - Steven Universe), leaves for the night, the gals get their supplies and head into the back to start work on self-making their own money.

Here comes my biggest pet peeve that happens on TV: characters not locking their doors! We didn't even see Beth lock the door! How are we sure Lucy didn't forget something, or that they're not about to get robbed and have robbers (!) one-up them with a crime! We have no idea. Anything could happen. It doesn't, of course, because it's television, but man it drives me nuts when characters do things like not lock the door when they're about to do things nobody should happen upon, like, uh, counterfeiting money!

Anyway, they start making their own money, which begs the question: where'd they get a machine that straightens/sorts money? None of them exactly have extra cash lying around to get these things, so did they just happen upon it at a junkyard? I suppose it could be said that Rio previously provided him with these things, or that the store has them. I'll give them the benefit of the doubt in saying it's one of those.

There's a wonderful sequence of them making the money, being proud of themselves, and then bringing it to a loan-store where JT (Julian Gant - Key and Peele), who Ruby met last year, is there and willing to help test out the bills. They're back, baby! The good girls are back to doin' crimes… Or not. Turns out, the bills had minuscule issues, and they didn't work in the bill checker. Back to the drawing board!

Here, they convince Lucy, who we find out has a degree in graphic design, to draw out some bills for a fake casino night. Which brings my least favorite scene in the episode. Ruby, Beth, and Annie trying to convince Lucy that they didn't realize if they got caught or if it got out it could be considered a felony. What?! No way! We had no idea! Really?! Come on, guys. To anyone in the real world that'd be a dead giveaway. But again, it's TV, so I have to just let it happen.

At this point, in my opinion, at least, way too many people know. Waaaay too many people who aren't actually involved know of these crimes, and sooner or later, whether they know it or not, one of them will turn against the girls. I truly believe that. But that's future them's concern!

We also find out that Beth, absolutely guilt-ridden about "killing" Rio (Manny Montana - Graceland), has befriended a mom named Rhea (Jackie Cruz - Orange Is the New Black), who we can only assume is Marcus's mom. Woof. Later in the episode, Beth lets out that her mortgage needs to be paid and her and Dean (Matthew Lillard - Scooby-Doo) have been unable to make ends meet, so they may have to downsize soon. Rhea, as any good friend would, offers to pay what Beth owes.

Which, uh, sure. Here's my problem with this: can we really trust Rhea? We have no idea what she knows and doesn't know. All she knows and thinks is that Rio suddenly disappeared and he isn't back even though he apparently does this fairly often. What does she really know about Rio and what he does, and what does she really know about Beth, and why she's suddenly cozying up to her? And how do we know Rhea wasn't just using this so she can get something out of her later? I don't trust her yet. I can't!

Later, Agent Turner (James Lesure - Divorce) comes to visit Beth and lets her know she's still being watched and reminds her to keep being good. Which prompts the girls to take the money they just got approved and toss it into the fireplace at Beth's house. Good for them! I know the show can't function without them money laundering but maaan I can't be the only one who would still watch if it was just Christina Hendricks, Mae Whitman, and Retta living their lives taking care of their kids. Okay, maybe I am the only one.

Of course, we have to talk about the elephant in the room: Rio is actually alive! I'm glad they didn't leave us "hanging" for too long because let's be honest, we all knew he was alive, it was just a matter of time before they showed us what he was up to. And it turns out… nothing good. Shocker! Agent Turner talks to him in a (swanky) hotel room, and Rio tells him he has one more name for Turner to check out.

When we get back to Turner, he's at a (gasp!) abandoned warehouse?! Then, a black van comes out of seemingly nowhere, and shoots all the FBI agents, leaving them for dead. Man, I'm just saying, Rio better really hope Turner is dead, and more than that, Beth better hope he's not dead.

Other notable things that happened in this episode: Ruby was shown firsthand that though her problems are very tragic, other people are facing issues too. Annie was faced with something from the past that she didn't want to deal with… And immediately got called out for it! Yeah. For the better, probably. Beth still didn't separate from Dean. I know that's obvious, but I thought I'd put it in because I can't be the only one sick of watching this clearly-not-in-love couple.

I'm excited for the rest of the season, and I'm excited to hopefully get some answers for some questions this premiere gave us. What do you guys think: did anyone except Turner know about Rio? Did they burn allll the money, or did they save even a stack? Can we trust Rhea? Let me know what you think!