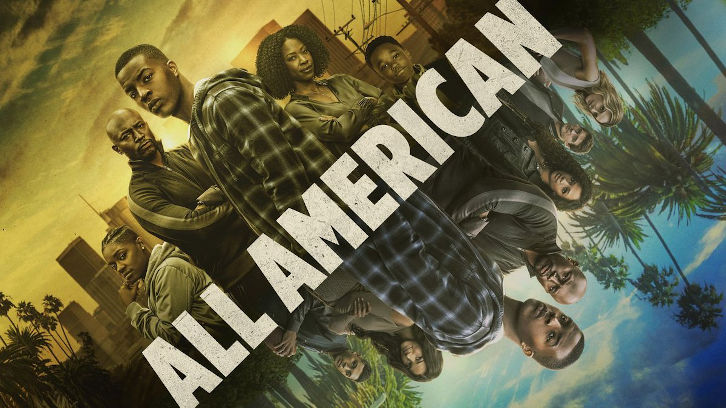 "Crossroads" was a very emotional episode of All American. This episode picked up right where we left off last week: with Spencer being shot. He's rushed into the ER, and the staff isn't very eager to work on him. It made me so mad that they just assumed this, and if it wasn't for the nurse, I'm not sure he would have gotten the blood he needed. I wanted to give that nurse a hug.

Olivia is clearly distraught, and she's finally able to get to Spencer. Spencer's worried about Coop and needs to make sure no one retaliates for his shooting. I love that Spencer was worried about Coop even though he's the one that got shot. But then Spencer has to focus on himself and decide whether or not to have surgery to remove the bullet. I knew that he would have the surgery because not playing football is just not an option for him.
Before he has surgery everyone shows up to check on him. I think my favorite moment of the episode was when Spencer was being wheeled into surgery, and everyone was there to comfort him and talk to him. I love that his teammates, family, friends, and the Bakers all came together to support Spencer. It was beautiful. Crenshaw also showed up to support Spencer outside his hospital room and that was a touching moment.
There were so many outstanding performances in this episode. I thought Karimah Westbrook was amazing in her portrayal of Grace's fear over Spencer, and how frustrated she is over gun violence. She tried to protect Spencer, but it didn't matter. It only took one gun for him to get shot.
Daniel Ezra and Samantha Logan were also also wonderful as usual. The way Ezra showed Spencer's determination to move his fingers was phenomenal. And Logan was brilliant in portraying how upset Olivia was over the shooting. The shower scene where she's trying to wash all the blood off her? And when she sees the white gloves in her house and trips on the stairs? Yeah, those scenes got to me.
One of my other favorite moments was when the team showed up to support Coach Baker. Jordan was great this week the way he protected his father and his job. Asher also impressed me by how he got the team together and protest the booster's decision to remove Coach Baker. Luckily, the principal decides to fire the booster, and I just have to say: thank you! I am so over him, and I hope we never see him again.
I wonder where the show is going to go from here. It looks like Spencer is going to be fine, but how long will it take him to return to football? And will he have any emotional issues dealing with being shot? What about Olivia? This was clearly very traumatic for her so I wonder how she'll deal with this. I did love the moment where Asher showed up to the hospital, and she ran into his arms. She needed him and that hug. But they still have a lot to work out especially if he keeps using steroids.
And as much as I want Tyrone to go away, I really hope Coop is not the one to kill him. The last thing Spencer needs is for Coop to get arrested for Tyrone's murder. Hopefully, the show comes up with a better solution for how to get Tyrone to go away. And for good this time.
What are your thoughts about "Crossroads"? What do you think will happen next? Discuss below!