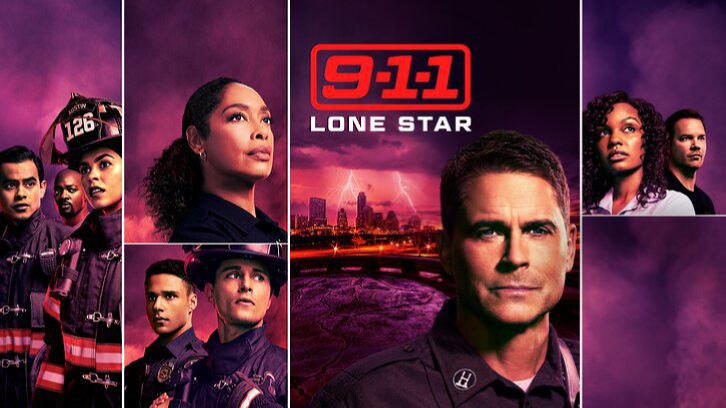 Laura W is under the weather, so I'm stepping in this week. Let's all wish her a speedy recovery.

Recap:

This episode seemed to have more going on than the previous seven.

We start off at a used car sale. The owner's got a gimmick. It's a rodeo bull, Malachai. At another end of the lot we have a newly licensed teen driver. No way this goes anything but wrong. And wrong it goes. The 126 shows up to deal with the bucking bronco. They walk into a scene straight out of a post apocalyptic Tom Cruise movie-overturned cars, smoke and dust rising, and broken, bloody bodies. They follow the trail of destruction, axes in hand, and discover Malachi with his head trapped in a car, horns too wide to allow for escape. Watching the extraction was arduous. The scene proceeded slowly and as a viewer, I felt for Malachi. Poor bull. This was gory.

The second emergency for the 126 is the case of the horny housewife and the hot handyman. Alliteration is a glorious thing. A handyman has a seizure, but the home owner mistakes it for electrocution, so she beats him with a 2x4 until he drops the wire in his hand. I guess she didn't notice the lack of sparks or the foam in his mouth. Makes absolute sense me. I'm really not one to talk, I've considered killing a spider using fire, power tools, and more fire, consequences be damned.

Leaving behind the used car show and bloody bull, we find TK and Owen about to embark on a training montage. Someone cue "Eye of the Tiger." TK keeps his promise and is by his father's side as he practices to pass the fitness test, which is the only way he can keep the 126. Passing this test isn't just about Owen's ego, it's about making sure the 126 stays the 126. Unfortunately, Owen is in fact human and the chemo has taken its toll on performance. Pride goeth before falling on your face. We're eight episodes in and Owen still needs a weekly lesson in humility. It's on brand and in keeping with our hotshot captain's healthy ego.

Later and not surprisingly, we see the members of the 126 react to learning about Owen's cancer diagnosis. Paul feels duped and is worried for his job. Marjan is supportive. Mateo, seeing a father figure in Owen, overflows with the emotions of a child. He's devastated by even the thought of losing the man who saw beyond his disability and showed him he was worthy of being a firefighter.

Next up, Judd and Grace discussing the mess that is Owen and Billy. Grace implores Judd to do what he can, make a way when there is no way. Judd makes good on his promise and contacts Billy. They get real with one another over drinks, spicy ones. Billy makes it clear that his reporting Owen isn't personal. Billy is a liar; it's personal. He also makes it clear that the fitness test was Owen's idea. Judd isn't happy to hear about the captain's stupidity.

Owen finally recognizes there's no way he's going to pass the fitness examine. He swallows his pride and over a round of golf offers to tender his resignation if Billy promises to keep the crew of the 126 intact. Owen is ready to be a grownup, but Billy wants to rub Owen's face in the stench of defeat instead of accepting gracefully, but an act of God delivers the final verdict. Billy, despite a thunderstorm raging outside, insists on continuing their round of golf. Then lightning strikes and the issue of Billy taking over the 126 is gone, in a flash. Good thing because we only have two episodes left until the season finale and I've had enough of Billy's antics.

Elsewhere, Michelle is off making questionable choices. It's her thing. Do we love her for it? Everyone else is suspicious about the identity of "Sad Eyes," right? The way Michelle was drawn away from the tent by the addict looking for drugs was too convenient, and his only purpose was to draw us away from the purple tent. Is it Iris? I'm going to be bold and declare it's Iris. Iris is Sad Eyes. Carlos shows up and pulls Michelle and the viewer away from the homeless encampment because he's uncovered new information about Iris' disappearance.

We follow Michelle and Carlos to the station and meet Detective Washington. She's in charge of Iris' case. She's unpleasant. It's unfortunate because the viewer isn't given any character context, so she just come off as unfeeling, sitting agitated while a family member is looking for something more than a terse dismissal. Not a fan. Later the show gives the detective a human side when she calls Michelle in for a heart-to-heart. She's even made progress on the case. Is it enough to redeem her? I'm not sure it matters. I don't think we're going to need her much longer. Michelle and Detective Washington learn that Iris fought with a man in a car before storming out into the night. This seems to be a pattern with Iris, fighting and stalking off destination unknown. Later, thanks to traffic cameras they locate the blue pickup. Turns out there was an accident and the truck had spent the last three years over the edge of a steep embankment. The episode ends with the truck coming into view. I'm calling it right now, Iris isn't in that truck.

What I Love:

The interactions between Owen and Judd are fantastic. They size one another up and tell it like it is, but the respect between them is real and feels so good. They may not call one another friend just yet, but that's because they're working on being family.

The way Carlos took Michelle's hand was a moment both heartfelt and heartbreaking. With so few platonic friendships portrayed on television, I appreciate the glimpses we get into theirs.

Glitter guns, bull semen, and now bucking broncos and lightning strikes—Lone Star remains, like Austin, weird and wonderful.

What I Didn't Love:

I could have used more of the 126 and less of Billy, but I'm a patient person. I want to dive deep into each of their backstories. And even though I know I'm asking for too much too soon, I want it now.

I'm also missing my TK and Carlos moments. I'm still not over their scene at the police station.

What did you think of this week's episode? Do the teasers for the final episodes have you worried? Let me know in the comments.