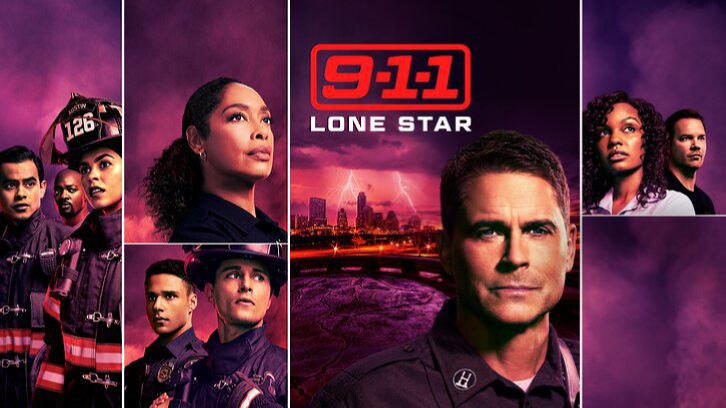 "9-1-1, what's your emergency?"
"Hi, yes, the emergency is the color palette on 9-1-1: Lone Star."

Y'all. My goodness. I love this show to pieces, it makes me so happy, but whoever decided to make Lone Star look like it's in a perpetual dream state should be firmly spoken to. I'm not sure how they're ever going to show flashbacks. I'm assuming that they did it to contrast the original show this branched from, 9-1-1. The original has a very bright, colorful palette, which makes sense since they're based in sunny LA. I think they wanted to firmly distance the two, but this seems… excessive.

Anyway! I had to get that out of the way before I got to the things I actually really loved about the latest episode of Lone Star. When we start the episode, we're in a strip club where men dressed like firefighters are putting on a show. I know I can't be the only one who was just a little disappointed when we realize it wasn't the members of the 126. A fight breaks out, and 9-1-1 is called, which gives us a chance to meet Josie (Angel Parker - Runaways, The Strain) as she's treated by Paul (Brian Michael Smith - The L Word: Generation Q) for getting a glitter gun shot into her face. The dynamic between them is super fun and sweet, and their flirting is obvious, especially when later, Josie shows up at the fire station to bring Paul an entire brisket.

But first… We get a scene of TK (Ronen Rubinstein - Dead of Summer) at a chemo treatment with his dad, Owen (Rob Lowe - Parks and Recreation) for the first time. I'm glad that TK knows about Owen's cancer now, and I think the writers are going to do a good job showing them both go through this giant issue that Owen keeps wanting to downplay. It's nice to see that Owen is meeting people at his chemo to help him through this, but I wish we'd be introduced to someone other than Wayne (Brett Rice - Sully, Insatiable) whose scenes almost always fall flat for me. Hopefully, as the season progresses we'll see Owen meeting different people.

Back to Paul and Josie! She shows up at the station with a basket of food for Paul, and her number that she just happened to leave in there, you know, in case he ever wants to thank her. TK and Mateo (Julian Works - American Crime) tease him, and the whole scene makes me smile, aaand cringe, nervous about how the writers are going to handle the issue that's now come up: Paul, a transgender man, getting out there and dating.

We're getting a chance to see Owen putting himself out there as well, or at least trying to. He meets a woman, Zoe (Natalie Zea - Justified, The Shield) at a beauty store, and there's instant chemistry. They flirt a little, she thinks he's gay, they end up in bed… Only for Owen to have problems with, uh, getting liftoff. Wayne did warn him about this earlier in the episode, so we had to see it coming. Zoe is incredibly sweet about it; her giving advice before telling him she's a professor in psychology with a focus on human sexuality was good, in my opinion, because as Owen said, had she said that first, it would've gotten in his head. Probably mine too.

Next, we're (finally!) seeing Michelle (Liv Tyler - The Leftovers) and Carlos (Rafael Silva - Madam Secretary) again! Carlos is called to an anti-feminist rally, and when one of the participants collapses they call for Michelle. My favorite scene in the episode happens here when Carlos explains that the men protesting are "incels -- involuntary celibates." Michelle asks "That's a thing?" and Nancy, beautiful, amazing Nancy, says "we used to just call them losers." Ugh! Yes! Amazing! I love this show.

For reasons I'm not intelligent enough to understand, the treatment the patient was given in Michelle's ambulance reacted horribly to medication he was taking, which, in turn, caused him to essentially turn into a human bomb. The ambulance crashes and the fire department is called in to help out. We get another favorite scene of mine: Michelle is in the hospital and Carlos brings her a bag when he finds out she'll be there for a few days. The bag contains some clothes, some Harry Potters (books or movies not specified!) and some M&M's. I love this scene because it shows that not only are Carlos and Michelle work friends, they're real friends, they're show up in the hospital with your comfort items friends.

Paul is in the firehouse's gym when Mateo and TK start teasing him about Josie texting him. The way TK and Mateo listen to Paul explain how hard it is to date when you're transgender, instead of turning it around and making it about them, is done flawlessly. They push him to take the leap anyway and put himself out there, which I thought was good advice especially because Paul is also actually listening to these guys, not just bouncing words off of them so he can get them out.

Paul takes their advice and takes Josie out bowling. They have a good date with fun banter, and an almost promise of a next date, that is until Paul tells Josie they need to talk. While we don't see the scene that transpires between them, or how Josie reacts, we find out later when Josie comes to see him at the firehouse that him being trans isn't something she can get past. She says she's not a bad person, and Paul believes her, even though I'm not sure I do. TK sees this interaction and ends up showing up with Carlos later to take Paul to what I'm assuming is a gay club. I love this trio so much. It's clear that even though Carlos doesn't know Paul that well, and he doesn't work with him every day as TK does, he cares about him enough to actually make it known that he wants to show Paul that there are places he fits in and can be himself unapologetically.

Owen and Zoe have another date at the end of the episode, which was nice to see, but also a bit unnecessary for me. Owen talks about how he almost got ED medication, and Zoe says she's glad he's found something that works for him. Then they get up and leave because, uh, Owen's back in. Everything is A-OK again. Which, again, great! Good for him! But I feel like this could've been a scene in the next episode where they wake up together or something. I feel like with Owen, the writers haven't found out how to pace themselves yet. His storylines start and end in the same episode, other than his cancer, and I almost wish they'd extend some things even for an episode.

On the other hand, the writers are doing a fantastic job with pacing Grace and Judd. They are, by far, my favorite couple on this show, and definitely one of my favorite couples on TV. The chemistry the actors have is wonderful, and the way their characters are progressing is some of the best, healthiest growths I've ever seen. At the start of this episode, Grace was frustrated that she and Judd haven't been intimate since the accident four months ago, so she tries to essentially seduce him. When he realizes, he's upset, even a little bit embarrassed I think. Her telling him that she has needs too, and her basically saying 'I matter too' was something we don't often get to see with female characters, especially female characters with successful jobs and relationships.

In the end, Judd makes Grace her favorite dinner and explains to her that he never wants her to feel like he doesn't want her. They have a real, actual conversation about how they're feeling, and it helps! Wouldn't you know? Couples on TV actually communicating leads to better, more interesting couples!

I'm hoping that as we explore Judd's PTSD more, we continue to see Grace helping him, and we continue to see Judd appreciating her as he should. I'm afraid this will be a one-episode thing and we'll never see them intimate again, but given that their entire relationship so far has been based on communicating, I think the writers maaaybe know what they're doing.

Overall, this was a really strong episode for me. Some things I loved about the episode: Carlos and Michelle's relationship, Judd and Grace being a real, good couple, getting more storyline from Paul. Some things I didn't love about this episode: Owen saying "skin care's kind of my jam", lack of Marjan, the editing team somehow having enough talent to catapult cans of bull semen but not accurately change the color of the bowling ball Paul is throwing so it's obvious the actor didn't really throw it. Come on, guys. I only watched the scene once and I picked up on it immediately.

What did you think of the episode? Did you like Josie and Zoe? Do you think we'll see Zoe again?