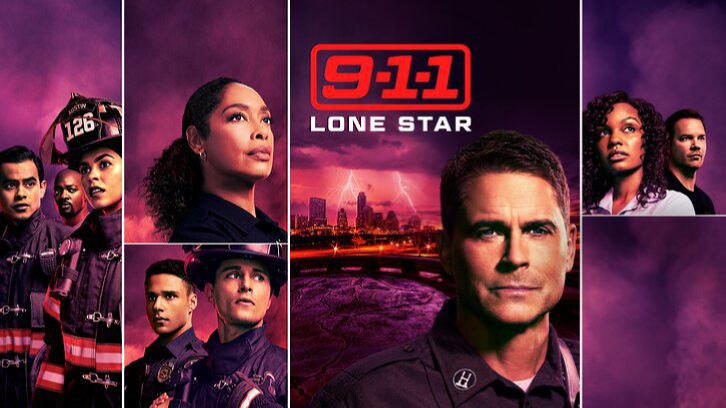 Watching 911 and 911: Lone Star is loving the characters on the shows so much, you'll suffer through learning fears you never knew you had on a weekly basis. This week: a car rear-ending a truck and getting stuck under it is how we start off the episode. But don't worry, it'll somehow get much worse later.

On this call we see Michelle, again, ignoring protocol to make sure this woman lives. While it's admirable, it's gotta catch up to her sooner or later, right? We're halfway through the season at this point and she's now broken protocol multiple times. I have a bad feeling that come time for the finale, Michelle's gonna have some 'splaining to do.

We get what I've been dying for with Grace and Judd all season, which is continuity. When she walks out ready to go out with her girlfriends, he comments and makes a face, a good face, which means they're definitely still being intimate, which was an issue they were facing last week. Also, as Grace is leaving, she says her Lyft is here, whereas most shows use Ubers, so kudos to them for that!

This episode's theme is obviously friendship, but even I got a little teary-eyed with how often we were able to see the 126 come together for Mateo. He's training for his last-chance exam, and Owen makes sure that Marjan makes sure that everyone in the 126 is to help Mateo. Even if he's the Probie, he's family at the 126. We even get a compilation of everyone quizzing him at different times of the day - including waking him up from a sound sleep with a pop quiz. Man, friends like these are right.

At one point he freaks out about failing and tells Marjan that he's a DREAMer, and if he doesn't pass this exam he's going to be deported. Uh, yeah, that's me crying again. You can just ignore me. Owen was incredibly smart in picking Marjan to do this for him because she knows exactly what to say without being too coddling or too loose. She teases him - but not too much. She's like the sweet older sister, who only wants to see you succeed, but will definitely make fun of your hair if she gets the chance. I love it.

There is a hiccup, though, when we find out that Marjan can't orally read the test to him, and that it's his old captain, who is not a nice guy. I understand where they're coming from when they say that people from the same firehouse can't administer a test, but in my opinion, if they can't, it shouldn't be able to be someone you know either! That drove me crazy. In the end, he passes, because, duh. There's such a lovely scene where Marjan calls him Mateo, not Probie, and man if that didn't warm my heart.

Remember when I said it somehow got worse than a car being wedged under a truck? Try inhaling your friend of 40 years' ashes. A man goes to throw his friends ashes into a river, the wind turns, and the ashes go into his lungs! Literally, the most horrifying thing I've ever seen that could actually happen outside of a Final Destination movie.

As much as I hate to say it though, I'm grateful for this scene. Why, Laura, are you grateful for this scene where a man swallows ashes, you ask? Because the man calls 911, and it's one of the few times we get to see Grace be someone outside of being Judd's wife, and I live for these moments. I hope we get more of them. Maybe without the ash inhalation next time. Maybe just a fun girl's night for her and Marjan and Michelle.

And now we get to talk about that part of the episode that leaves you yelling "dang it!" at nobody but yourself, because man, you should've seen this coming. Throughout the episode, we see Owen bonding with Billy (Billy Burke - Twilight), a man who wanted Owen's job but didn't get it. They're introduced over a game of poker, they get into a game of golf, they have a nice dinner together where Owen reveals that he has cancer, what would go wrong?

Oh, right. Michelle warned Owen, earlier in the episode, when she basically said not to trust him. So now, here we are, with Owen getting a call from Deputy Fire Chief Radford (Kyle Secor - City Slickers), which I assure you, leads to nothing good. The Chief tells Owen flat out that he's worried about the safety of his team and the general public. How can a man undergoing Chemo really make sure everyone he's responsible for is safe? Ah, yes. By promising that he can take the Cadet Physical Activity Test in full protective gear. Again, what could go wrong?! I guess we'll see later in the season.

We get our last scene of the episode when Owen confronts Billy, as he should. Billy explains that he saw an opportunity and took it, which is just so slimy to equate Owen's lung cancer to a career opportunity. Come on, dude. You can be after Owen's job and have a little bit of decency, right? Eh, I guess not. Yikes!

Overall, it was a pretty good episode. If I had one critique I'd say too little Carlos! We barely know anything about him, and I want to know more. But the Lone Star writers have really found a way to consistently give us insane 911 calls, while still keeping us interested in the personal lives of the characters, without overwhelming us with one character in particular. They're also doing a fantastic job at separating Firefighter Owen, Dad Owen, and Friend Owen. I didn't think I cared much for Owen's character, but if the rage I felt towards Billy is anything to go by, I'd say I've warmed up to him.

What did you guys think? Did you think Mateo would pass his test? Were you also screaming at your TV when Owen told Billy about his cancer? Do you like Marjan and Mateo's friendship? Let me know below!