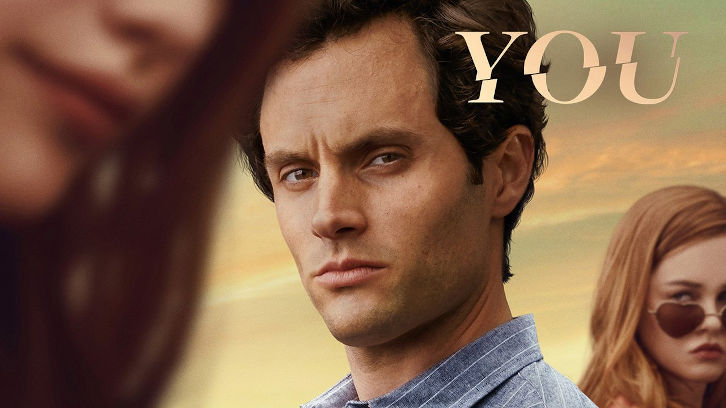 Full disclosure: I haven't read the books this series is based on (and don't plan to, not because I don't want to, but because the show is dark enough that I had to take it in moderate doses as it is. I feel like reading about Joe's acts would be way more overwhelming, so that's that!), so please forgive any interpretations I may have that don't actually concur with that version, and this post will contain spoilers so if you haven't finished binging season 2...beware!

You proved to be a uniquely chilling show as soon as it premiered last year, and season 2 is a solid follow-up. I watched season 1 weekly (and then nightly, since the idiot I am thought there were only 8 episodes for some reason, and didn't realize I'd just missed the penultimate episode and finale, so I got all caught up real fast after that), and I can't help but wonder if season 2 would have benefitted from that format too. It would have been interesting to go back over the twists and turns of each episode, instead of just watching them over the course of a few days, which (to me) now feels like a blur of one episode melding into another. That said, that's on me, I could've paced myself but You is the kind of show that's hard to put down, or shut off, as it were. Anyway, this season was great, so let's dig in!

Los Angeles is a Nightmare (until it's not)


For as long as I can remember, before ever setting foot in the U.S., my dream was seeing California. Not even a specific city, but at some point when I was reading
The Mediator
series, the California coast and, well, Carmel, became staples of my travel bucket list.
The O.C.
only added to that, and Newport Beach became another stop to check out. Not until much later did I realize that the north and south of the state possessed, well, quite a different atmosphere & scenery. My first foray there actually turned out to be San Francisco, which I fell in love with pretty much as soon as we landed. LA, however, turned out to be one of the cities I've disliked the most in the States, so imagine my mirth when Joe begins a new life in LA, fleeing resurrected ex-girlfriend Candace, and immediately commenting on how much he hates it there, even though we soon learn he actually grew up there.
It's the worst city in the world and the last place I want to be.
That said, as the season progresses and Joe acclimates to his new environment, he gets used to the superficial aspects and Love helps him discover some nice spots in the city (which is more than I can say for me).
New City, New Entourage
Since Joe desperately needs a new job to fund his
soundproof cage
new LA lifestyle -including renting an appartment in a gated complex, apparently- he wanders over to the not so aptly named Anavrin, where he promptly gets himself hired as what I can only assume is a book recommendation giver. This is where he meets Love, the object of his new obsession (he does say at the beginning of the premiere that he's no longer doing that after Beck, but please. Who believed him?!) and her twin brother, Forty. I have been informed that these wild names are a tennis hommage in the books, which I can respect slightly more than "It's an LA thing". That said, when you know the meaning (Forty meaning 40 and Love, well, zero) you have to wonder what the parents (also batshit crazy) had planned for these children. Victoria Pedretti (Love) seems to only play messed up characters with equally messed up twins, we shall see if this keeps up in the rest of her career, but hey, at least this time she's not dead. She is, however, (SPOILER!) the one who does (some of) the killing but we will delve into that later. Her own group of friends doesn't hold a candle to the riot that was Peach Salinger in season 1 but I will say at least we get to know them better than Beck's other friends (neither of which I remember at this point).
Joe also makes a sort of friend out of Will, if you can make a friend out of someone whose identity you've stolen and who you end up locking up in your basement-cage. If anyone can though, it's Joe. Because you see, Season 2 Joe is a new and improved version (allegedly) who doesn't want to keep people locked up if he doesn't absolutely have to. How he finds himself in these situations about once a week is carefully crafted but nonetheless baffling to anyone watching on. Will ends up being a really good sport about this, after some mental-health related issues, and even tries to help Joe out. The jury's out on whether Will is actually
that
nice and understanding or if he was worried he'd end up in the meat grinder like another of Joe's victims.
And then there's the prickly landlord: Delilah, and her little sister Ellie, who feels like a direct replacement of season one's Paco in that Joe makes it his mission to protect her from predators as well as take on her literary education. However, he can't exactly protect her from himself, and his life (or rather death) choices make it that she still ends up getting hurt the most.

The Murderous Savior Complex

In season 2, we get a little insight as to how Joe came to be this cold-blooded killer. As mentioned earlier, he actually grew up in LA but I don't think, based on the adult-Joe we know, anyone can be shocked that his childhood was far from a happy one. An abusive father and a string of sleezy step-fathers, a mother who frequently abandoned him and put him in very unsafe situations... There is no excuse for what Joe has become and why he keeps on going unpunished, but it goes shine a light on the kind of background he was raised in. In fact, while during season one, Joe's insane justifications as to why he was eliminating people who might separate him from Beck left and right, in season 2 the reasons behind his actions are a little less single-minded and more
Dexter
-oriented. The guy to whom Will owed (a lot) of money undoubtedly would have taken more than a finger the next time Joe showed up empty-handed. Henderson was a predator who'd been running rampant in Hollywood circles and would've kept on going, and the list goes on.
But ultimately Candace was right, in that death follows Joe wherever he goes, and it's insane that not only does he get away with it, but the (only) surviving victim gets called crazy and her testimony, baseless. Season 2's other casualties: Delilah, Forty, were just collateral damage in Joe's strategy. And even though they weren't killed by him but because of his equally murderous paramore: Love, they were still embroiled in his web of demise. Speaking of Love, instead of being delighted that she had the same MO he did (helped by very wealthy parents who apparently control half the city's law enforcement), Joe is immediately repulsed as he learns about her past and current victims. Maybe she does believe he's still in love with her, but to the audience, that shut down the minute he realized she wasn't the illusion of perfection that he'd had in mind. It's anyone's guess how their life will turn out (that neighbor better watch out) or how their child will ever have a chance at a normal life.
Some Highlights and Interrogations
- Even knowing that Love and Forty's parents own Anavrin, she takes a lot of liberties in the kitchen. Hairnets, anyone?!
- Sunrise and Candle are only a few of the very angelenese names that are mentioned
- The ketchup Will uses to play hangman with Joe was a nice touch. I definitely thought it was blood at first, and wasn't even surprised.
- Forty, while insufferable for much of the season, ended up to be pretty fun and in the end the only one (with Candace) who was calling Joe out.
- "Amy Adam" (and Britney Spear)
- Love's flashback bangs (flashbangs?) are truly awful, even in a world where Lane Kim's purple
Gilmore Girls
wig exists.
- I'm not sure this is what Ellie meant when she yelled "WOULD YOU DO SOMETHING" about Delilah's mood, at Will and he slept with her (update: it certainly wasn't)
All in all, season 2 more than held its own and surpassed season 1 in a lot of ways (minus Peach). I'm excited to see what season 3 brings (it hasn't been officially renewed yet but those California tax credits would indicate otherwise), so bring it on!
What did you all think of
You
's second season? Did you figure out the Love twist before it happened (at some point I was actually wondering if she was actually real or if Joe had made her up)? Do you think that neighbor at the end of the finale is someone we already know? Sound off in the comments!