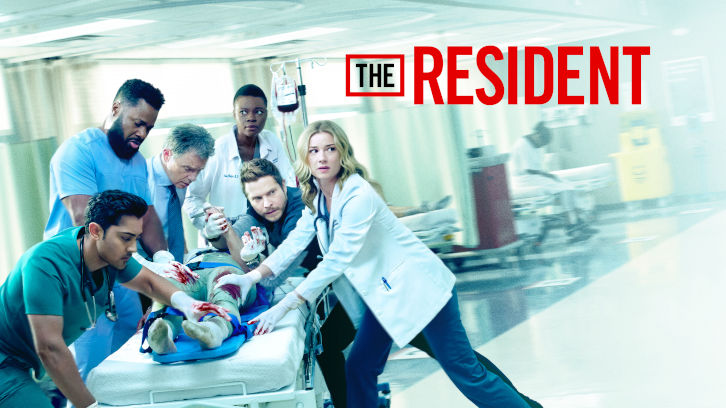 The first episode of the new year showcased a different Chastain. With Conrad gone, and Cain at the head of the surgery department, things are not looking up for the medical professionals. "Free fall" explored Conrad's feelings around being fired, Austin's resistance to the new regime and Bell's new place in the hierarchy.

With Devon all grown up, he now has his own interns and it brought a nice new dynamic to the show. I hope though, that they continue to showcase Irving and Devon working together. "The Resident" makes a point to show that there is a new chief resident, and that she isn't Conrad. For their first day, there are only two rules : no one dies and no one quits. With them being such cheap labour, it should not be a surprise that Devon has two interns, they will be able to do twice the work. Devon tried to be inspiring, taking a different approach than his mentor. In the beginning, it didn't look like he was going to work. Devon is hard on them, but fair.

The interns didn't seem to be a good addition to the team, their attitude sucked, but in the end, Devon was able to nudge them in the right direction. Eileen panicked when Devon had her run the code; she couldn't do it. He as encouraging and he was understanding. He was hard but fair. He wants his interns to accept responsibility, doctors make mistakes and they will. They care.


"No one died. No one quit. My job here is done." -Devon
There are new policies being enforced at the hospital now that Cain and Kim are in power. The surgeons are to be paid on relative value units instead of set salaries. It will lead to rapid overtreatment and unnecessary tests, just as had happened to the patient who had suffered following the unnecessary bronchoscopy. Their first patient is a man traveling to Cambodia who wanted to have his cough checked out before leaving the country. He becomes worse for the wear when the intern gets him unnecessary tests which he reacts badly to. The series of medical interventions eventually leads their patient to a heart attack. Luckily, he survived.
Austin is the one that is most vocal about his disapproval of the new direction the hospital is taking. Quality is irrelevant they only want good numbers, but he will not prioritise quantity over quality. Cain says Austin's stats are not good, his outcome percentages are not up to par. Austin needs to keep his patients alive even if they are vegetables, just like Cain does, but that is not something AJ will do. He isn't scared of him, not when he threatens his salary, and not when he threatens his job. Austin is many things, but expendable is not one of them. When Cain orders AJ not to have his patient sign a DNR, Austin proposes it to his patient. He isn't letting Cain push him around. Cain for once, had nothing to say back.
"What is the end game, Barrett? You cut all your advisories, surround yourself with booth lickers and those who toe the line. Yeah, it will work for a hot minute, but I guarantee to you it will breed resentment, corruption. And eventually, Chastain will implode, and you right along with it." - Austin
Conrad is having difficulty not being a doctor anymore. The first few minutes of the episode had him reminiscent of his patients. He loves being a doctor, but he is selective of the type of jobs he takes. He wants a job where he can do good, it's not about the pay for him. Nic, who is taking care of his patients, receives the visit of a patient who seemed to have a special bond with both the nurse pratictioner and the resident. Finn doesn't have much time left, and is planning something crazy with the little time he has left. He wants out of his wheelchair.
In a scene that could not do anything except make you smile, Conrad and Finn experience zero gravity. Conrad needed it as much as Finn needed it.
"You cannot let them win. Medicine is money and money breeds jerks. But you, you need to buckle up and get your job back. If not for yourself, do it for the patients who are relying on you. Get mad, go kick some red rock ass." -Finn
It will not be an easy fight, even Marshall seems afraid of the skeletons that Kim can uncover on him. Still, he is back to help his son. We'll just have to wait to see the fight he brings with him.
I am very excited to see if Cain was born this way, or if as Austin mentions, something big happened to him that made him into the a-hole he is today.