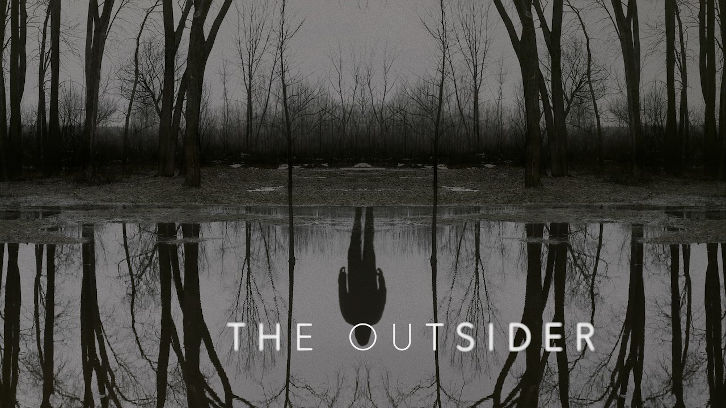 1.01 - Fish in A Barrel - Review:

The Outsider is the latest in a long line of slow-burn HBO crime dramas. Echoing both True Detective and The X-Files its premiere, directed by Jason Bateman and written by Richard Price, is an excellent introduction to the murky underbelly of a small town in the Georgia Woods when an eleven year old boy is found dead. The prime suspect? baseball coach and local teacher Terry Maitland. But whenever the prime suspect is arrested in the first episode of a television show you know there's more than meets the eye and nothing is as simple as it seems, and that couldn't be more clearer. Bearing in mind, going into this review, I'm not familiar with the book - so there will be no spoilers about events to come over the course of this season, and if you wish to talk about them in the comments, please tag them appropriately.

Stephen King adaptions have been hit and miss in 2019 and everyone knows that - Castle Rock and Doctor Sleep were excellent but Pet Sematary and It: Chapter Two were both misfires. Thankfully there's a lot of promise about The Outsider that has plenty of things to recommend, helped by a commanding performance by Ben Mendelsohn who is never less than excellent. Having played villains for much of his movie career of the last decade, be it chewing scenery in Rogue One or Ready Player One or a more nuanced performance in Animal Kingdom and subverting expectations in Captain Marvel, The Outsider showed that he can slot right at home into the world of a small screen cop show with ease. Showing the assembly of a case against Terry that at first glance appears to be cut and dry, especially with the help of eye witnesses starts to fall apart when Terry's ironclad alibi throws a wrench in their plans. It's interesting to see the characters thrown off their game by what they've learnt and how it affects them, and how they scramble to react to new information shapes the course of the trial.

The Outsider could have been a simple murder mystery and that would have been satisfying enough but it's a Stephen King adaption so naturally there's some sort of supernatural undertone to the series. Whether the premise has enough to sustain ten episodes remains unclear but the premiere debuted on a really strong note, but the good news is that there's plenty of twists and turns in this first episode to suggest more to come. It's got the atmosphere nailed down at times even if the critics were right when they labelled it as being super dark, it's something that Jason Bateman seems to be a fan of after Ozark with the lighting, or lack thereof whilst creating an appropriate mood, does get a little too excessive at times.

Despite witnesses of a nightclub bouncer, an elderly citizen and a young girl who claim to have seen Terry at different points leading up to the boy's discovery, the alibi creates a sense of impossibility to the case. Video footage has located him 70 miles away from the crime, and witnesses and forensic evidence prove that he wasn't there when it happened. Could there be two Terrys? It feels unlikely. As a hook for a mystery, it's utterly successful in pulling audiences in despite the fact that it starts off like every crime drama has done in the past. But patience is the key here, and based on the first episode alone it almost feels better suited to a binge. But that's a move that HBO shows have been opting for more and more lately like His Dark Materials, which would maybe suggest that The Outsider has new streaming service HBO MAX in mind, and it's sure to build up viewing figures when it turns up on their service.

On Terry's side are Howie Gold (Bill Camp) and Alec Pelley (Jeremy Bobb), his lawyer and his PI, and both do a good job in thwarting Detective Ralph Anderson's plans to make this a cut and dry case. You don't need me to tell you that Jason Bateman too is good, both behind the camera and in front of it - the scenes in jail where he doesn't rise to the bait and doesn't lash out, keeping his cool, are striking and some of the most memorable of the episode. He knows that all it takes is one mistake, one misstep, and so far he's not about to let them win.

It's a full credit to Richard Price (who is a talented novelist as well as a screenwriter, who has worked on not just The Wanderers (1979) but also HBO's best show - The Wire) who has a whole wealth of experience that he's able to bring to the table, taking a predictable set-up for a mystery and make it as compelling as he has done. Although Bateman is terrific it's Ben Mendelsohn who makes the script really come alive, putting in an early contender for one of the better performances of the month so far, with the show also doing a good job at exploring the grieving process and how it affects the family left behind who have to pick up the pieces in the wake of a death of such an important figure in their lives. Having not read the novel despite owning a copy (I'll get to it someday), I'm very curious to see how this show progresses and whether it can avoid the trap of a disappointing ending like most Stephen King-related material has let us down with in the past.

1.02 Roanoke - Review:

It doesn't take long for the twists to start piling up even further as the tension rises, surprising audiences from the get go who expected this episode to be about Terry's trial after spending the previous episode assembling parties on both sides of the line. Taken to court, Terry is immediately shot in a tragic accident on the front steps whilst being jeered by a crowd of locals who want justice done regardless of what side they're on, and is taken out of the picture, spending whatever time he has left to try and convince Ralph, making one last plea that he's innocent. It gives Ralph sufficient enough motivation to question his previous conviction, not slowing down after being told that sometimes unnatural and weird things just happen - like Roanoke, or like a squadron of planes vanishing into a cloud and never coming out the other side.

Combined with the dark lightning that's getting messier and messier Roanoke builds and builds on the tension, it has all the right feels of an early True Detective season and shows Bateman's strengths as a TV director, once again returning to helm this episode reinforced by Price's consistent script. With things going wrong, everyone is sent scrambling - Marc Menchaca's ornery detective Jack Hoskins is forced to cut his hunting trip short before his 10 days annual leave is up, much to his irratation, and what at first might have seemed a normal procedural now turns out to be anything but. The Outsider keeps dropping hints about the strange man in Jessa's room, and the hooded man who stood witness to Terry's shooting keeps the drama tightly woven and suspenseful from beginning to end, if moving along at a slower pace from the incredibly tense premiere.

It's still unclear as to why Frankie was killed just yet, but it led to his brother Ollie taking revenge on Terry before here was even taken to court for a trial. The scene between Mendelsohn and Bateman was one of the most important of the episode and of the season so far; Ralph accused Terry of touching his son in the previous episode after a very public arrest, and now Terry has a story to tell in turn about Derek - who shows just how committed he was to his sport when other kids balked at the challenge. It instantly informs audiences about what to expect from the episode that follows, and if the first episode was all about Ralph building up a case against Terry, it now becomes a matter of trying to find evidence to clear his name. These two men were once friends after all, and Bateman's delivery of "I didn't do it. I wasn't there. It wasn't me. It wasn't me", takes us into the thick of the action and makes the deepest cut.

Whatever the Maitland girls are seeing at night has left a mark and isn't quite done with the poor family just yet. "The Man" left something on the floor of their home, but its motives for devastating both their family and the Petersons remain unclear, unless there is a shared history between the two to be revealed later on. Pitting them at odds with each other threatens to destabilise the town, leaving Ralph behind to very much pick up the pieces. Investigating the van that played a part in the murder, Ralph connects the dots: the vehicle was stolen in New York and ended up in Ohio, and on top of that, the Maitlands were travelling to Ohio for a family vacation.

Ralph's driving motivation now is not only to prove Terry's innocence but also stop more kids from dying, forcing him to reopen old wounds with a justifiably angry Glory (Julianne Nicholson). Glory and Ralph go head to head but Ralph comes away learning the reasoning behind the family's trip to Ohio, it wasn't a social call - Teddy had to see his father, who is unstable and suffering from dementia so only he could do so. Further insight from talking to his daughters leads to information that could prove vital: Terry got a cut on his wrist when he was involved in a simple, ordinary accident with a nurse.

And further more, the final, ambiguous shot reveals more hints that could pave a closer way forward to the suspect in question: we find lying in a barn, the clothes that Terry was wearing on the day he allegedly killed Frankie, and we recognise them from the eye witness accounts that built up the case against him that led to his arrest and death. The belt-buckle that was spotted by the bouncer at the strip club among them. They're both linked with whatever Jessa saw on the floor that was left behind by The Man, connecting the two irreparably.

The Outsider episode 3, "Dark Uncle" airs tonight on HBO.